Graduate Admissions
George Fox University offers master's and doctoral degrees in various areas of study and at multiple locations in the state of Oregon.
Admission Requirements
To be considered for admission, applicants must have a bachelor's degree from a regionally accredited college or university with a minimum 3.0 GPA in their last two years of academic work. An applicant whose cumulative GPA is below this may be considered for admission on academic probation.
Individual graduate and seminary programs have unique admission deadlines, requirements, and procedures established by the university. Please visit the program pages for information specifically related to your program(s) of interest.
Meeting the minimum entrance requirements of a given program does not guarantee admission. Admission may be granted to applicants who do not meet all admission requirements at the minimal level if other indicators suggest probable success in the program.
Standardized admission examination requirements vary according to the program. Information about required tests and testing dates and sites may be obtained from the Office of Graduate Admissions.
Admission Policy
George Fox University reserves the right to select students based on academic performance and professional qualifications. George Fox University does not discriminate in its educational programs or activities - including employment - based on age, sex, handicap/disability, race, color, national or ethnic origin, or other statuses protected by applicable nondiscrimination laws.
Readmission of Former Students
To apply for readmission after an absence of one or more semesters, a student should request an Application for Readmission from the Office of Graduate Admissions. In most cases, readmitted students must meet new or revised graduation requirements and may be asked to undergo regular admission procedures.
Students who withdraw risk nonacceptance of credit upon readmission unless such has been approved by the graduate program director and the registrar before leaving.
International Students
George Fox University is authorized to enroll nonimmigrant alien students. In addition to the standard admission requirements, international applicants must submit additional materials. For more information, go to the International Applicants page.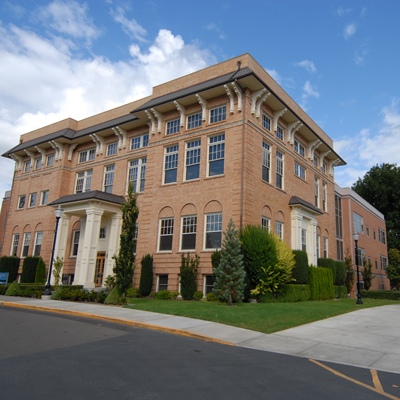 Visit Our Campuses
Students interested in enrolling are encouraged to visit the campus, preferably when classes are in session. A visit allows one to observe classes, see the campus facilities, and talk with students and professors. It also will give university personnel an opportunity to get to know the student better. When possible, visits should be arranged five days in advance through the Office of Graduate Admissions, which is open weekdays from 8 a.m. to 5 p.m. at the  Newberg campus  and the  Portland Center.
Visits can be arranged by calling  800-631-0921 for Newberg or  800-493-4937 for Portland.
Graduate Admissions Staff