The Department of Art and Design takes flight as students work together to create renovation plans for the Evergreen Aviation and Space Museum in McMinnville
The wonders of the sky often feel far away. We limit ourselves to gazing at its beauty or wistfully booking a flight. Perhaps we reminisce on childhood fantasies of becoming an astronaut.
For most of us, these curiosities were put on a shelf. Now, a group of art and design students, under the direction of professor Ashley Lippard, are reigniting that passion for the world above at the Evergreen Aviation and Space Museum in McMinnville. Stuck in antiquated designs and experiences aimed toward older generations, the museum is in need of a makeover. Enter Lippard and her Collaborative Design students.  
Collaborative Design is a multifaceted class that offers unique opportunities for majors within and outside the art and design program. This year, enrolled students represent a vast spectrum of majors, as those studying graphic design, branding, marketing, interior design, cognitive science, animation, and illustration are gathering to solve problems.
To begin the class, Ashley designates her students into roles and teams, allowing them to take charge of the project. The class isn't imitating the high-stakes demands of real-world design firms. It is equally high stakes and demanding, pushing students to step out of the theoretical and into the real world.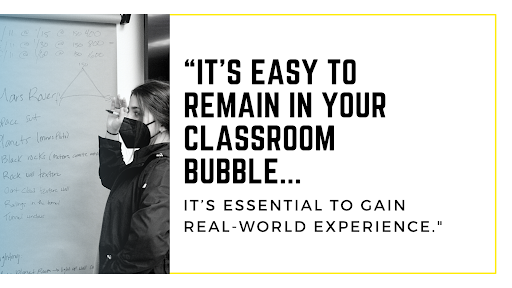 "It's easy to remain in your classroom bubble, [but] it's essential to gain real-world experience," says Bryn Schwary, a graduating senior and space lead. "You get to collaborate with your peers, learn and make mistakes with them; you get to go beyond your mind."
What makes this project so unique? Collaborative Design, over the years, has taken on a multitude of clients, all of which have been equally compelling. However, this year's project is historical and large in scale compared to previous projects. Evergreen Aviation and Space Museum is home to a renowned artifact, the Spruce Goose, the largest wooden airplane ever constructed. With its connections to the Smithsonian National Air and Space Museum, people travel from all over the world to get a glimpse of the historic aircraft. The designs students make are being presented to NASA and SpaceX to gain funding for the museum and its newly designed exhibits.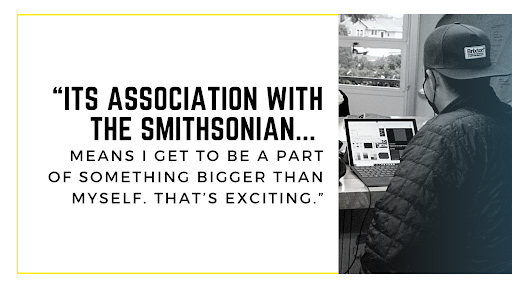 "It's bigger than anything that I've ever been a part of, and it's going to have a lasting impact on Yamhill County," says Andrew Fisher, a graduating senior and interior lead, on the significance of the project. "Its association with the Smithsonian means I get to be a part of something bigger than myself. That's exciting."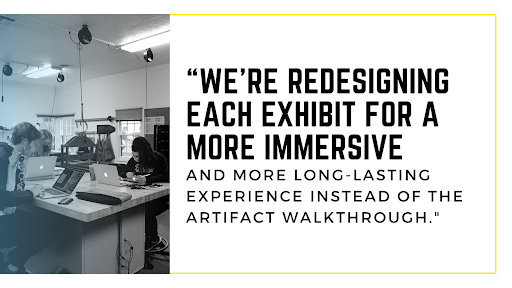 Although the museum is a local landmark, it needed a makeover. Shay Vanderville, a graduating senior and aviation lead, details the tone of the project. "We're redesigning each exhibit for a more immersive and more long-lasting experience instead of the artifact walk-through," she says. "The goal is more learning than walking." The class is explicitly working on energizing the space by brainstorming UX / UI designs. 
Students are now constructing floor plans, learning centers and other areas with multi-generational use in mind. Planning these spaces is a highly complex endeavor, as everything from walking patterns to keeping posters eye level to considering the sounds traveling from one area to another are all considered.
Working in the university's Lemmons Center, students are crafting an entirely new brand image, setting 3D models into virtual spaces, illustrating realistic floor plans, and learning the scientific concepts included in the labs.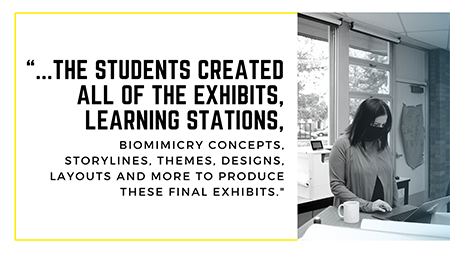 "We were provided with a basic set of requirements, outlining only the fundamental information of the spaces and vague ideas for what they should include, and the students created all of the exhibits, learning stations, biomimicry concepts, storylines, themes, designs, layouts and more to produce these final exhibits," Lippard says. "Our final pitch deck represents the culmination of all of our research and collaboration across a team of 25 throughout the course of the semester."
As the semester nears a close, students will present their pitch deck and await the status of funding anxiously. 
The only question is, when are you heading to the Evergreen Aviation and Space Museum?