It took 10 years, but Sammy Rott has found a fulfilling career doing what she has long wanted to do: help children find their voice and counsel families in crisis. 
Even as she reported to work as a product manager, Sammy Rott had this burning desire to do something different as a career. She just had yet to discover what that was.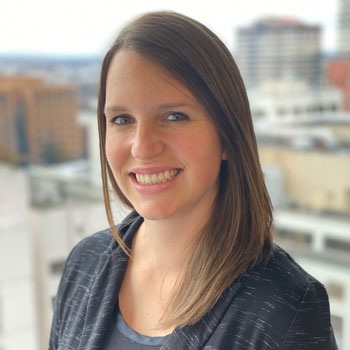 It wasn't until she was tasked with planning multiple continuing education events and creating materials for mental health therapists that something clicked. "I came to this realization that I wanted to work more directly with people and not so much with things," she recalls. "I wanted to be an attendee learning this material, not just put on an event."
The epiphany rekindled her lifelong fascination with the human psyche. The daughter of a therapist, Rott knew as early as kindergarten that she was wired for relationship building. But circumstances led her down a different path.
Today, a decade after earning her undergraduate psychology degree, she's enrolled in George Fox University's marriage, couple and family counseling program training to do the very thing she has long wanted to do: help mend relationships, listen to those who feel like they don't have a voice, and offer hope to families in crisis.
"It took about 10 years of doing something else, but I feel like I organically found my path into this field," Rott says. "I've always wanted to focus on helping people understand why they make the decisions they do, why they have the beliefs they have, and considering their own perspectives on life to lead to the change they want."
Rott put a plan into motion. She applied to and was accepted to a handful of graduate counseling programs in the Portland area before deciding to attend George Fox. "I chose Fox because I felt it was more holistic and much more diverse – in terms of age, life circumstances, ethnicity, identity and gender – than the others I interviewed with," she says. "I also appreciate the component of spirituality and religion in the Fox program because that can be a big part of people's lives. The other programs I looked at really don't focus on that."
Since enrolling, Rott has gained insight into how family dynamics impacts an individual – a facet of counseling she's had the opportunity to explore as an intern at a pediatric clinic in Clackamas, Oregon. Working with 7- to 15-year-olds, Rott is connecting with children at key developmental stages in their lives. At the same time, she's helping parents better understand their own stresses and how their childhood traumas, long-held beliefs and family dynamics are impacting their parenting style.
"My goal is to support these kids in integrating and understanding what is going on around them, helping them understand their feelings and beliefs," she says. "I've always loved working with kids. I was a nanny for years, so I've always had an interest in kids and trying to see the world through their eyes. I try to maintain this perspective as a parent myself now. What I have learned in my program is the greatest support parents can give their children is to work on understanding themselves."
Since putting her training into practice, the transformation of one 9-year-old boy stands out. At his first session he walked into the room angry and defiant, refusing even to face Rott. At school he had a reputation for being disruptive and disrespectful – even to the point of damaging school property.
Fast forward four months. He now eagerly runs into the therapy room. He laughs and smiles more. He's performing better in school. The change is nothing short of remarkable.
"I don't believe all that happened because of me, but it is rewarding to see," she smiles. "There have been some shifts with the parents understanding their own frustrations and anger management. That has a ripple effect on the whole family. And he shared with me an epiphany: 'If I'm nice to other people, they'll be nice to me.' He sees now he has some control in his life and has the ability to influence others in a positive way. He no longer has to stay in survival mode, which is where he seemed to have been."
The boy's change of heart affirmed Rott's belief that children who act out are simply misunderstood. "Seeing him feel understood and feel like his voice does matter – seeing him just blossom – has been so much fun."
Rott credits her counseling classes, professors and peers for helping her develop the empathetic listening, summarizing and paraphrasing skills she relies upon to do her job well.
"One thing I really appreciate about the program is the use of role playing," she says of George Fox. "We did three-day intensive role plays where I learned so much because of the things that came up, personally and professionally, that we had to process and understand. The practice of sitting with people as a therapist for 30- to 50-minute sessions was an amazing experience.
"I also appreciate the fact that people in class are generally excited to be there since we are meeting back in person. It's so fun to connect and engage in meaningful conversations with peers. I realize I may be generalizing a bit, but as a general rule therapists don't like small talk, so it's nice to be around people who like to get a little more deep."
After she graduates in May of 2023, Rott hopes to continue working at a pediatric clinic, perhaps in a group or individual practice. Wherever she goes, one thing is certain: She will be doing her part to help transform lives, one patient at a time.