Thinking of leaving the great state of California for college? Concerned about impacted classrooms and drawn-out graduation timelines? Wondering whether you'll even be able to take in-person classes this fall? George Fox University has you covered!
We've put together a list of reasons you should consider coming to George Fox and making the big move to Oregon. Even better, the list is split into three tiers, so you know what's most important and what's also important. So sit back, grab a cup of coffee and start scrolling. By the time you reach No. 10, you'll already have your bags packed!
YOUR BIGGEST CONCERNS, ADDRESSED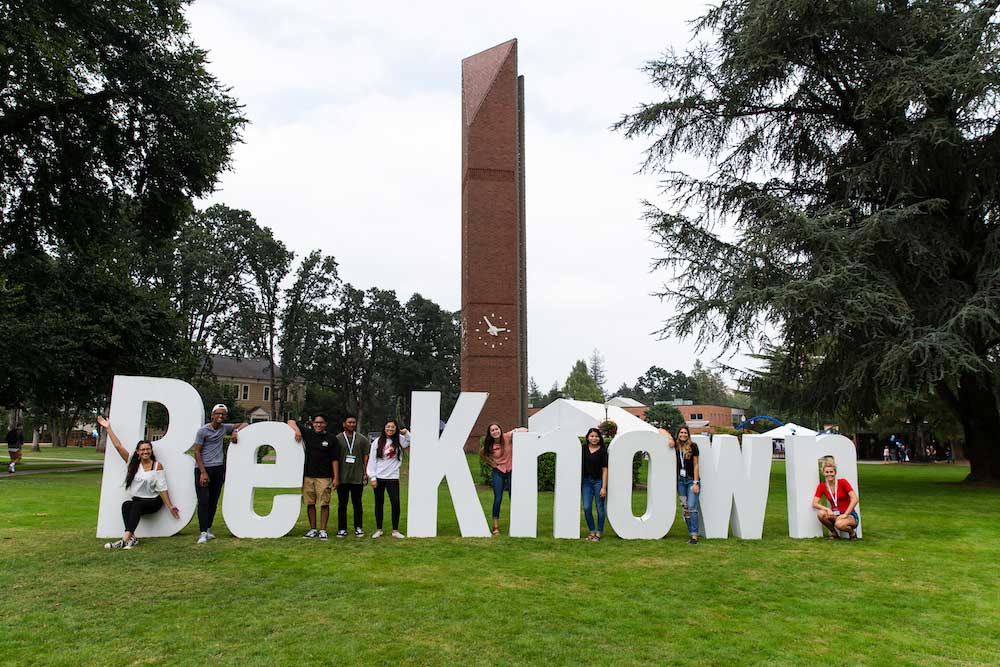 #1 The Be Known promise
We care. In fact we make a promise to our students that they will be known, seen and heard for who they are – academically, personally and spiritually. How do we deliver on that promise? We keep our class sizes small (14:1 student-faculty ratio), we personalize your academic and career plans (88 percent of our graduates complete their degrees in four years), and we are committed to delivering our academic experience in person. At George Fox, we are invested in getting to know you and helping you become who you were meant to be.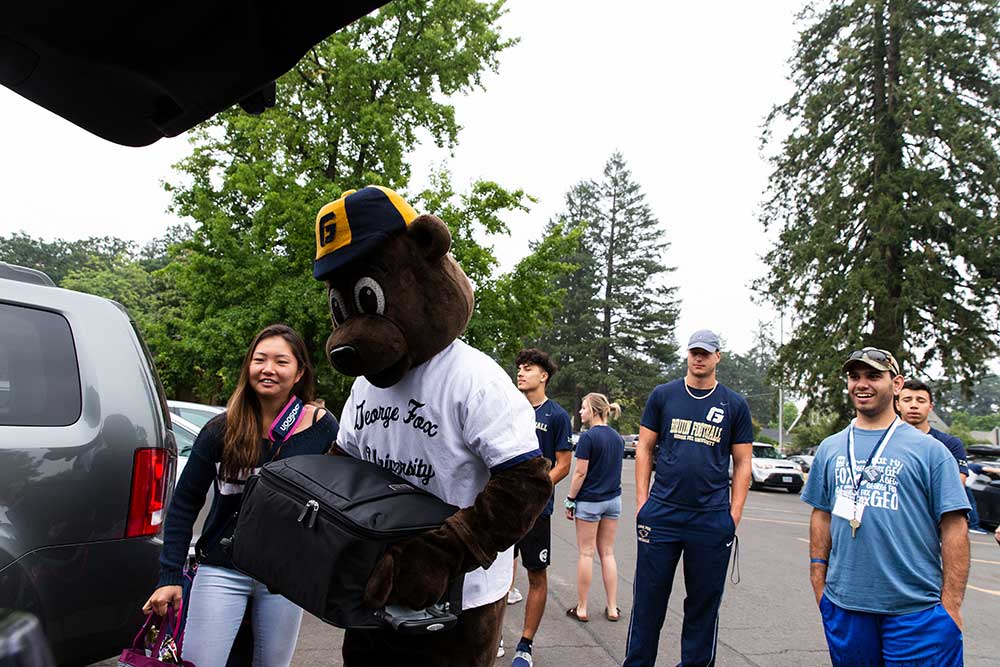 #2 Not too close, not too far away
Distance is a common and valid concern for students moving from out-of-state. "What if something happens at home?" "What if I get homesick?" Well, you wouldn't be alone. Many students come to George Fox from far away – from a few hours' drive to several hours of flights. The nice thing about coming from California is that you're far enough from home to begin to gain that much-needed independence, but close enough that a long weekend just might be enough for a quick trip back. Plus, when you're at George Fox, you're one of us. Our student life, residence life and academic teams are here to help you establish a home away from home.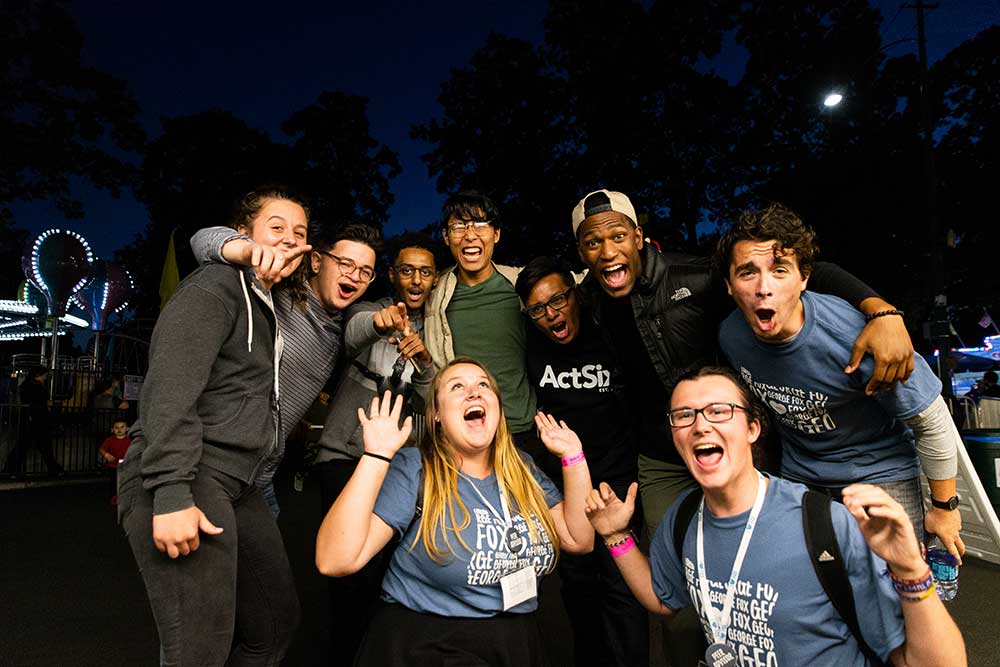 #3 You're here, they're here, we're all here!
It'd be easy to imagine that a liberal arts college in Oregon would have students mostly from Oregon. However, each year we welcome a large number of students from California. Even better, our undergraduate student body represents more than 30 states! So not only will you find people with a similar experience to your own, you'll build connections with students from all over the country! Just think of the places you might get to visit during breaks when you reconnect with friends in the places they come from!
YOU MIGHT BE GLAD TO KNOW...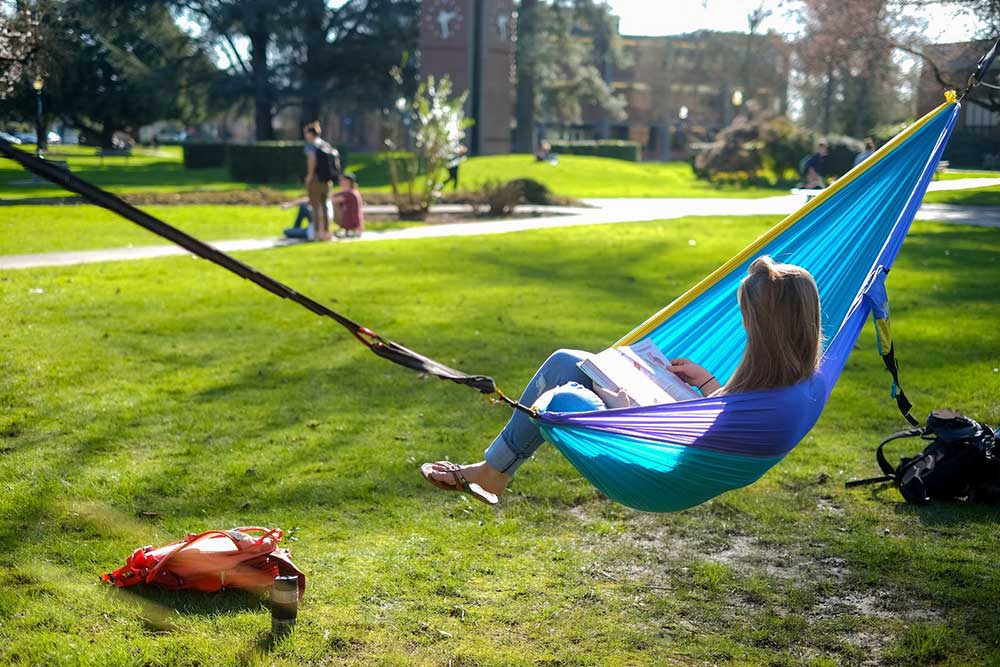 #4 It's not easy bein' green
Let's tone down the quippiness for a moment to talk about something serious: the rain. Does it rain a lot in Oregon? Yes. Are there days when your socks might just get wet enough that you'll have to change them part way through the day? Yes. Will whatever you did to your hair before you went out be undone within 15 minutes of leaving the house? Maybe. Here's the truth: Oregon isn't even nearly the rainiest state. It's not even in the top 10! Or top 20! Imagine with me … You're visiting George Fox and you just can't get over how green the grass is, how lush the trees are. You know how we get all that green? We enjoy – OK, OK, tolerate – the rain! The thing is, all you need is a good rain shell and maybe some Wellingtons and life will go on. In fact, life will be flourishing all around you.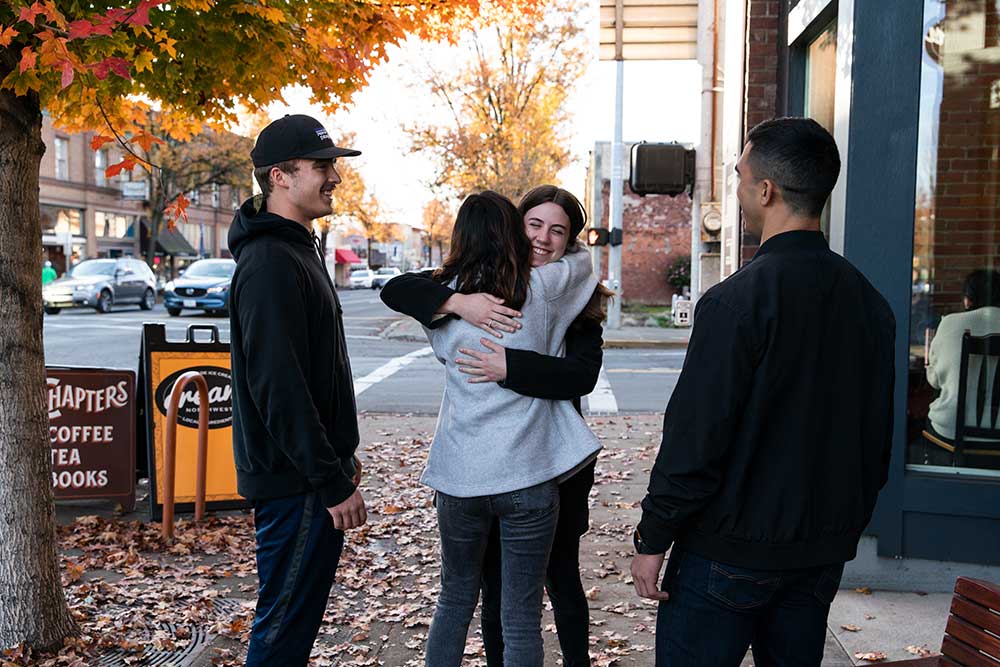 #5 Small-town vibes
Nestled in Oregon's fertile Willamette Valley, the tiny city of Newberg is becoming a cultural haven. Want to read a book over a tasty cup of joe? Try Chapters or Coffee Cottage. Want to catch a flick? Check out our historic Cameo Theater, or even better our 99W Drive-In in the spring or summer. Are you interested in the work of local artisans? You can browse our numerous galleries and shops during our monthly First Friday art walk. Newberg is distant enough from Portland to have its own small-town personality, but close enough to benefit from the big-city culture.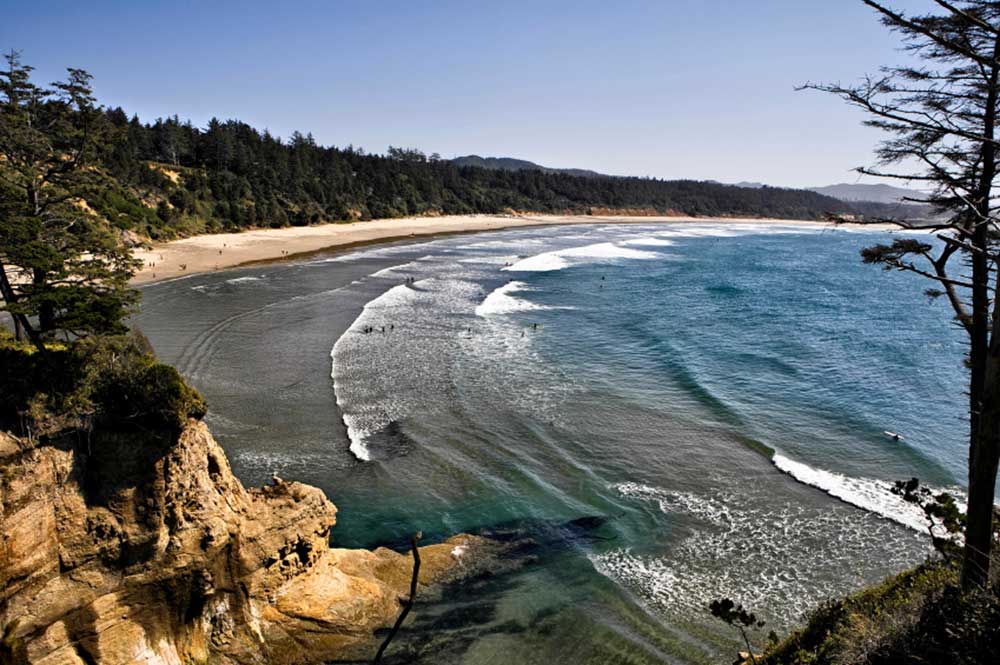 #6 The beach ... er ... coast
I get it, you're worried you'll miss the beach. As it turns out, the great Pacific Ocean caresses our shores, too! However, there's a general preference here in Oregon to call it what it is … the coast. The word "beach" gives a strong impression of sunshine, boardwalks and beach volleyball. Our "coast" is stunningly rugged, with quaint little towns boasting excellent coffee shops, beautiful art galleries and literally tons of saltwater taffy. When the sun shines, it's glorious. When it rains, it rains sideways. Either way, just an hour's drive from campus, you'll learn to experience the beach in a whole new way.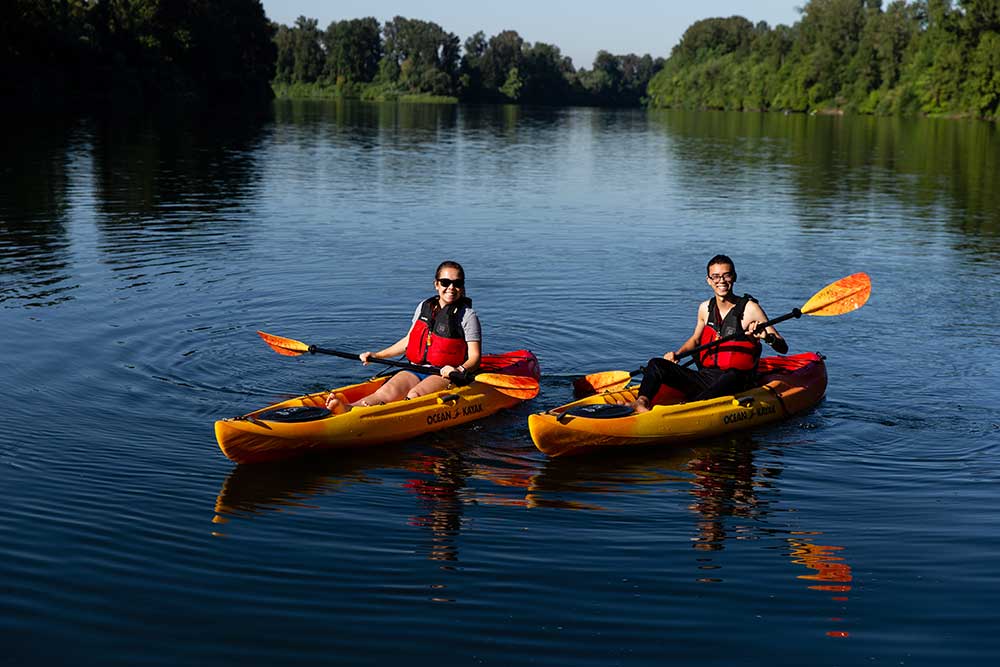 #7 All terrain
The beach isn't all we have nearby, though! Want to do some kayaking or paddle boarding? Newberg itself is on the Willamette River (and we'll rent you the equipment you need for super cheap). Want to go for a hike? Head an hour into the Coast Range or a little further to the stunning Columbia River Gorge. Want to get some big-city culture? Portland is less than an hour from campus. Want to go skiing or snowboarding or snowshoeing? Mt. Hood is just two and a half hours away. There's never nothing to do here in the Pacific Northwest. Adventure awaits, so get out there!
NOW WE'RE STRETCHING FOR REASONS, BUT THESE ARE STILL WORTHY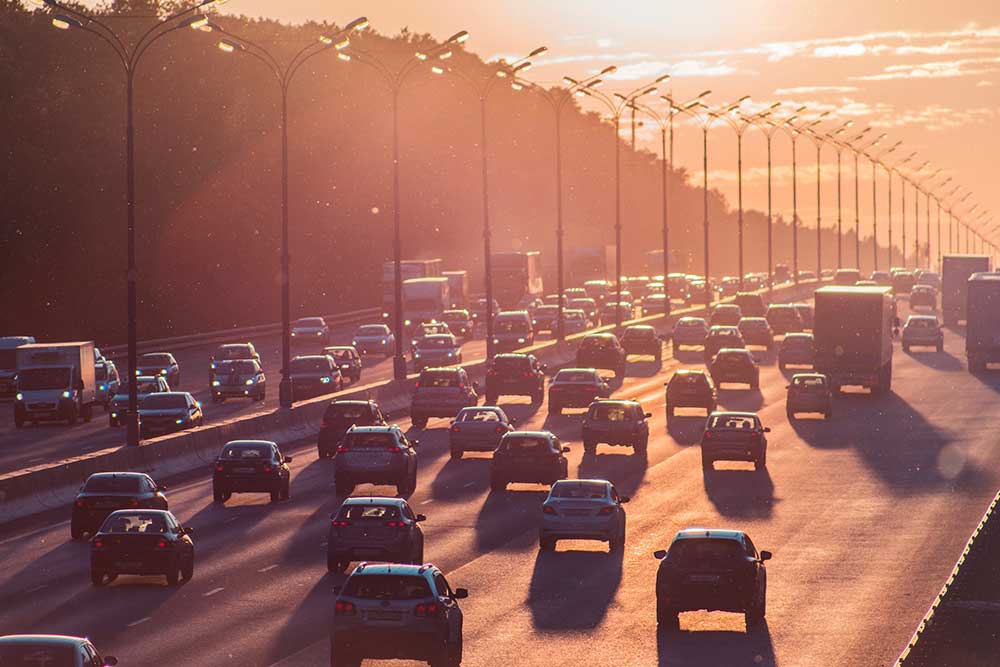 #8 Now we're going places
Whenever someone mentions traffic, most Oregonians respond with an eye-roll. Is it annoying that it sometimes takes an hour to get to downtown Portland? Of course. Does it incite the same level of hair-raising terror you might experience in the Bay Area, Los Angeles or Silicon Valley? Not even close. Spend less time in your car, and more time doing the things you love! Unless what you love is podcasts … then go ahead and stay in your car.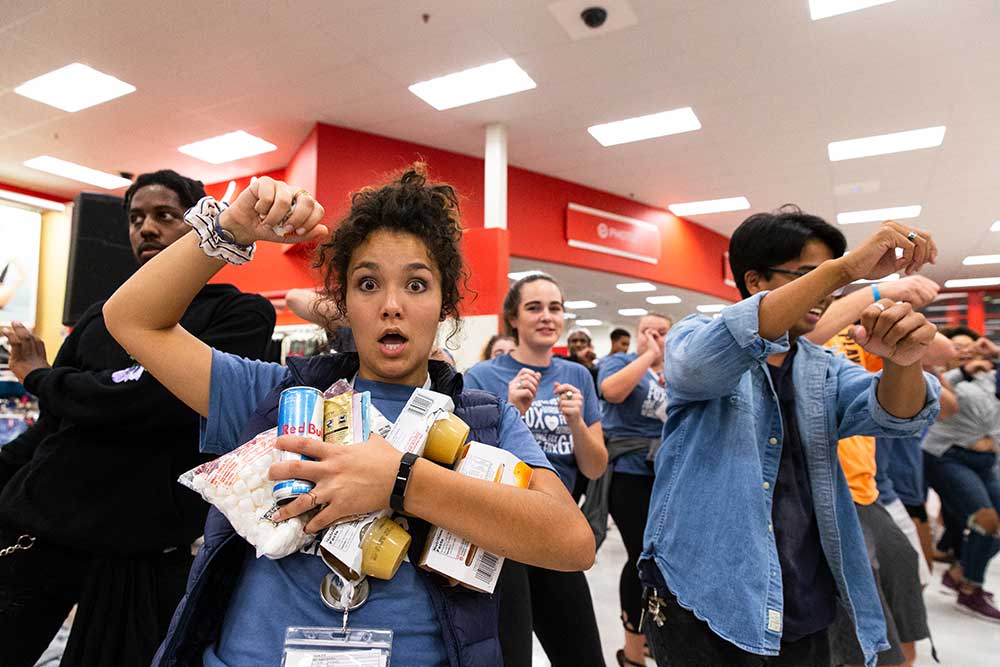 #9 Buying stuff? No math needed!
You know what you'll love about buying things in Oregon? When you look at a price tag, you know that's exactly what you'll pay. Don't misunderstand, there are a lot of positives to working through a statewide sales tax. On the other hand, walking into a store with a crisp Lincoln in your wallet, you know that you can leave with up to precisely $5 worth of goods or services.
#10 Let's taco-bout tacos!
Are you thinking you might miss great tacos? Think again! Newberg is home to at least 10 taco shops, carts or trucks, which is pretty impressive considering a population of just under 25,000. Are we talking about San Diego-level tacos? That's debatable … There are definitely some excellent options. The best part is that the work of deciding where to get your tacos has already been done. The Oregonian has provided a list of the top 10 tacos on Highway 99W (which spans 124 miles), and some of Newberg's options claimed spot Nos. 6, 5, 4 and 1! Come join the often fierce debate of which taco truly reigns supreme!
So, there you have it! If that list doesn't tickle your fancy, get a hold of one of our admissions counselors to get more, even better information. Thinking you'd like to crack the door of opportunity open? Start your application today! We're looking forward to welcoming you to the family.