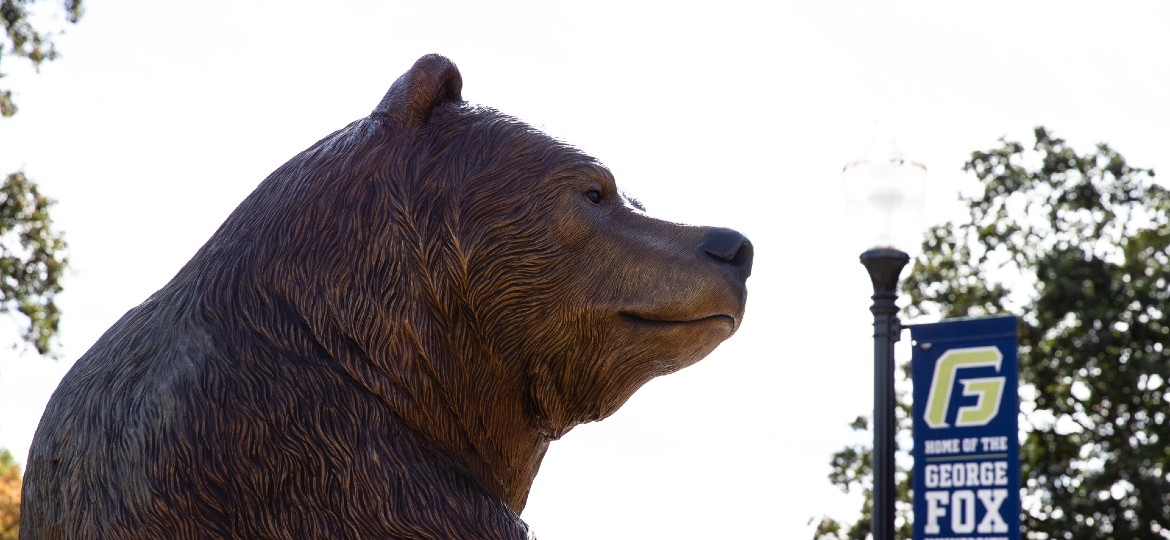 Ways to Give
Gifts of Cash
Gifts of cash are the most immediate way to support the university's work. Making a cash gift to the university is easy. You can:
Give online
You may give online by credit/debit card or a one-time electronic check.
Make a pledge
For your convenience, you may schedule your giving commitment over time.
Give by mail
Please make all checks payable to George Fox University and send them to:
George Fox University
414 N. Meridian St. #6256
Newberg, OR 97132
Electronic Funds Transfer
This secure way of monthly giving is managed in the development office. Please provide a completed Electronic Funds Transfer Authorization Form and a voided check. Your EFT can be canceled at any time with three business days notice.
Donate via online bill pay
You can include us in your online banking list of payees. Information required:
George Fox University
414 N. Meridian St. #6256
Newberg, OR 97132
503-554-2117If your bank requires an account number, please call us at 503-554-2117 to receive your Donor ID number.
Matching Gifts
Many companies match employee gifts to encourage employees to make charitable contributions.
To find out if you work for a matching company, please email us at giving@georgefox.edu or call 503-554-2117.
Planned Giving
Your gift plans will benefit you and establish a lasting legacy at George Fox. Read more to determine a strategy that meets your unique financial needs, or write legacy@georgefox.edu.
Securities
Donated gifts of appreciated stocks and bonds are another way you can contribute. If the securities are held by your bank or broker, we recommend an electronic transfer via the Depository Trust Company (DTC) system.
To learn more or initiate a gift of securities, please email us at giving@georgefox.edu or call 503-554-2117.
Employee Giving
Start your giving today!
As employees of George Fox, we are grateful to give so our students can thrive!
Below is a list of funds to choose from that create opportunities for our students to be successful. We invite you to check the corresponding box in our Payroll Deduction Request Form of the giving opportunity that resonates most with you. You can also choose to support a fund not on the list by selecting the "other" box to write in the fund you would like to support.
George Fox Student Fund
Help George Fox to meet rising day-to-day costs, enabling us to react quickly to unforeseeable challenges and opportunities, without sacrificing long-term goals.
Faith Transformation Fund
Provide Bibles to all incoming freshmen and transfer students. Their Bible will serve as both their textbook for Theology 101, and as a spiritual support they can rely on throughout their George Fox experience and beyond.
Bruin Community Pantry
Help provide for students who have limited access to healthy food while also funding resources to educate them on healthy eating habits through cooking demonstrations and educational programming.
Textbook Assistance Fund
Help undergraduate students who are experiencing financial hardship obtain course materials they need in order to be academically successful at George Fox.
Student Emergency Fund
This fund supports students in need who are experiencing financial hardships due to unexpected occurrences of illness, technology costs to support distance learning, and travel expenses, among other needs.
If you've never logged into our Advancement Operations request portal before, please choose "Sign Up" and choose to sign up with Google using your GFU email. Once logged in, select "Employee Giving" from the menu bar. This form will provide Advancement and HR with all of the information we need to process your payroll deduction. 
If you have any questions, please email Giving at giving@georgefox.edu or call 503-554-2110.