Chris McCoy: 'I didn't realize what I had'
Student-Athlete Spotlight
The senior business administration major and football player reflects on perspective gained during the pandemic and opportunities ahead By Sean Patterson
When he arrived on campus as a freshman in the fall of 2019, everything seemed to be going Chris McCoy's way. He was fulfilling his lifelong dream of playing college football, discovering the beauty of the Pacific Northwest on hikes, and "nerding out" with his newfound friends – "his boys," he calls them – as they binge-watched one Star Wars movie after another.
There was only one problem: McCoy didn't realize how good he had it.
"To be honest, I wasn't making the most of this opportunity and was taking things for granted," says McCoy, a senior-to-be business administration major. "I was quiet and timid, and there were days I questioned why I was here. I didn't realize what I had."
A worldwide pandemic in the spring of 2020 changed his perspective. Without warning, he was sent home to his native Sacramento, California, as universities across the country made a seismic shift to online learning. The carefree days of college life were, for the foreseeable future, over.
"The day I was sent home was the most pivotal moment for me," he says. "I realized how much I wanted to get back to football, school, friends and have that normality prior to COVID."
McCoy returned to campus his sophomore year determined to embrace the college experience. "I found my voice that year," he says. "I said to myself, 'This is such a short season of life. Make the most of it.'"
The epiphany has led to deeper friendships and a desire to grow mentally and spiritually. He has also bonded with professors and excelled on the football field, helping George Fox post a 6-1 Northwest Conference mark in 2021 – the Bruins' best league record since the relaunch of the sport in 2014 – as one of the team's starting defensive backs.
McCoy's play earned him an opportunity – to be the subject of a photo shoot that will land him on university billboards across the state this summer. "It's kinda funny, because I've never been that super-aggressive, pumped-up kind of guy," he laughs, thinking back to the mean mugging and aggressive posturing the university marketing team asked for during the photo shoot. "When I make a play, I just laugh or smile."
Looking ahead, McCoy will return to campus in the fall to suit up for the Bruins and conclude his studies. After graduating he plans to open his own barbershop, continuing a business he's pursued throughout college. "I cut hair out of my apartment. It'll be nice to expand that and have my own shop," he says.
His ultimate dream: to continue playing football after college. "There are a lot of leagues out there – in Canada, Europe, the U.S.," he says. "I'd love to keep playing."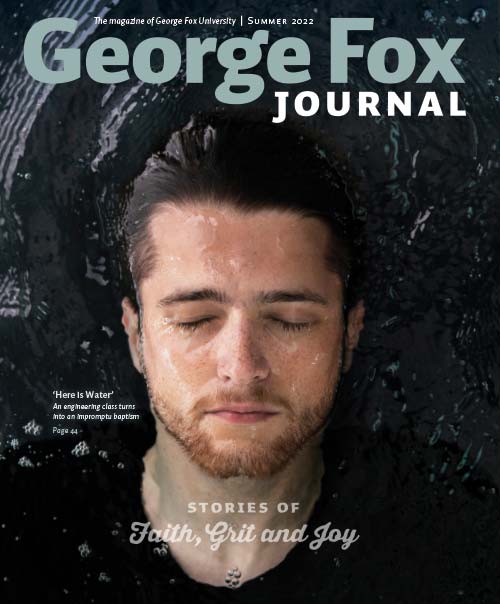 Looking for more?
Browse this issue of the George Fox Journal to read more of the stories of George Fox University, Oregon's nationally recognized Christian university.