Title IX: Still Changing Lives, and Culture, 50 Years Later
Five decades ago a federal law was passed, creating opportunities for countless women to do what many had long been denied – the chance to compete By Sean Patterson
MaryJo McCloskey remembers the day her beloved sport was cut. A member of the University of Oregon women's golf team, she was deflated to learn that the game she loved – a passion instilled in her by her father and nurtured by a nun – had been eliminated because of budget constraints.
But McCloskey, who today serves as head coach of George Fox's highly successful women's golf team, wasn't about to abandon her dream of competing at the collegiate level.
"They decided to cut women's golf after my first year, but I stayed and fought for the program," she reflects. "Fortunately, they reinstated it the following year, thanks to Title IX support. That experience – and my love for sports and all the benefits from competing – is why I continue to fight for more opportunities for women in sports today."
McCloskey, and all the female athletes and coaches of her generation, owe a debt of gratitude to a congresswoman from Hawaii, Patsy Mink, who authored a legislative draft that ultimately became Title IX, the federal civil rights law passed as part of the Education Amendments of 1972. It prohibits sex-based discrimination in any school or education program that receives federal funding, and has since paved the way for equal opportunities for women in education and, as a byproduct, sports.
This year marks the 50th anniversary of the law – a seminal event that revolutionized the athletics landscape. You see it in the explosive growth of girls' and women's sports, the popularity of the Women's World Cup, the WNBA and the LPGA Tour, and in the faces of the women who leveraged their opportunities in athletics to become household names – Serena Williams, Lindsey Vonn, Simone Biles, Alex Morgan, Michelle Wie and Katie Ledecky among them.
Although not originally drafted to address the disparity between men's and women's athletics, Title IX's impact has arguably been most profound in the arena of sports. Upon passing, many colleges' athletic programs found themselves out of compliance, requiring they reallocate resources to offer equal opportunities for women to compete.
The numbers tell the story: Today, women make up 44% of all NCAA student-athletes. In 1971, fewer than 30,000 women played sports at the collegiate level, representing just 15% of all student-athletes – and many colleges offered few or no women's teams.
Ahead of Her Time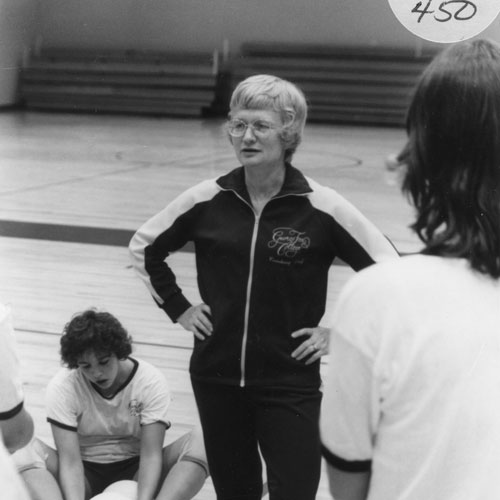 At George Fox, women athletes had a champion in Marjorie "Doc" Weesner long before the law passed. In fact, eight years prior to Title IX, Weesner, coach of the college's volleyball, women's basketball and softball programs – yes, simultaneously – led all three of her 1964-65 teams to conference titles. Combined, they lost just one game.
"Marjorie was definitely the matriarch of women's athletics at George Fox, and a tireless advocate for equal opportunities for women in sports," says Craig Taylor, the university's athletic director from 1988 until his retirement in 2017. "Even prior to 1972, Doc fought fiercely for the opportunities that Title IX eventually mandated. The success we enjoy today in women's athletics was built on the foundation Doc laid."
Weesner, an alumna from the class of 1953, campaigned for her athletes to receive better coaching; access to quality practice facilities; competitive schedules; equitable opportunities to travel, compete and earn athletically related financial aid; and press coverage.
"Even prior to 1972, Doc fought fiercely for the opportunities that Title IX eventually mandated. The success we enjoy today in women's athletics was built on the foundation Doc laid."
All the while, she was highly supportive of men's athletics as well. "Her approach was never to reduce men's opportunities, but for the institution to step up and offer the same opportunity for female student-athletes," says Taylor, whom Weesner hired to teach and to serve as coach of the college's women's basketball and softball teams. "She did not refer to herself as a feminist, but as an advocate for fairness and doing the right thing for all. Title IX reinforced and codified her message: 'Be fair and do the right thing.'"
Weesner served as George Fox's women's athletics director and helped form and chair the Department of Health and Human Performance. She retired in 1993 after 31 years of service to the university. "She was, without question, the single most influential person in my professional life," Taylor says.
'My Life Would Look Incredibly Different'
Although born long after Title IX was passed, Elise Trask believes it steered the course of her life.
"Title IX is about so much more than equality – it's about opportunity," says Trask, the university's associate athletic director and a member of the 2009 Bruin team that went undefeated en route to an NCAA Division III national championship. "Without Title IX, my life would look incredibly different. My entire world has been shaped by athletics and the opportunities that have come with the privilege of participating.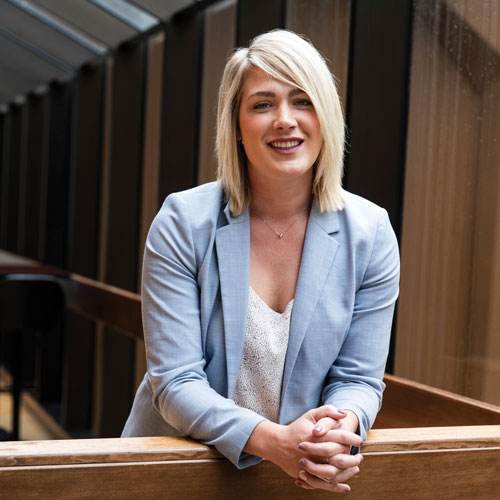 "I tell people all the time that basketball was the vehicle that brought me to Fox, but it was the relationships here that transformed my life. Without basketball, I may not have a college degree, I'm not sure that I would have a relationship with Christ, and there's no way that I would be an associate athletic director at any level."
With that said, Trask believes "we still have a long way to go" when it comes to giving women equal opportunities in athletics. "Sometimes I wonder if the previous generation would be proud or disappointed in where we are now. A lot has happened in 50 years, but there's still work to be done. I'm so thankful that I get to serve in a role where my everyday work has the ability to continue to move the needle forward."
The Cultural Impact
Jessica Hollen, George Fox's head softball coach the past 14 years, echoes Trask's belief that the opportunity to compete is a springboard to bigger things. Ultimately, the chance to take the field develops character, results in lifelong friendships, and opens up career opportunities the pre-1972 generation could only dream of.
"Sports reveal character, but you quickly find that they give more opportunity to succeed and fail on a larger stage, so if you do it right, you can use those opportunities to build your character into who you are really called to be," says Hollen, who led the Bruins to a 23-5 league record and Northwest Conference regular-season title in 2021. "Our goal as a program is to create an environment of personal growth – a place where every person who leaves our program is more comfortable with who they really are. That is what sports can do."
"Our goal as a program is to create an environment of personal growth – a place where every person who leaves our program is more comfortable with who they really are. That is what sports can do."
As a ripple effect, Title IX's passage helped change cultural expectations and beliefs. Gone are the days when women had to choose between pursuing a career and raising a family – a common misconception in the post-World War II era.
Hollen can relate to the tension between balancing a coaching career and a home life. As the mother of two, she admits that being a mom, a mentor to young women and a coach at the collegiate level isn't easy – but possible.
"We had many women who chose not to pursue coaching long term because of the family sacrifices it takes to make it happen – and the guilt of feeling like you are either not doing enough for your team or not doing enough for your family," she says. "But I feel it's important that our athletes see and know that they can pursue a career – whether that is in coaching or not – and be a mom if that is what they want. It is OK and pretty amazing to do both."
To honor the legacy of Title IX, Hollen says the female athletes of today have a responsibility to "carry the torch" by financially supporting women's sports and pursuing coaching positions. "Buy the tickets and the jerseys, and chase the dream of coaching if that's what you're passionate about," she says.
Room for Improvement
Members of the George Fox women's golf program are most likely unaware of the fact that a Catholic nun is partially responsible for their success.
Years before they were born – in the early days of the post-Title IX era – Sister Jean Rose took an eager St. Mary's Academy high school golfer under her wing. The player was McCloskey, and the lessons she learned in those formative years have stuck with her to this day.
"Because of my competitive nature, she instilled in me a lot of great things about emotional resilience and humility, and helped me become a better player – and person," McCloskey says of her former coach. "She also taught me that you don't have to be a professional golf instructor to be a great coach."
Sister Jean Rose was among the few women high school head coaches back then – a pioneer of sorts. And although great strides have been made in the area of women's athletics in the last 50 years, McCloskey believes there is still plenty of room for improvement.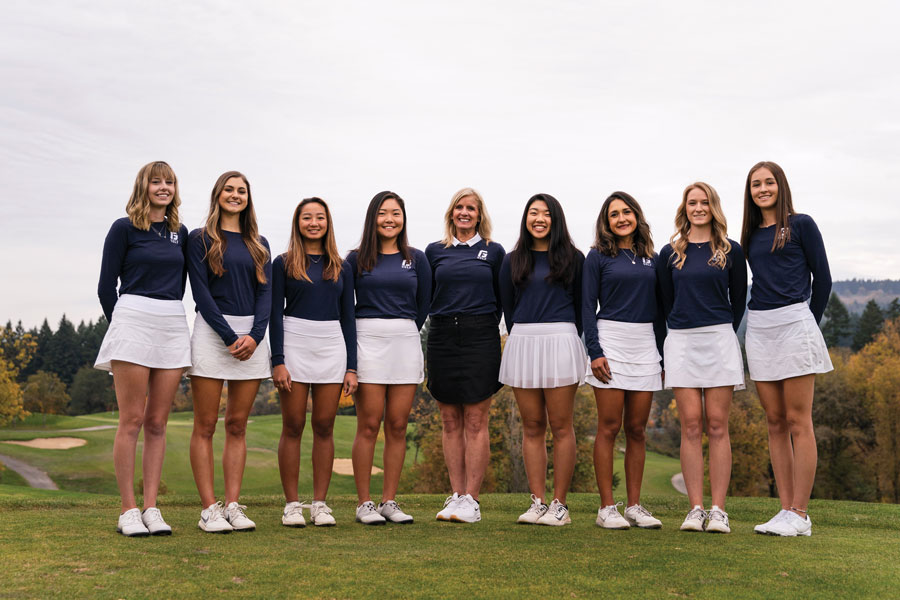 "I must admit, I have been a little disappointed that it actually has taken so long for programs to establish women's teams," says McCloskey, who has led the Bruins to 12 straight Northwest Conference titles and six top-four finishes at the NCAA Division III Women's Golf Championships. "In the NWC alone, men's golf teams had been around for 30 to 40 years before women's golf teams were formed in the late '90s. What took so long? Universities have also been slow to follow the lead of George Fox in terms of hiring more female coaches."
It's true: Golf coaching continues to be primarily dominated by men. That's slowly changing, though, and McCloskey credits Title IX for that change. "I'm so appreciative of Title IX for giving me – and all women – the opportunities to continue to play in college and to coach as well," she says.
In turn, her players have turned opportunity into success: One of McCloskey's players qualified for a pro tournament, the Cambia LPGA Portland Classic. Another competed on a Golf Channel TV show and fared well. Still another, Makensie Toole, won the 2021 NCAA D-III individual golf championship – the university's first individual NCAA national champion outside of track and field. Toole went on to play in the U.S. Women's Amateur in New York last August.
"We don't know anyone's potential unless we give them the opportunity," Trask says. "Title IX has forced the hands in power to equally provide and fund opportunities for girls and women over the last 50 years. And the impact? Women are breaking down barriers and shattering expectations. Can you imagine if we were never given the opportunity? We would never know our potential."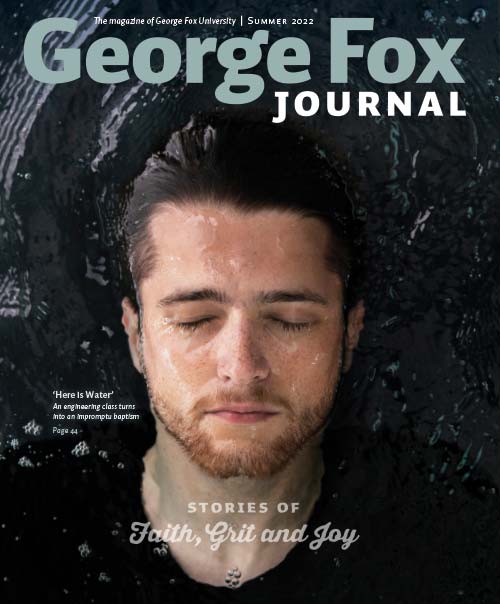 Looking for more?
Browse this issue of the George Fox Journal to read more of the stories of George Fox University, Oregon's nationally recognized Christian university.