Ostrom Reaches Semifinals of Golf Channel's 'Shotmakers'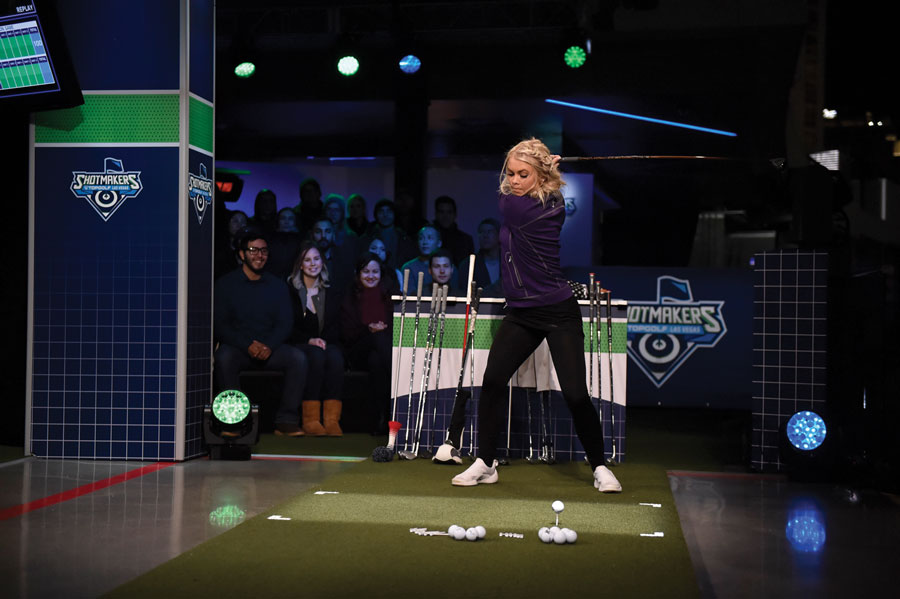 "There's never a bad day on the course." That phrase has been Hailey Ostrom's (G16) mantra practically from the time she was introduced to golf at the age of 2.
An integral player on the George Fox women's golf team that finished on the podium at the 2016 NCAA Division III National Championships, Ostrom ultimately hopes to compete on the LPGA Tour – a goal that has taken her down an unexpected path.
Shortly after declaring as a professional at the beginning of 2018, she got a call from executives at the Golf Channel. A few months and several rounds of interviews later, she landed a spot on the cast of the network's new competition series, "Shotmakers." The show chronicles nine teams of two in head-to-head competitions ranging from tests of precision and distance to ball control and strategic decision-making.
"I used all of the mental preparation I've ever learned," says Ostrom of the TV show's high-pressure environment. "I was nervous because the audience was so big, but I tried to take it all in and enjoy the moment." 
Among the competitors were a former PGA Tour professional, mini-tour professional golfers, an Olympian and champions from the Topgolf Tour. Ostrom and her partner made it through six rounds before being eliminated in the semifinals.
And while they ultimately fell short of winning it all, the experience and exposure gained from playing on a national stage will certainly benefit Ostrom as she continues her pursuit of a spot on the LPGA Tour. In fact, since the show aired, she has landed two corporate sponsors – much-needed partnerships in the early stages of her professional golf career. 
"When you go pro, you compete all on your own," Ostrom explains. "You pay your own entry fee, and then you try to win your money back. It's a grind. … You're playing for experience, mostly." 
Ostrom is currently playing on a professional mini-tour in Phoenix. She credits much of her post-college success to George Fox women's golf coach MaryJo McCloskey, affectionately referred to by players as "MJ."
"MJ was a huge factor in all of my aspirations," Ostrom says. "She made us great golfers and great women. Being at George Fox showed me how to work hard not just for myself, but for others. If I build a platform [as a pro golfer], I can inspire people and try to make a difference. It's for something bigger."
The road to the LPGA Tour can be grueling. In a few years, Ostrom plans on pursuing qualifying school, a series of high-stakes tournaments that determine whether a golf athlete can compete with the best. Until then, she'll continue to work on perfecting her game, believing that her hard work will ultimately pay off.
"Sometimes I'll have a bad round and wonder, 'I've been working so hard, how did I just shoot so poorly?'" she says. "But I think you have to remember who you are and what you want, and I've never been someone who gives up easily."
And when things get really tough, Ostrom is quick to recall her longtime mantra. "I have to remember there's never a bad day on the course."