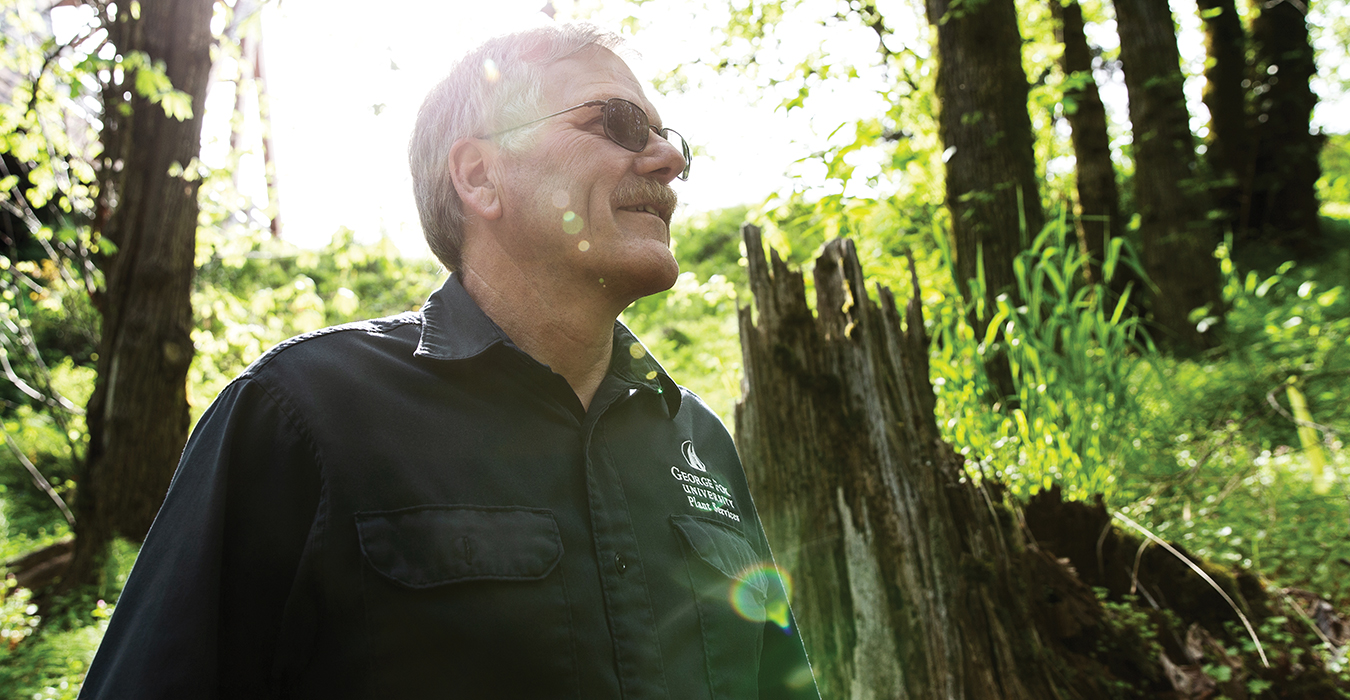 Clyde Thomas: 40 Years
For more than 40 years, Clyde Thomas dedicated himself to the upkeep of his childhood playground
By Sean Patterson
C
lyde Thomas can't remember the exact day – or even the year – that he first fell in love with the land. All he can recall are the fond childhood memories associated with it: the hunt for crawdads in the creek, the sweet taste of blackberries, the beauty of native plants.
The plants. They are what piqued the youngster's interest the most as he explored George Fox's Hess Creek Canyon in the 1960s. A guest of his grandfather, Oliver Weesner, a math professor at the college, Thomas made the school's campus his personal playground on visits from his hometown of Quincy, Washington. He didn't know it then, but his love affair with the canyon would blossom into a lifelong passion – a passion that kept him on the George Fox campus for more than four decades.
Thomas, 62, director of the university's Office of Plant Services since 1990 and a mainstay at the school since he enrolled as a student in 1974, announced his retirement this spring. His tireless efforts to beautify and improve the campus – and his leadership of maintenance, grounds work, building systems and construction projects – were recently honored with the renaming of the plant services building, now known as the "Thomas Center."
"I come by my love of this place honestly," says Thomas, hired as a groundskeeper at George Fox just days after earning a bachelor's degree in biology in 1978. "I've lost count of how many relatives have attended and worked here. Literally dozens. I guess you could say it's in my blood."
It was a fear of blood that changed his career trajectory. Upon enrolling at the college in 1974, he considered being a doctor – "until I discovered I was squeamish of blood," he laughs. Thomas' academic focus shifted to botany, and over his four years he would identify 153 varieties of native plants in Hess Creek Canyon. His senior project documented the changes he witnessed on the land and deepened his commitment to its preservation.
Thomas served as a groundskeeper, a superintendent of grounds and as associate director of plant services before his appointment as department director. During his tenure he helped plant more than 1,500 trees in the canyon to combat the effects of soil erosion; cultivated hundreds of plants at his home nursery and transplanted countless more from homeowners' yards and pastures for planting on campus; and conducted numerous native plant research studies – work that he plans to continue in retirement in partnership with biology professor Paige Parry. His devotion to the tract of land is why many affectionately call it "Clyde's Canyon."
As an administrator, Thomas' commitment to reducing the school's energy consumption and penchant for using maintenance staff rather than outside contractors for facilities remodeling projects saved the university millions of dollars over the course of his career. He even headed up security for about a decade – a responsibility that positioned him well to find student labor for projects. "Some guys in Hobson 2 TP'd Bauman one year, so as community service we made them dig drainage on the baseball field," he recalls. "Another time students dropped mice on parachutes during chapel, and still another time they rolled marbles down the sloping floor in the auditorium during a service. I'd say, 'You guys keep doing this stuff – we need more workers!'" 
Ultimately, he says it's the community that has kept him at George Fox all these years. "People here are committed to what they are doing out of a sense of calling. And we have a special environment in plant services, people from 17 churches getting together each Monday morning for devotions. Amazing."
Looking ahead, he plans to further pursue his love of mountain climbing and spend more time with his wife, Carol (Roth) Thomas, whom he met at George Fox as a student. "I'm still in the area, and you'll still see me in the canyon and around campus," he says. "Can't help myself, I guess."