Kasler Puts Civil Engineering Degree to Work on Campus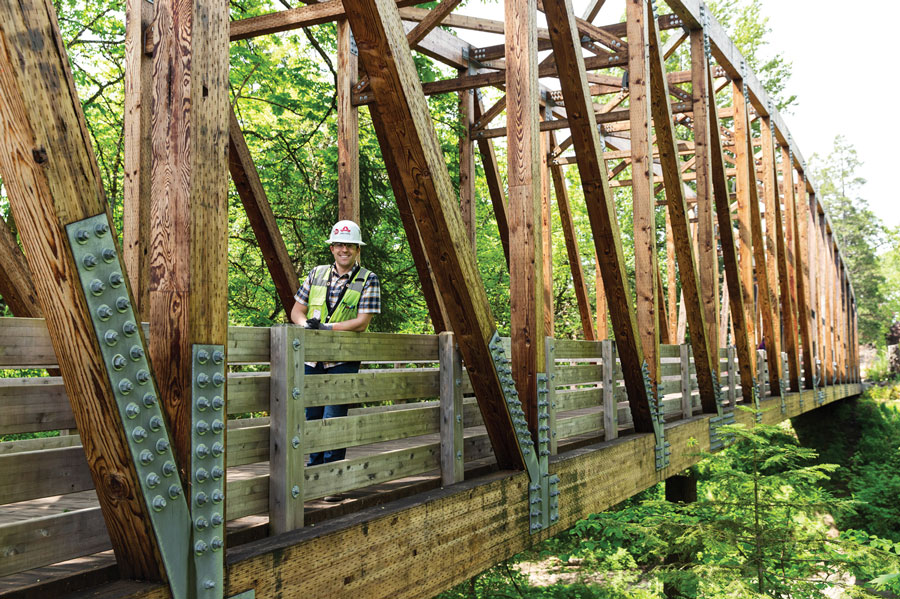 Take a walk around the east side of campus and you're sure to be impressed by all the new structures that have been added over the past few years.
Bryan Kasler (G14) has played a significant role in his alma mater's new look, putting his degree in civil engineering to good use on two recent construction projects: Canyon Commons, a 30,000-square-foot dining facility, completed in 2016; and Crisman Crossing, a 220-foot clear-span timber truss bridge, installed in 2015.
A project engineer for Andersen Construction, Kasler will also play an instrumental role in two more projects this summer: the construction of a new residence hall, also on the east side of campus, and the relocation of the historic Villa Road House.
But he is quick to point out that all the new structures, while impressive, aren't what make George Fox a special place. "The people are what make it great, and we have nothing to do with that."
Kasler says it was the people – and the university's faith commitment – that led him to choose George Fox as a student.
"A lot of schools can teach engineering skills, but George Fox invites the Lord to be part of the experience as well," he says. "I think what really sets it apart is the continual expectation that Christ is in the center of everything." 
Today, Kasler uses those skills he learned as a student to help manage all manner of construction projects for Andersen, with a focus on keeping jobs moving forward, problem solving and ensuring workplace safety. His office is usually in a trailer on the job site; his tools of the trade a computer, a phone and a set of blueprints.
"I love being onsite because I'm not always stuck in an office," he says. "I get to see the progress of what we're building every day."
Kasler's connection with Andersen Construction began, fittingly, on campus as a student when he met some of the company's staff while participating in the groundbreaking ceremony for the Duke Athletic Center. That networking opportunity later led to a job offer during his senior year.
Is it his dream job? "Most of the time I think it is," he says with a laugh. "Working for a company with strong values and people who embody those values in their day-to-day business is what I enjoy the most."
When not on the construction site, Kasler is heavily involved with Young Life as the team leader at Southridge High School in Beaverton, Oregon. He's also helping launch the first-ever Young Life club at the new Mountainside High School in Beaverton. In addition to his role as team leader, he periodically works as a chef at the organization's summer camps located around the Northwest.
Kasler also serves as deacon for facilities at Westside: A Jesus Church in Portland. And, in yet another connection to his alma mater, he plays trombone in the university's annual Christmas Concert.
"I love George Fox, and most people know I'm a big fan," he says of his many ties to the university. "Our team sees it as a privilege to be invited on campus to enhance the environment and serve the people here."