News and Life Events
Alumni Key
B Bachelor's degree
M Master's degree
D Doctoral degree
n non-degree
1960-69
Richard Foster (B64) published his newest book, Learning Humility: A Year of Searching for a Vanishing Virtue, in December. He writes that humility is central to the journey toward character formation and spiritual transformation. He studied the Lakota calendar as a framework. Renowned worldwide for his book Celebration of Discipline, he is the founder of Renovaré, a former pastor, and an internationally acclaimed speaker on spiritual formation. His first book, which marked its 40th anniversary with a campus celebration in 2018, has sold more than 2 million copies and was named "one of the top 10 religious books of the 20th century" by Christianity Today magazine.
1970-79
Ron Mulkey (B74) and Deb (Cloud) Mulkey (n77) have returned to Twin Rocks Friends Camp in Rockaway, Oregon, as caretakers of the Harbor Villa Retreat Center after a two-year stint as pastors at Greenleaf (Idaho) Friends Church.
Marsha (Jensen) Ocker (B75) and Mark Ocker (B83) have joined Twin Rocks Friends Camp in Rockaway, Oregon, as long-term volunteers, moving from their Vernonia, Oregon, home of 20 years. He retired from his position as assistant professor of management at George Fox in 2017.
Dave Hampton (B76) is continuing to guide the Northwest Yearly Meeting of Friends Church following his retirement this year after eight years as chief financial officer at Friendsview Retirement Community. He is a trustee and a member of the foundation board, the extension fund board and the Twin Rocks Friends Camp board, and serves as treasurer of the Newberg Friends Church. He logged 18 years in finance positions with Friends organizations after 12 years as director of finance and development with the Northwest Yearly Meeting at its Newberg headquarters.
Peggy (Wilson) Kilburg (B76) in November was reelected to the Newberg City Council, continuing in the District 2 seat to which she was appointed in June to fill a vacancy. A 40-year resident of the city, she retired after working for 21 years at George Fox as human resources director.
Larry Zirschky (B76) is a licensed professional counselor candidate, now in private practice as one of 10 associates with Southwest Counseling in Littleton, Colorado. He holds both a master of divinity degree and a master of professional counseling degree, and has more than 40 years of pastoral/biblical counseling experience. He retired from the U.S Navy/Marine Corps after serving as a chaplain for 26 years.
Linda Byrd (B78) works remotely in more ways than one. Since 2016 she has been a Newberg-based curriculum writer and teacher for the Refuge 139 program with Wycliffe Bible Translators, based in Orlando, Florida. Last year she twice spent time in West Asia, teaching upper-elementary classes for the project that provides a day camp for missionary children whose families are with Wycliffe. She also taught in Cameroon, West Africa, this spring.
1980-89
Don Howard (n81), although retired in 2017, is still in the same occupational field – now 42 years – as he works part time and on-call as a court security officer with the Washington State Superior Court/Thurston County Sheriff's Office in Olympia, Washington. He is also founder and coordinator for his church's safety team.
Jan (Rickey) Lacy (B81) has a new calling as a private caregiver in the Newberg area. This follows 34 years as a school teacher, 31 at Edwards Elementary School in Newberg. She retired in 2012, then worked with George Fox's education department as an adjunct student-teacher supervisor for three years. She lives in Tigard, Oregon.
Debra (Blom) Millegan (n83) is a court-appointed special advocate with the Yamhill County (Oregon) Court, helping abused and neglected children in the court system since 2017. Diagnosed with young-onset Parkinson's disease in 2008, she has been certified on all equipment for teaching Pilates exercises and specializes in working with others who have Parkinson's disease. She lives in McMinnville, Oregon.
Howard Perry (B84) has relocated 550 miles to Bryan-College Station, Texas. He retired last spring from teaching, ending a 31-year career as an elementary and special education inclusion teacher.
Steven Cammack (B87) is an arts and electives teacher at Winston Middle School, a school of more than 220 in the Winston-Dillard School District near Roseburg, Oregon.
Christine (Belnap) Thiessen (B87) is a gift officer with the Providence Children's Health Foundation in Portland, in her sixth year. She and her family, in honor of her husband, Timothy, who died in 2019, have created a cinematic arts scholarship in his name at George Fox, where son, Jake Thiessen (B18), is a video producer in the university's marketing communications office.
1990-99
Pat Casey (B90), a legendary baseball coach at both George Fox and Oregon State University, was honored by the Beavers in a special pregame ceremony in May of last year. He and his family were welcomed by the largest crowd ever in Goss Stadium, as 4,026 fans watched an introductory video, then a videoboard presentation of congratulations from former players in the professional ranks. Casey delivered his thank you remarks from the pitcher's mound. Called a surefire National College Baseball Hall of Fame member, Casey retired from coaching in 2018 and is now a special assistant to the OSU vice president and director of athletics. Casey coached for 31 years – 24 at Oregon State, where his teams went 900-459-6 and won three national NCAA Division I titles. At George Fox from 1988 to 1994, he went 171-113-1 and won three NAIA District 2 titles.
Elaine (Haworth) Koskela (B90) is in her second year at Friendsview Retirement Community in Newberg, where she recruits and processes new employees as a talent acquisition specialist. She left the Newberg School District, where she was a success coach at the non-traditional Catalyst High School for nearly five years.
Gregg Koskela (B90), although continuing to live in Newberg, is now a communications director for the Cascade School District in Turner, Oregon. He started in September in the district of 2,500 students in five schools. The move follows five years with the Newberg School District. Previously, he was pastor of the Newberg Friends Church for 15 years.
Mark Strong (M91, D03) garnered national exposure in June when his article, "Thoughts on Navigating Our Church Effectively in a 'Moved' Neighborhood," was published by Christianity Today magazine's blog forum "The Better Samaritan." It is an adaptation from his book Who Moved My Neighborhood?, published by InterVarsity Press. He is senior pastor of Life Change Church, a diverse church in inner-city Portland, and a member of the board of regents of George Fox's Portland Seminary.
Jennifer (Brownlee) Sinclair (B91) now oversees data administration programming and volunteer services with Special Olympics Oregon, based in Beaverton. She started in 2019 with the organization that helps those with intellectual disabilities improve their lives through competition. She is responsible for athlete eligibility and compliance, and assists state and local program leaders.
Jeffrey Graham (B92) started in September as senior human resources manager with Danone in Springfield, Oregon, maker and distributor of dairy products and plant-based foods and beverages. He moved across town from PeaceHealth Medical Group, where he was in human resources for more than three years.
Kristin (Anderson) Hamann (B92) calls herself an "independent individual and family services professional" as she cares for her family. She is also a piano accompanist professionally, accompanying students at Oregon Music Education Association events and volunteering weekly at two local medical centers, where she provides music therapy in their lobbies.
Christine (Deboy) Drazan (B93) received more than 850,000 votes (43.6%) as one of three candidates to be Oregon's governor in November, losing the race by less than 4 percentage points to Democrat Tina Kotek (47%). Drazan, a Republican, resigned her Oregon House of Representatives (District 39) seat in January 2022 to run in the May primary election. A resident of Oregon City, she was elected to her House post in 2018 and reelected in 2020 to serve Clackamas County.
Jennifer Meckley (B92, M06) in January was named interim superintendent of the Lebanon (Oregon) Community School District. She has been with the district for 26 years, as a teacher for 10 years, a principal for eight years, an HR director, and since 2019 as an assistant superintendent. The district has 3,780 students in nine schools.
Rolf Potts (B93) has written his fifth book, The Vagabond's Way: 366 Meditations on Wanderlust Discovery, and the Art of Travel, published by Ballantine Books in October. The New York Times' review stated it is "a wise, generous and profound book." His adventures have taken him to six continents, and he has reported from more than 60 countries for National Geographic Traveler, The New Yorker, Slate, Outside, The New York Times Magazine, The Believer, Sports Illustrated and the Travel Channel. Now living in Sterling, Kansas, he is the program director and writer-in-residence at the Paris American Academy's annual creative writing workshop.
Jamie Boutin (B94) is in his second year in his new position as director of physician recruitment with Encompass (formerly Health Southwest), one of the nation's largest healthcare providers, specializing in rehabilitation. With the Birmingham, Alabama, firm since 2012, he advanced from the position of associate director after five years.
Lynette (Sanstrum) Lindbergh (B94) is founder and owner of Couch to Active, providing accessible fitness for those with chronic illnesses and the blind community. She started the venture in 2016 following her 20-year corporate career. Based in Bainbridge Island, Washington, she is a blogger, speaker, coach, fitness influencer, certified personal trainer, and author of Couch to Active: The Missing Link that Takes You from Sedentary to Active.
Anne (Basden) Dunlop (B95) in January established the Chronic Illness Grit and Grace Foundation, a 501(c)(3) to create community and support for women affected by chronic illness. It uses donated funds to provide support for the "little things" often overlooked as a cost of being ill. Living in Gresham, Oregon, she is a former teacher, show director, artistic director and direct sales leader.
Stephen Brown (B96) started in August as director of safety and security with the 9,500-student, 16-school New Braunfels Independent School District in Texas. He moved from Colorado, where he was a certified peace officer and assistant director of safety and security for three years with the Greeley Evans School District.
Tricia Gates Brown (B96, M97) received a bronze medal for regional fiction in the 2022 Independent Publisher Book Awards program. The "IPPY" award was for her novel Wren. She has been an editor at Portland State University since 2017.
James Homolka (B97) in July started a new position as an IT support administrator with the Church Extension Plan in Salem, Oregon. It provides finance and administrative services for churches and members of the Assemblies of God denomination. He left a position of nearly 18 years as a technician with Volkswagen credit service centers. He also is a member of the Faith Based Security Network, promoted to Region 10 leader for the organization of security and law enforcement professionals associated with faith-based organizations.
Jeremy Keener (B97) is a dentist in Winnemucca, Nevada, where he was born and grew up. He established Keener Family Dental Care in 2004 after receiving his DDS from Indiana University Bloomington.
Luke Ankeny (n98) in October was named the Idaho State Coaches Association Assistant Coach of the Year for 2022. He is a volunteer assistant, in his 11th year, at Marsing High School, where his wife, Heidi (Haley) Ankeny (B98), is a track and field coach and he is an assistant basketball coach. He is the executive director of two organizations: the City of Marsing Housing Authority and the Marsing Agricultural Labor Sponsoring Committee, Inc. He is also owner/CEO of Ankeny Brothers Kettle Corn, started in 2020.
Barbara (Smith) Holmes (B98, M05) in September published her second book, Finding Rest in the Garden of the Lord, a 170-page paperback issued by Xulon Press. The devotional uses Scripture, poetry and art to help readers grow from difficult seasons in life, using biblical directives. She lives in Cocoa, Florida
Jeff Simons (B98) is in Lakewood, Colorado, where he has started The Way Between, Inc., a nonprofit to equip global and ministry leaders to thrive in transition through coaching, workshops, sabbatical support and life plan discernment. It was started in 2020 after he returned from 12 years in Malaga, Spain, where he was part of a staff development and care team (Sentwell) with Novo, which also helps missionaries thrive in a global context.
David Wood (B98, M06) is principal at Stephens Middle School in the Salem-Keizer (Oregon) School District, in that position since 2019. Previously, he was assistant principal in the district's McKay High School for five years after starting there as a social studies teacher in 2004. He also is a member of the faculty and academic council for the Reach Training Institute, a ministry training center based in Salem, started by the Salem Alliance Church.
Dan Foster (B99, M04) is now chief operating officer for Building Champions, an executive coaching and leadership development firm in Lake Oswego, Oregon. He assumed the role in September after more than 11 years with the company, stepping up from vice president of marketing and business development and executive coach. He also is an adjunct professor in the George Fox School of Business, starting last fall.
2000-09
Adam Cordero (B00, M09) is a software development manager and architect, completing his second year as a senior tech lead with Booz Allen Hamilton, a consulting firm advising public and private sector clients, primarily the United States government, on organization and strategy. He is in Bethesda, Maryland, after nearly four years as a senior software engineer with Runbeck Election Services Inc. in Phoenix.
Christian Klaue (M00) is now the high school vice principal at Regent Christian Academy in Surrey, British Columbia. He started at the 550-student boarding school in September, moving from Saskatoon, Saskatchewan, where he was principal of Saskatoon Christian School for two years. He also is an adjunct professor with Prairie College in Three Hills, Alberta, and Trinity Western University in Langley, British Columbia.
Karrie (Kiester) Nelson (B00, M02), after a 17-year break, has resumed her teaching career. Last fall she started teaching math, science and logic to upper-school students at Knox Classical Academy, a private Christian school in Central Point, Oregon. She started her career teaching middle and high school in St. Paul, Oregon, schools until 2005, then homeschooled her children.
Kimberly (Grimes) Porter (B00) is continuing her around-the-world teaching career, in the fall moving to Singapore where she is at the World College of South East Asia as a mathematics instructional coach to teachers. The school has 578 staff and 5,500 students. She traveled from Budapest, Hungary, where she was an elementary school teacher and peer mentor for 11 years with the American International School.
Aaron Wright (B01) is now the James R. Schofield Endowed Chair in Biomedical Sciences in the Department of Biology at Baylor University in Waco, Texas. He started last fall, leaving Washington State University after nearly nine years as a research professor in the Voiland School of Chemical Engineering and Bioengineering. With a PhD in organic chemistry from the University of Texas at Austin, he earlier was a group director and senior scientist at the Pacific Northwest National Laboratory in Richland, Washington.
Kraig Sproles (M01) is completing his second year as superintendent of the Bethel School District, a 5,250-student, 11-school district near Eugene, Oregon. Previously, he was the assistant superintendent of the Salem-Keizer (Oregon) School District for three years.
Shannon (Vandehey) Buckmaster (B02) started in August as the community wellness fund development director with Yamhill County Care in McMinnville, Oregon, a contracted healthcare nonprofit under the Oregon Health Plan (Medicaid). She moved from her position of two years as economic health manager with the city of Newberg.
Neil Cantrall (B02, D23) this year has been both a student and faculty member at George Fox, teaching as an assistant professor of education and completing his doctoral degree in education. He and his wife, Kelsey (Baron) Cantrall (B03), were previously in Indonesia, where he was a school director and head of school for a year and an elementary school principal and curriculum coordinator for a year at the Bandung Alliance Intercultural School.
Cathy (Shannon) Chavez (B02) is an instructional coach at George Elementary School in the Quincy (Washington) School District, starting this school year. She also is a BEST Mentor Building Induction Coach (mentoring new teachers) and testing coordinator. She moved to Ephrata, Washington, in 2020, to teach second grade in the Moses Lake (Washington) School District through remote learning, then third grade for the Quincy district last year.
Ron Davis (B02) is a candidate for the Seattle City Council, seeking to represent District 4 in the city, using his background with a law degree from Harvard University Law School, earned in 2012. He is a go-to-market advisor, in his second year, with early-stage startup companies, following nearly six years as CEO with Tenacity, a startup firm that uses machine-learning technology and behavior therapy to help people remain on the job.
Andrew Gumley (B02) is owner of Special Events Alaska in Wasilla, offering party and event supplies and rentals. He also spends time racing, participating the last four years in the Iron Dog Race, a 2,600-mile snowmobile race from Big Bear Lake near Wasilla to Nome each winter.
Heather Smith-Bowman (B02) is working in two positions in Fort Collins, Colorado. She is in her 18th year with Heritage Christian Academy, the last 12 as communications manager after six years of teaching at the private school of 230 students. She also is executive director of Larimer Chorale, in her fourth year heading the 45-year-old, 125-member adult choir that performs masterworks regionally.
Brian Van Bergen (B02) is still monitoring and recording elections, but now in a different county. He started in July as elections and recording manager with Marion County in Oregon. That's a move from neighboring Yamhill County, where he was county clerk for nearly 10 years, supervising elections. He made the change because he was in the second half of his final term under a term-limit policy in Yamhill County.
Lindsay Walker (B02) started last June as kids pastor at The Crossing Church in Chesterfield, Missouri, moving after four years from her position as children and youth ministries leader at Calvary Church in St. Peters, Missouri. She also has a new side job as an assistant track and field coach, coaching throws at St. Louis University in Missouri.
Wendy (Noyes) Witty (B02) is an engineering specialist, materials and processes, with Aerojet Rocketdyne in Redmond, Washington, now in her 19th year. Living in Auburn, Washington, she also is the Sewing to the Nations coordinator for the Global Helps Network, which provides vocational training in rural villages in India. She focuses on tailoring in schools, helping young women earn a living wage so they and their families are less vulnerable to usurers and human traffickers.
Camille (VanHooser) Hearne (B03), since 2007, has been a licensed clinical social worker and is in private practice in Halfway, Oregon. This year she received a realtor's license.
Keri Ingraham (B03) in December was appointed as a visiting fellow at the Independent Women's Forum in Washington, D.C., a conservative economic policy issues group. She continues full time as a fellow at the Discovery Institute, a politically conservative think tank in Seattle, as director of its American Center for Transforming Education. In December, her article "Teacher Certification and Uniform Salary Schedules Hinder Career Technical Education Staffing" was named the top education reform policy idea of the year in the Thomas B. Fordham Institute's Wonkathon. She also authored multiple chapters for the book Sketching a New Conservative Education Agenda, published last year, and delivered to national governors and policy makers nationwide.
Ben McReynolds (B03) is headmaster/principal of Knox Classical Academy, a Christian elementary school in Central Point, Oregon, where he also teaches math and music. He started in the 2022-23 school year. In addition, he is a professional cabinetmaker, since graduation working with his father at McReynolds Woodworking in Gold Hill, Oregon.
David Wold (B03) has moved up to senior vice president and chief financial officer at Weyerhaeuser, headquartered in Seattle. He previously, for three years, was vice president and chief accounting officer. He has been with the company since 2013, holding positions in accounting and finance leadership.
Michelle Bourret-Belkot (B04) took office in January as a new member of the five-person Clark County (Washington) Council. Elected in November to a four-year term, she now represents nearly 100,000 residents. She has a master's degree in management and leadership from Webster University in Webster Groves, Missouri, and served in the U.S. Air Force and U.S. Navy for a combined 25 years in command leadership roles.
Peter Fisher (M04, D22) is founding partner and CEO of Human Investing, a wealth management, tax consulting, 401(k) plan consulting and credit union advisory firm in Lake Oswego, Oregon. It was started in 2004 after he was with Forbes Financial Council in Boston for nearly five years and more than eight years with Merrill Lynch.
Andrew Harris (B04) is about to begin his third year as owner and CEO of Tualatin Valley Glass in Tigard, Oregon. He left his positions with Northwest Christian Church in Tigard, where, for two years, he was an associate pastor and managing director.
Ryan Summers (B04) in October was named senior vice president and commercial banking lead with Columbia Bank as it expanded its commercial lending division into Phoenix. He was already working there as senior vice president for business banking with U.S. Bank, in that role for more than three years. He had worked with U.S. Bank for nearly 14 years in several positions.
Bonnie Toering (B04, M08) has opened her own private practice as a mental health therapist in the Portland area, counseling online. A licensed professional counselor since 2012, she earlier was a senior clinical quality analyst with Optum, a healthcare provider, for more than six years.
Edward Lodge (B05, M08) in January was named by Idaho Governor Brad Little as a member of the Idaho Public Utilities Commission. He will serve a six-year term. He has more than 20 years working in federal, state and local public and governmental affairs, including 17 years of regulatory responsibilities in the Idaho telecommunications industry. He is also vice president of the Caldwell (Idaho) Night Rodeo and a board member of the Western Heritage Foundation.
Matthew Smith (B05) has been promoted to senior technical claims specialist with the Liberty Mutual insurance company, now completing his 18th year with the firm. He was a candidate this spring for a position on the Chehalem Parks and Recreation Board in Newberg.
Mark Campbell (M06) in March was named head women's basketball coach at Texas Christian University in Fort Worth. The last two seasons he was head coach at Sacramento State (California), where he coached the women's team this year to a 25-win season and its first NCAA tournament appearance.
Arturo Lomeli (M06) in March was named new curriculum and instruction director for the Forest Grove (Oregon) School District, starting July 1. He moves from his three-year position as executive director of secondary school leadership for the Belton (Texas) Independent School District.
Josh Priester (B06) in August was named director of the Big Sur Marathon Foundation, moving from his job as track and field coach at Westmont College in Santa Barbara, California, where he had been for 10 years. He is founder of the Santa Barbara Track Club, serving as executive director and head coach for a decade. He now guides an organization that raises more than $400,000 a year for local nonprofits through its Big Sur International Marathon and Monterey Bay Half Marathon.
Perla Rodiguez (D06), after being named Oregon's Elementary School Principal of the Year in 2018 by the Confederation of Oregon School Administrators, is earning more praise. In March she was chosen one of 27 "Amazing Educators" for 2023 by the Pamplin Media Group newspapers. Chosen in each community area are educators "impacting the leaders of tomorrow." She is principal of Echo Shaw Elementary School in the Forest Grove School District, where she started teaching in 1998. She was cited for her work promoting dual-language instruction, creating new generations of Spanish- and English-proficient students.
Jeffrey Bilbro (B07) is now an associate professor of English at Grove City College in Pennsylvania, completing his second year after nine years in the same position at Spring Arbor College in Michigan. In November, he was one of two featured speakers for the Mars Hill Forum at the University of Kentucky in Lexington. He spoke on his 2021 book, Reading the Times: A Literary and Theological Inquiry into the News.
Rachel Bylsma (B07) in March joined the office of Alaska Governor Mike Dunleavy in Juneau as deputy chief of staff. She left her position as external affairs manager for the Alaska Oil and Gas Association in Anchorage, in that position since July of 2021. She previously served in government as director of constituent services for Alaska's U.S. Senator Dan Sullivan and as a senior policy advisor to Alaska Governor Sean Parnell.
Robert Dickey (B07, D12) is now director of the Central Oregon Behavioral Health Consortium in Bend, Oregon. He started in 2021 after working for a year as a behavioral health psychologist with Mosaic Medical in Bend and in similar positions previously with Legacy Health and Providence Health. He also continues work at a part-time private practice started in 2014.
Greg Foley (M07) is the territory associate relations manager with Home Depot in Portland, in his third year, after being a district HR manager for more than four years. He has published a book about his experience as a U.S. Army officer, Journal of a Christian Soldier in Iraq, in which he shares his personal journal entries.
Sara Johnson (D07) is Oregon's 2023 School Superintendent of the Year. She received the news and recognition in September in Prineville, home of her Crook County School District. She has been head of the 3,000-student, nine-school district since 2018. She was chosen by the Coalition of Oregon School Administrators, based on her outstanding leadership in learning, communication, professionalism and community involvement. Previously, she was named by the organization as Oregon's Principal of the Year in 2007 while in McMinnville, Oregon.
Josiah Nishita (B07) is deputy managing director for Maui County in Hawaii. He has been with the county since 2012, including nearly eight years in the Office of County Clerk, as deputy and then clerk for a year, before being named to his current position in 2020.
Tyler Olson (B07) received the national 2022 Community College Faculty Award from the American Political Science Association. He is in his 11th year at Cuyahoga Community College in Cleveland, Ohio, where he is the program manager for the conflict resolution and peace studies program and an adjunct professor. In addition, he is a founding partner of (re)Frame Conflict, started in 2018, which specializes in consulting and training on conflict resolution and transformation processes for organizations and communities. Also, last year he received a PhD in leadership and change from Antioch University.
Benjamin Anderson (B08) is a public affairs (communications) director with the U.S. Navy in Washington, D.C. In 2021, he completed a milestone tour as an aircraft carrier public affairs officer on the USS Theodore Roosevelt, a primary foreign policy tool of the U.S. president. It is a step toward promotion to commander. He is in his 13th year in the Navy, serving in the Office of Community Outreach since 2019.
Brittany Harmon-Watilo (B08) in 2020 moved from Newberg to Jinja, Uganda, where, with Amazima Ministries International, she was part of a team starting a new primary school in a local village. She helped in leadership, program development and with the professional development of teachers. She now is transitioning to a role as head of discipleship, working with Bible teachers and teaching some Bible classes.
Luke Fletcher (B09) is now a member of the hematology and oncology team at the Willamette Valley Cancer Institute and Research Center in Eugene, Oregon. He started in August 2021 and specializes in myeloid malignancies. He received his MD from the Keck School of Medicine at the University of Southern California in 2015.
2010-19
Lisa Anderson (B11), after working in private practice, is now a clinical dentist, in her third year, with the Native American Rehabilitation Association in Portland. She works as its outreach dentist, treating clients residing at its residential rehabilitation facilities.
Megan (Borjesson) Eddy (B10) last fall started as a health teacher and middle school/high school academic advisor at East Linn Christian Academy in Lebanon, Oregon. She started at the 385-student school after eight years as a recreation therapy director with the Oregon Veterans Home in Lebanon.
Amber Jones (B10) is director of credit union services with Human Investing in Lake Oswego, Oregon. She started in the position in 2021 after being CFO with the company since 2016. Previously, she was with Delap LLP in Lake Oswego, for nearly five years, ending as a senior tax accountant.
Keith Marshall (B10), a business administration/finance major, is using his degree as chief operating officer for the Hurley Financial Group in Corvallis, Oregon. With the company since 2014, when he started as a client service representative, he was a registered associate for seven years before assuming the top spot. A certified financial planner, he purchased the firm that manages retirement assets for 250-plus families.
Chris Nicholson (B10) is now on the staff of New Life Church of the Nazarene in Medford, Oregon, starting last June as the worship and creative arts pastor. He moved from his position as worship pastor for eight years at the Puyallup (Washington) Church of the Nazarene.
Elise (Kuenzi) Trask (B10, M21), George Fox's first full-time associate director of athletics, resigned from her position this spring to join a new venture in Silverton, Oregon, owning and operating The Farm on Golden Hill, an event venue and winery that hosts weddings and corporate events. She joined the athletics department in 2014 after three years as assistant director of operations for the Oregon State University women's basketball program, under her former coach with the Bruins, Scott Rueck. The 2008-09 Bruin women won the NCAA Division III national championship, completing a perfect 32-0 season with Elise as captain. Her husband, Brent Trask (B10), is in his ninth season with the Bruin baseball program, now director of player development after overseeing the catchers and serving as camps director. He is a physical education teacher in Newberg at Edwards Elementary.
Mick Bates (D11) is continuing with Taylor University in Upland, Indiana, as director of innovation and entrepreneurship, heading an IMPACT entrepreneurship camp for pre-college students. A professor emeritus with the university, he was a professor of marketing for four years after four years with Life Pacific University in San Dimas, California.
Kara (Betzer) Cones (B11) and her husband, Dan, in August became pastors of the Bucklin (Kansas) Free Methodist Church in the city of 800, located 27 miles from Dodge City. She left her position as an administrative assistant and technical specialist with Our Lady of the Lake Catholic Church in Lake Oswego, Oregon.
Gary Daniels (M11) is Pacific Northwest chief executive officer of UnitedHealthcare, headquartered in Lake Oswego, Oregon. He has been with the nationally managed healthcare and insurance company since 2010, starting as a key accounts executive, then becoming vice president of sales and account management before serving as a regional growth officer in 2018. As CEO, he guides the business in Oregon, Washington, Montana, Alaska and Hawaii.
Nate Dillow (B11), after beginning his military career in 2013 and recently being stationed in Ramstein, Germany, as an independent duty medical technician/paramedic with the U.S. Air Force, now is in officers training school at Maxwell AFB in Montgomery, Alabama. He is planning to be a remotely piloted aircraft pilot and will be heading for training at Randolph AFB in San Antonio, Texas. Last June, he became a basic Army Airborne Distinguished Graduate and was deployed to Poland to help set up an airfield providing aid to Ukraine.
Josh Eggleston (B11) is with the city of Salem, Oregon, as chief financial officer. He assumed the position in the spring of 2022 after joining the city in 2015 as a management analyst and progressively moving up to interim CEO for eight months.
Adina (Eden) Morgan (M11) is an instructional designer, just completing her fifth year with Northwest Natural, the utility firm that supplies 2.5 million customers with gas, working from Sherwood, Oregon. That follows four years in three positions in California, the last as senior content editor with the Center for Employment Training in San Jose.
Paige (Copenhaver) Parry (B11), after joining her alma mater as an associate professor of biology in 2016, is now in Laramie, Wyoming. She is associated with her other alma mater, the University of Wyoming, where she earned a PhD in ecology in 2016. She is the ecology program manager at the Wyoming Natural Diversity Database, a service and research unit providing information on species and habitats of conservation concern, part of the nationwide Natural Heritage Network.
Nathan Swenson-Reinhold (D11) is now partner/owner of GSB Fundraising, started in July in Frisco, Texas, to help nonprofits in resource development, capital campaigns and fund appeals. He also continues as owner and CEO of Summit Coaching and Behavioral Consulting, based in the same city and in its seventh year. This follows 17 years in the pastorate with Lutheran churches, the last seven with Lord of Life Lutheran in Fairfax County in Virginia.
Tony Summers (M11) last fall became principal of Madras (Oregon) High School, taking leadership of the school of 760 students after three years as the driver education program manager with the High Desert Education Service District in nearby Redmond. Previously, he was a principal in two public schools in Oklahoma, where he earned an EdD degree from the University of Oklahoma in 2021.
Ali Toedtemeier (B11, M16) is back on campus in her major, as a bachelor of social work field director and an assistant professor of social work. She started last fall after six years as a mental health specialist with Yamhill County (Oregon) Adult Behavioral Health.
Ethan Brown (B12, M17) this fall returned to his Sedro-Woolley (Washington) High School alma mater as its new boys' basketball coach, coming back to the court where he started as a ball boy, then player. The former four-year Bruin basketball guard, who lives in Sedro-Woolley, continues with the nearby Mount Vernon School District, where he is a teacher at LaVenture Middle School.
Corey Clark (B12) completed his first year as boys' basketball coach at Poway (California) High School with a 19-11 record, 7-3 in Avocado League play. He is on the 2,400-student school's athletic staff while teaching government and history at 3,500-student San Marcos High School, 15 miles away in a different school district. The former Bruin basketball player was previously an assistant coach at San Marcos.
Kristin Dixon (D12) is a professor of education and dean of the School of Education and Counseling at Corban University in Turner, Oregon. She started in 2013 after 11 years teaching MAT classes at George Fox. She also is a member of the faculty and academic council for the Reach Training Institute, a ministry training center based in Salem, Oregon, started by the Salem Alliance Church.
Kimia Ighani (B12) is a physician assistant with the St. Charles Health System in Bend, Oregon. She started last fall after moving from Southern California, where she was a PA with the Prohealth Group and Elevation Physicians over a three-year period.
Jacquie (Pickett) Lai (B12) has edited, published and now is marketing a children's book, Coming Home, Where Your Heart is at Christmas, written by her parents and released last fall. She is a professional portrait photographer, owner of Jacqueline L. Photography in Columbus, Georgia.
Chris Martin (B12, M15) is a science teacher and department chair at Silverton (Oregon) High School. She has served in the Silver Falls School District since 2015, teaching anatomy and physiology, advanced biology and life science.
Alexandra (Jimenez) Rhizor (B12) started in August as an oncology/infusion nurse at Oregon Health & Science University's Hillsboro Medical Center. She received her nursing degree from OHSU in 2018 and then was a registered nurse and clinical nurse supervisor with Nursingale in Portland for three and a half years.
Kurt Taylor (B10, M12) is at Madras (Oregon) High School in a new role. This year, he is an assistant principal after seven years as dean of students and head football coach. Previously, he was a PE/health teacher at Marshall High School in Bend for three years and a PE teacher and assistant football coach at Glencoe High School in Hillsboro, Oregon.
Rachael (Cruthirds) Amin (B13) had her engagement, marriage and the events that led to her meeting her husband profiled and carried nationwide. She married Sanjay Amin on June 4 at the Columbia Gorge Hotel and Spa in Hood River, Oregon. How she met her husband in Portland, how they got to know each other, and how they dealt with pandemic restrictions are told in a June 17, 2022, article in The New York Times. They now live in Venice, California, where she is a yoga and infant massage therapy instructor.
Heather Cordie (D13) has joined the Beaverton (Oregon) School District, Oregon's third-largest with nearly 40,000 students in 49 schools. She started last fall as deputy superintendent of teaching and learning, leaving her position as superintendent of the Sherwood (Oregon) School District, where she had guided 4,000 students in six schools for the last 10 years.
Marisa Hastie (D13) is completing her first year as dean of the College of Health Studies at A.T. Still University in Mesa, Arizona. She joined the private medical school after eight years at Lasell University in Newton, Massachusetts, where she was a professor and program chair of exercise science and fitness management for the last three years.
Andrew Launder (B13) is in his second year as a patent agent with Davis Wright Tremaine, a litigation law firm in Portland. Previously, he held the same position with McCoy Russell in Portland for nearly two years. He received a PhD in chemistry from the University of Georgia in 2017.
Todd Nagamine (B13) is a 2023-24 rising chief medical resident in the internal medicine department at the University of Hawaii in Honolulu. He received an osteopathic doctor degree from Touro University in Henderson, Nevada, in 2016.
Kelli Nakamura (B13), after receiving a master's degree as a physician assistant in 2020 from Pacific University in Forest Grove, Oregon, is now a PA at Waikiki Health in Honolulu.
Gustavo Vela-Moreno (B13) has been appointed to the Woodburn (Oregon) School District board, now in his second year helping guide the district of 12 schools with 5,250 students. He is the lead mechanical engineer with PAE Consulting Engineers in Portland, in his sixth year. He also is a member of the George Fox Board of Trustees, named in January 2021.
Emily (Davison) Wyatt (B13) is a charge nurse and nursing supervisor at the Legacy Meridian Park Medical Center in Tualatin, Oregon, in her seventh year. She works in the intensive care unit.
Micah Donor (B14) is back on campus, starting in the fall as an assistant professor of biochemistry. He received a PhD in chemistry from the University of Oregon in 2020, then spent the next two years as a postdoctoral research associate at the Pacific Northwest National Laboratory in Richland, Washington, where he specialized in the development and application of ultra-high resolving power ion mobility-mass spectrometry.
Ryan Hill (B14) is a faculty research assistant at Oregon State University, involved in weed science in perennial crops and responsible for managing lab and greenhouse operations. He began the position after receiving his master of science degree in horticulture (plant breeding and genetics) in 2020.
Tim Moore (B14) is completing his first year in his position as a production planning specialist with Swagelok Northwest in Portland, a sales and service center for fluid systems. He has been with the firm for 12 years, moving from his previous position as a custom solutions technician. He also is an instructor of CERT Basic Training (FEMA-certified) for the Portland Bureau of Emergency Management.
Heidi Eversole (B15) in January released House Visualization Technique, a book to help people touched by trauma, using a guided visualization process she developed. She is a licensed professional counselor in Cincinnati, where she has a private practice, staying in the city after receiving a master's degree in clinical mental health counseling from Xavier University in 2018.
Amy Fast (D15) is principal of McMinnville (Oregon) High School. She has worked at the 2,100-student school since 2015 and been with the district since 2001, when she started as a teacher. She is the author of the book It's the Mission Not the Mandates: Defining the Purpose of Public Education, and is a finalist to be named superintendent of Dayton schools.
Michael Goldsmith (B15) received a law degree from the University of Houston Law Center in 2020 and is in his third year as one of two associate attorneys with Hodges & Foty, a Houston law firm.
Lauren (Codling) Howard (B15) is George Fox's new women's basketball coach, named in April. She returns to her alma mater after one year as director of basketball operations at the University of Portland. Previously, she was coach at her other alma mater, Sherwood (Oregon) High School, where she coached the girls' teams for three seasons while also substitute teaching in the district for five years. Howard played two seasons for the Bruins, and as a senior led her team to a perfect 32-0 regular-season record before losing in the NCAA Division III national championship game. She led the squad in six categories, and by averaging 11.4 points and 11.3 rebounds per game became the fourth player in school history to average a double-double.
Kacy (Helwig) Hughson (B15) is back on campus as a lighting designer and production manager in the performing arts department. She earlier helped in campus productions as a theatre technical director and scene shop manager for four years, until 2020. She lives in Woodburn, Oregon, with her husband Thaddeus Hughson (B15), who is a customer service associate with the Shane Company in Tigard, Oregon, in his seventh year.
Alexandria Jernberg (B15), after receiving an optometry doctorate from Pacific University in Forest Grove, Oregon, in 2020, is now with the Pacific ClearVision Institute in Eugene, Oregon.
Daniel Roberts (B15) made the front page of the local Newberg Graphic newspaper in November as the host of his podcast The Giving Town. Although his career is in real estate as a principal broker with The Joyful Roberts Group, affiliated with Premiere Property Group, he is known as host of the interview program that showcases the positive side of Newberg. He interviews spokespersons from local nonprofits and those making an impact in the community.
Ally Swanson (B15), after completing a DMD in Oregon Health & Science University's School of Dentistry, is now in her third year as a family dentist in Grants Pass, Oregon, with the Siskiyou Community Health Center.
Eileen (McDougal) Truitt (M15) is a media teacher in the technology classroom at Twin Falls Middle School in Snoqualmie, Washington, now in her seventh year. She takes groups of students on tours during summer breaks, last year to England and France and this year to Japan, as well as to Ireland, Scotland and England. Previously, she taught for nearly 16 years in Ketchikan, Alaska.
Svetlana Voloshin (B15) is now a naturopathic medical doctor, in practice with Shine Natural Medicine in Solana Beach, California. She's been there since graduating with a doctor of naturopathic medicine degree from Bastyr University in San Diego in 2020.
Samantha (Hebard) Atchison (B16, M17) was named Teacher of the Year for 2021-22 at Tillamook (Oregon) High School, where she is in her sixth year as a language arts teacher. She teaches ninth- and 10th-grade students and is an advisor to the student honor society.
Michael Badriaki (D16, D22) in July was named superintendent of Lancaster Mennonite School in Lancaster, Pennsylvania, where he had been high school and middle school principal for a year. He previously taught at Lancaster Bible College, and he founded and was president of the Global Leadership Community.
Andrew Comfort (B16) is in Quito, Ecuador, as coordinating lead with Quito Quest, a Christian ministry affiliated with Youth World, a short-term missions program. He started in 2019 and works with team leaders in the U.S. and Canada, helping them through the administrative process for visits.
Dana Kucher (B16) is now a pediatric intensive care nurse at the Mayo Clinic in Rochester, Minnesota. She started last June after more than two years as an operating room registered nurse at Fairbanks (Alaska) Memorial Hospital. She received a bachelor's degree as a registered nurse in 2020 from the University of Alaska Anchorage.
Samanatha Maise (B16) in October self-published her first book, Saved by Titanic, a 256-page historical fiction romance in both hardcover and paperback. She is a respite worker, working with the disabled in their homes through Self-Determination Resources, Inc. of Beaverton, Oregon, with funding by Oregon's Developmental Disabilities Program.
Michelle Osborne (D16) in August resigned from her position of five years as chief deputy commissioner of the North Carolina Department of Insurance to become an associate professor of management and chair of the Department of Business Administration and Economics at Campbell University in Buies Creek, North Carolina. She had worked in the insurance industry for more than 25 years as a CEO and manager, and previously was a professor at Campbell.
Cassie Pauley (B16) is in Venice, California, where she is working remotely with the Creative X team at Meta. She is an in-product copywriter, starting in May 2022, creating a vision for brands and how they are perceived for Meta, Facebook, Instagram and Messenger. She previously was a brand narrative manager with Nike in Los Angeles for a year.
Joel Rurik (B16) is in his fifth year as a PhD candidate at the University of Pennsylvania School of Medicine in Philadelphia, studying CAR-T therapy in heart failure. He discussed his research in a public lecture at George Fox in September. Before his current studies, he was a research technician at the Washington State University School of Medicine for two years.
Brennan Silver (M16) has authored a 413-page hardcover book, Sojourner (Communitas Saga), published in October. A Marine Corps veteran who served in Iraq and Afghanistan, he tells a fictional story of a war veteran banished from his community for unilateral execution of a traitor. He is a mental health counselor for military veterans in Cheyenne, Wyoming.
Jiying "Jenny" Song (M16) received the 2022 Faculty Excellence in Faith and Learning award at Northwestern College. She has been an assistant professor of business at the Orange City, Iowa, college since 2019. She is a recognized expert on servant leadership and has published extensively, serving as associate editor for The International Journal of Servant Leadership. She has previous experience as a senior engineer and operation director in institutional technology and logistics and supply chain management in China.
Ulysus Torres (B16) is back in El Paso, Texas, as a sports and wellness professional/consultant, returning to the city where he was a coach with the El Paso Locomotives professional soccer team for a year until 2021. He has since coached men's soccer as an assistant at Coastal Bend College in Beeville, Texas, as an assistant men's coach at the University of Northwestern Ohio, and serving last fall as the head women's soccer coach at Indian Hills Community College in Ottumwa, Iowa.
Thuy Tran (M16) is now a member of the Oregon State Legislature, elected in November. She took office in January, representing District 45 (Northeast Portland) in the House of Representatives. She is an optometrist and has owned Rose City Vision Care in Portland since 1995. From 2012 to 2015, she was a member of the Parkrose (Oregon) School Board. Tran, who immigrated to the U.S. from Vietnam when she was 9, also is part of the medical group for the 142nd Fighter Wing of the Oregon Air National Guard.
Joe Mohr (B17, MA22) is the founder and head of Mohr Performance, a quarterback training program designed to develop skills and young men on and off the field. It offers private training, group training, workshops and online learning. The former Bruin player lives in Sherwood, Oregon, and in December was part of the first-ever graduating class of George Fox's new physician assistant program.
Michael Morikawa (B17) is using his degree back on campus as one of five members of the Bruin athletics training staff. He started this year, responsible for working with the swim, volleyball, cheer and stunt teams, while also assisting in cross country and track. Previously, he was an athletic trainer at Linfield University in McMinnville, Oregon, for two years, then McMinnville High School for two years.
Sam Swan (B17) earned a master's degree in spiritual formation and Christian leadership from Friends University in Wichita, Kansas, in 2021, and is now back on campus recruiting students to the university's graduate counseling programs.
He Wang (B17), after receiving a master's degree in computer science from Portland State University in 2020, now is a software quality assurance engineer with Siemens, a software company in San Jose, California.
Pamela Braman (D18) delivered the commencement address for the 581 2022 graduates of Roberts Wesleyan College in Rochester, New York. Since 2016, she's served as the superintendent of the Genesis Conference of the Free Methodist Church, which includes about 60 churches in Western and Central New York and Central Pennsylvania. Previously, she was a pastor, church planter and nonprofit leader in St. Paul, Minnesota.
David Degnan (B18) is a bioinformatician who develops web tools and statistical analyses for multi-omics data at the Pacific Northwest National Laboratory in Richland, Washington. He received a master's degree in bioinformatics and genomics from the University of Oregon in 2019 before starting at the lab as an intern, and has worked since 2021 as a biological data scientist.
Christen Johnson (D18) has returned to George Fox as an assistant professor of physical therapy, completing her first year. She worked the previous three years at Providence St. Vincent Rehab Services as an outpatient neurologic physical therapist and served as the site coordinator of clinical education. Previously, she was at George Fox as a clinical instructor in the DPT program from 2019 to 2021.
Jamale Kempt (D18) holds several positions in the Houston area. She is pastor of Calvary Christian Church in Missouri City, Texas, where she lives, and is a full-time chaplain resident, in her second year, with the Memorial Hermann Health System in Houston. She is also an owner and consultant with Platforma Ministries and a DMin faculty advisor with the Jakes Divinity School in Dallas.
Janeeta (Beck) Nelson (B18) is a financial analyst at the Universal Orlando Resort in Florida, in her second year with the operational team helping analyze spending for maintaining the park. Previously, she was a financial analyst for the Union Wine Company in Tualatin, Oregon, for two years.
AJ Valencia (B18) is the new athletic director at Columbia High School in White Salmon, Washington. He moved to the school of 360 students after three years as an assistant athletic director at Lincoln High School in Portland, where he also coached junior varsity baseball.
Chloe (Tomlinson) Austin (B19) is back in Portland as an application support specialist with Trimble Viewpoint, an accounting and project management firm for construction companies. She started in the fall of 2021 after more than a year in San Francisco as a customer technical support specialist with Justinmind, a software development company.
Cora Beeman (B19) is back on campus as a media production support technician, starting last fall. She moved from LAIKA Studios in Hillsboro, Oregon, where she was a facilities assistant for nearly a year.
Jayden Berger (B19) is in Coeur D'Alene, Idaho, where she is working remotely as a U.S. partners program lead with Ascent Solutions, a cybersecurity firm. She started in February of 2022. Previously, she had various contract roles with Google and Microsoft. She also has launched her own wedding planning business, Eunoia Weddings, now in its fifth year.
Brendan Comiskey (B19, M20) and JeanneAnn (Faris) Comiskey (B19) are both with the Chehalem Cultural Center in Newberg, where he is a rentals manager, in his second year, and she is a community engagement coordinator, in her second year, after nine months as an event technician and volunteer coordinator. They have teamed up with Cora Beeman (B19) and Reid Arthur (B20) to form Gather Repertory Theatre at the center, started in 2021. JeanneAnne is artistic director for a new drama group, Brendan is the dramaturg (play researcher), Cora is the sound designer, and Reid is a performer. The group raises funds for its costs, and tickets are pay-what-you-want for the outdoor plaza performances.
Danielle (Howard) Dye (B19) has expanded her music teaching beyond Newberg to now include two elementary schools in McMinnville, Oregon. She is program director (since 2019) for the Yamhill Enrichment Society's JOY program that provides violin and string lessons during class time to kindergarten and first-grade students in underserved communities at Edwards Elementary School in Newberg. George Fox has donated the use of Bauman Auditorium to serve as a formal environment for concerts by the students.
Emma Glennen (M19), after 10 years in various capacities in the George Fox undergraduate admissions office, is now working part time as an information and projects manager in the George Fox marketing communications office. Last year, she was director of enrollment strategy and special projects after a year as director of undergraduate admissions and three years as associate director.
Amanda Kaskie (B19) has moved back to Newberg to join the George Fox student accounts office as an associate director. She moved from Salem, Oregon, where she was with Johnny Matthew's School as a financial aid director for two years.
Brittney (Baird) Sarkhoshyan (B19) is in her second year as a global product security incident specialist with Nike. She has been with the Beaverton, Oregon, company for four years, previously in the position of global gray market management analyst. A year ago she received a master's degree in security management from the University of Denver. She lives in Newberg.
Dale Seipp (D19) is now the associate vice president for enrollment marketing consulting with Liaison International, based in Watertown, Massachusetts. He joined the software enrollment management firm in March of 2022. He has a background of nearly 30 years in enrollment, marketing and financial aid, including as vice president for enrollment at George Fox from 2002 to 2016. He lives in Portland.
Brittni Swink (B19) last fall started as a kindergarten teacher with Great Hearts Academy in Prairie View, Texas. She left a position as a fourth-grade teacher with Faith Christian Academy in Dallas, Oregon, after one year.
Cynthia Molina (M19) is director of Boys & Girls Aid in Portland, completing her second year. Previously, she was the assistant director of emergency and navigation services with Save First Financial Wellness in Portland, for three and a half years. She also worked the same amount of time with Catholic Charities of Oregon as an emergency service coordinator and qualified mental health professional.
2020-22
David Bacher (B20) is now with NASA, moving in January to Hampton, Virginia, where he is at the Langley Research Center in an internship working under the Autonomous Integrated Systems Research Branch on PASS (Precision Assembled Space Structure). The goal is to create a robotic system that could autonomously assemble structures in orbit. He moved from Los Angeles, where he was a research engineer with the University of Southern California Space Engineering Research Center for more than two years as part of his continuing work toward a PhD in astronautical engineering.
Lauren Berky (B20) was highlighted in the March 8, 2023, issue of the Duke University newspaper, Duke Today, in a story "Three Years Later: How the Pandemic Changed Us." She was pictured receiving her first COVID-19 vaccine. She is in Durham, North Carolina, where she is a clinical nurse with the internal staffing resource pool in the Duke University Health System. She started as a medical surgery float pool registered nurse.
Cayla Bleoaja (B20) in March learned she is the recipient of a 2023-24 national Fulbright scholarship for research and study in Romania. She is now an Oxford University graduate, receiving a master's degree in sociology in November. She attended as a fully funded Barry Scholar and won the prize for the best dissertation, focused on how communities heal from mass shootings. She is continuing in Oxford as a research tutor with Polygence before departure to Romania.
Rachel Drgastin (B20) was awarded the 2022 Walter P. de Groote Scholar Award in October by the national American Vein and Lymphatic Society. Her study, "Anterior Saphenous Vein Reflux: Systemic Review of the Literature and Payer Coverage Policies," was presented and awarded in New Orleans. She is using her biology degree as a lead medical assistant and educational director with the Inovia Vein Specialty Center in Bend, Oregon. In her second year in the position, she is responsible for training new employees across five clinics in Oregon and is leading implementation of a system-wide cloud-based knowledge management program training new hires.
Manny Garcia (D20), the general superintendent of the Iowa Yearly Meeting of Friends, will be back on campus this summer as the main speaker for the Northwest Yearly Meeting of Friends gathering. He is in his second year leading the group of 31 churches, headquartered in Oskaloosa, Iowa, with churches also in Minnesota and Wisconsin. He previously was in Wichita, Kansas, as pastor of Northridge Friends Church for six years.
Nancy Harris (B20) is a designer with Steele Associates Architects in Bend, Oregon, starting in 2022, after being an interior designer with Paulson's Floor Covering, also in Bend, the previous year.
Mila Mennealy (B20, M22) is a first-grade dual-language teacher at Hugh Hartman Elementary School in Redmond, Oregon, in her third year. She worked with the Department of Justice's Oregon Child Support Program while completing her degree, and continues to work part time, in her sixth year with the DOJ. She is a limited English proficiency liaison, working with translations for the program.
Kiana Rasubala (B20) started in January as a personal trainer at Colorado School of Mines in Golden, Colorado. She moved across the state from Adams State University in Alamosa, where she was coordinator of fitness and wellness for a year and a half. She competed on season 14 of the television show American Ninja Warrior.
Madelynn Vallejo (B20, M21) is a kindergarten teacher at Parkdale Elementary School in the Hood River (Oregon) School District. She started in the fall after a year as a first-grade teacher in the Molalla River (Oregon) School District.
Dominic Abaria (D21) is the executive pastoral lead and pastor of spiritual care and development with Portland Rescue Mission, in his eighth year, after starting with the organization in 2012 as a teaching chaplain. He also is pastor of Roots Community Church in Portland, in his ninth year, and is a project faculty and doctoral advisor with George Fox's Portland Seminary, starting in 2021.
Melia Bents (B21) is in Sendai, Japan, where she is a kindergarten teacher to English language learners at MySen Academy. She started in April of 2022, leaving her position as a second-grade teacher at Nellie Muir Elementary School in Woodburn, Oregon, where she was in her first year.
Nathan Brantingham (B21) is using his marketing degree in Durban, South Africa, where he is a business development manager for Brantingham Manufacturing, an industrial castings, machining, engineering and manufacturing company. He moved from Pasadena, California. He also is a youth volunteer at the Open Skies Church and is traveling around South Africa building connections between missions organizations.
Kelsey Bunker (B21) is an assistant athletic trainer at Pacific Lutheran University in Tacoma, Washington, joining the university in August after a year as a licensed athletic trainer for Olympic Sports & Spine in Bonney Lake, Washington.
Aimee Frazier (M21) has launched her own private practice, Portland Hiking Therapy, now in its third year. As a mental health therapist and professional counselor associate, she takes her therapy sessions outdoors with individuals and groups, talking while walking.
Emilee Kuyper (B21), a freelance illustrator who specializes in children's books, is now at Knox Classical Academy in Central Point, Oregon, where she teaches fine arts, math and physical education to elementary students.
Makenna Martin (B21) in December received a nursing degree from Belmont University in Nashville, Tennessee. She is remaining in the city as a cardiac intensive care unit nurse at the TriStar Centennial Medical Center.
Jennifer McUne (B21) is now an account manager with For Good & Company, an advertising services agency in Portland. She started in November, leaving her position as a senior growth marketing specialist with Slumberkins in Portland, an e-commerce firm offering emotional learning tools for children.
Jacob Munoz (B21) is using his degree in cognitive science as a neuro-electrophysiology research assistant at Oregon Health & Science University in Portland. A resident of West Linn, Oregon, he started his position in the spring of 2022.
Isaac Olson (B21) is a professional baseball player who is looking to transition his career focus into mechanical engineering, his college major. With that, he started in October as a distribution engineer with TRC Companies in Windsor, Connecticut, working remotely from Snohomish, Washington. Since graduation he has played two years of professional baseball, including last summer with the Mahoning Valley Scrappers in Niles, Ohio, in the MLB Draft League, where he was their ace pitcher.
Trey Peterson (B21) is on staff at Pacific University in Forest Grove, Oregon, as an administrative assistant in the School of Communication Sciences & Disorders. He started in January of 2022.
Megan (Cecil) Reamy (B21) is using her degree in sociology and international studies in Kuwait, where she is a student researcher under contract with the Fulbright Program. She designed and conducted a study on the relationship between migrant domestic workers and female employers. She started in September, leaving a position as an intelligence analyst with Swan Island Networks in Portland.
Emma Rieth (B21) this year transitioned from administrative assistant in George Fox's Department of Language and Literature to program coordinator in the College of Humanities and Cultural Enterprise.
Savanna Sexton (B21) is an athletic trainer for the volleyball and rodeo teams at the University of Montana Western in Dillon. She started last July after receiving a master's degree in sports management in 2021 from Wingate University in North Carolina, then staying a year as a graduate assistant athletic trainer.
Kaliah Antin (B22) is continuing on campus, now in the financial aid office as a counselor. As a student she was an intern in the undergraduate admissions and spiritual life offices for two years while studying for her degree in business administration.
Antonio Arrendondo (B22) is now director of sports information for George Fox University, stepping in on an interim basis last fall to fill a vacancy, then named to the position officially during the year. He started full time with the Bruins as assistant director of athletic communications during the summer after three years as a student worker in athletics promotion.
Aubrey Baker (B22) is using her new sociology degree with AmeriCorps as a VISTA (Volunteers in Service to America) with the J.V. Morsch Center for Social Justice at Trevecca Nazarene University in Nashville, Tennessee.
Madi (Barney) Simpson (B22) continues to serve on campus, using her degree in accounting and economics as a general ledger accountant in the university's finance office. She also worked for five years as a seasonal tax preparer and bookkeeper for Wealth Alliance Tax and Financial Services, based in El Cajon, California.
Amy Boehm (B22) is expanding her professional career, now teaching kindergarten and first grade at East Primary School in Sutherlin, Oregon, the same district she and her parents attended. She completed her elementary education degree online during the pandemic while also teaching a second-grade class online on an emergency teaching license and teaching her own children at home. She previously was an office manager with Farmers Insurance in Sutherlin, which she and her husband own.
Noah Burlingame (B22) is a civil engineer designer with Ethos Civil, a Tacoma, Washington-based civil engineering project management firm started in 2021. He started in June and is the lead designer for the Salvation Baptist Church project, a 19-acre development located in Milton, Washington. He also is a private plane pilot and skydiver.
Molly (Giesbrecht) Edwards (B22) is continuing at George Fox, transitioning from a student to an employee as a student accounts specialist in the Office of Student Accounts. She started in the fall after previously working as a student financial aid counselor intern.
Kylee Harris (B22) is using her degree in financial planning as an associate trade analyst with Human Investing in Lake Oswego, Oregon. She joined the financial advising firm in May after a year as an intern.
Mitchell Henry (B22) started in January as a multimedia producer with DTG Recycle in Bothell, Washington, after being a marketing content producer intern for the company for five months and a video production intern in the George Fox marketing communications office for more than a year.
Mario Hicks (D22) in December started as vice president for institutional advancement at Daemen University in Amherst, New York. He moved to the school of 2,500 from his position as vice president of financial development with the YMCA of Buffalo/Niagara, New York, where he had been for more than three years.
Dani Hillenbrand (B22) drew national attention when she became the first wheelchair user to graduate from a nursing school in Oregon. Covered by Portland television station KGW, the story was picked up by media outlets and blogs across the country. She experienced a catastrophic medical event while in nursing school that left her needing a wheelchair. Now, according to the news story, she plans to use her unique perspective to help patients in ways no one else can.
Michael Kinnen (D22), after receiving his doctoral degree in business administration, continues in his position as an assistant professor of finance in the School of Business and Economics at Concordia University Irvine. He has been with the California university of 4,000 since 2015. He also is an adjunct professor at La Sierra University in Riverside, California. His doctoral thesis was summarized and published as "The Secret Skill of Partners in Big Four Firms" in November by the job posting website eFinancialCareers.
Micah Mensing (B22) in May joined the firm for which he interned for more than two years. He is a design engineer with AKS Engineering and Forestry in Newberg, involved in infrastructure development. A civil engineering major at George Fox, he served as student body president his senior year.
James Millspaugh (B22) started as an ER nurse after graduation with the PeaceHealth Medical Center in Vancouver, Washington. Previously, he was a full-time certified nursing assistant at Mallard Landing Assisted Living in Battle Ground, Washington, while completing his final school year.
Natalie Pollock (B22) is a graphic designer and covers coordinator with Harvest House, a Christian books publishing firm in Eugene, Oregon.
Jasmine (Reese) Riihimaki (B22) is using her interior design degree at Bora Architecture and Interiors in Portland. She started last June.
Camryn Ronnow (B22) last September became a workplace advisory administrator with Human Investing, a Lake Oswego, Oregon, financial planning firm. She started with the company as a marketing associate in May.
Rylan Schubkegel (B22), using his degree in computer science, started last July as a junior software developer with Silverpine Software in Portland. He lives in Sedro-Woolley, Washington.
Taylor Shirley (B22) is starting her career in financial planning with Wealthbridge Advisors in Lake Oswego, Oregon, where she is a financial planning specialist, starting just after graduation.
Briar Smith (M22) started in the fall as executive director of the Tillamook County (Oregon) Habitat for Humanity. She made the move after nine months as a human resources specialist with Tillamook Bay Community College following nearly four years as a human resources manager with the Tillamook Farmers' Coop.
In Memory
Mary Lou (Hoskins) Kohler (B44), Sept. 22, 2022, in Omaha, Nebraska.
Gertrude (Haworth) Ankeny (B50), Nov. 29, 2022, in Newberg.
Betty (Street) Hockett (B52), Sept. 20, 2022, in Newberg.
Rosetta (Ballard) McFadden (B54), April 1, 2023, in Dayton, Oregon.
Ronald Watson (n53), Aug. 26, 2022, in Tacoma, Washington.
Lois (Bain) Barnick (n55), Dec. 24, 2022, in Salem, Oregon.
Virginia Mae (Winters) Riggs (n54), Oct. 29, 2022, in Nampa, Idaho.
Elletta (Wheeler) Kennison (n55), July 17, 2022, in Newport, Oregon.
John Adams (n56), March 19, 2019, in Hillsboro, Oregon.
Dorothy (Gimbel) Farmer (n56), Aug. 28, 2022, in Newberg.
Darwin Grimm (B57, M67), Dec. 26, 2022, in Sheridan, Oregon.
Ron McDougal (B58), May 8, 2022, in Corvallis, Oregon.  
Ralph Cammack (B59), Nov. 3, 2022, in Ontario, Oregon.
Roxana (Coppock) Pierce (B59), June 30, 2022, in Saint Albans, Vermont.
Dale Campbell (B60), March 3, 2023, in Fort Myers, Florida.
John Larson (B62, M77), May 3, 2022, in Milwaukie, Oregon.
Jeanette (Purdy) Cooper (n64), Nov.5, 2022, in Central Point, Oregon.
Rosa (Trammell) Hill (B64), Dec. 17, 2022, in Newberg.
Ron Stansell (B65, M75), Dec. 9, 2022, in Newberg.
Janet I. Hatfield Beutler (n66), June 6, 2022, in Mt. Angel, Oregon.
Geraldine (Larson) Sugden (n66), June 23, 2022, in Auburn, Washington.
Jim Lingenfelter (B67), Jan. 26, 2023, in Roanoke, Virginia.
Lawrence (Larry) Gibson (B70), Feb. 18, 2023, in Mt. Vernon, Washington.
Alan Wyatt (M70), Oct. 31, 2022, in Suwanee, Georgia.
Phillip Campbell (n76), Jan. 7, 2023, in Newberg.
Dorothy (Ball) Kirby (B76), Jan. 29, 2023, in The Dalles, Oregon.
Donald Fancher (n77), Feb. 17, 2022, in Wasilla, Alaska.
Scott Celley (B82), Feb. 22, 2023, in Phoenix.
James Lyda (B91), Dec. 27, 2022, in Wasco County, Oregon.
Werner Rienas (M92), March 28, 2023, in McMinnville, Oregon.
Cynthia Schmidt (B95), Feb. 28, 2023, in Longview, Washington.
Earnest Harper (B97), Feb. 9, 2022, in Boise, Idaho.
Stephen Green (M98), June 9, 2022, in Longview, Washington.
Patricia Bakes (B00), June 28, 2022, in Boise, Idaho.
Rene' Garcia (B01), Aug. 17, 2022, in Dallas, Oregon.
Jennifer Gerhardt-Cordero (B01), June 18, 2022, in Richmond, Virginia.
Kim Skriiko (B01), March 28, 2023, in Hillsboro, Oregon.
Clifford (Francis) Kenyon (M05), March 28, 2023, in McMinnville, Oregon.
Matthew Wyckoff (B09), Oct. 12, 2022, in Oregon City, Oregon.
James Sabella (D19), Oct. 20, 2022, in Nixa, Missouri.
Robert Lauinger, Oct. 29, 2022, in McMinnville, Oregon.
Faculty Emeritus, Associate Professor of Fine Arts, 1961-2002.
James Settle, Feb. 20, 2023, in Phoenix.
Director of Admissions, 1973-1983.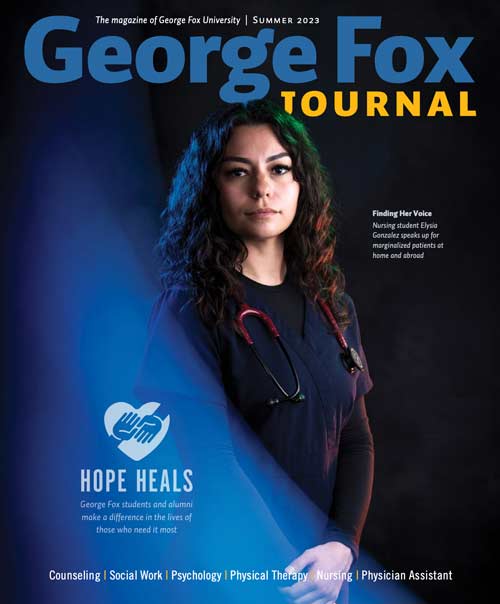 Looking for more?
Browse this issue of the George Fox Journal to read more of the stories of George Fox University, Oregon's nationally recognized Christian university.