George Fox University's theatre department presents 'The Government Inspector' as its fall comedy
October 04, 2018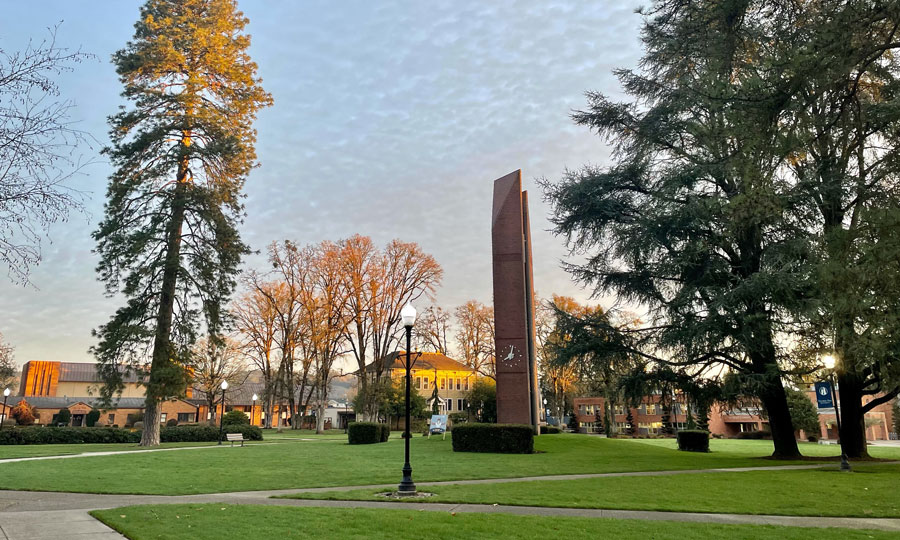 Shows scheduled Oct. 18-20 and Oct. 25-28 in school's Wood-Mar Auditorium
NEWBERG, Ore. – The Government Inspector, Russian novelist Nikolai Gogol's comedy about government corruption, will take over George Fox University's Wood-Mar Auditorium in October.
Directed by Rhett Luedtke, professor of theatre at the university, the play runs Thursday through Saturday, Oct. 18-20, and again Thursday through Sunday, Oct. 25-28. All shows begin at 7:30 p.m. with the exception of the Sunday, Oct. 28, performance, scheduled as a 2 p.m. matinee.
Tickets – $12 for general admission, $8 for seniors and George Fox alumni, and $6 for students and children under 12 – can be purchased online at theatre.georgefox.edu. Tickets are also available for purchase in the university's box office, located in the Bruin Store, between 10 a.m. and 2 p.m. Monday through Friday, or in the lobby box office one hour prior to each production.
In the play, mistaken identity, chaos and hilarity erupt in a small Russian hamlet when the mayor and his cronies learn that an undercover government inspector is coming for a surprise visit. Gogol's classic comedy, written in 1836, exposes humanity's quest for power, wealth and prestige.
"One-hundred and eighty-two years later, this hilarious comedy about government corruption still rings true today for governments around the world," Luedtke said. "Gogol's play about a quirky little Russian village asks us to examine what happens to our politics, our policies and our ability to govern ourselves when those in leadership positions are influenced more by the love of power, money and prestige than by the desire to serve the common citizen.
"Similarly, it asks us to consider what happens to our faith in government when facts become politically inconvenient and misinformation and distortion become synonyms for truth."
The cast includes:
Reid Arthur ("Hlestakov"), a junior theatre major from Medford, Oregon
Trevor Braskamp ("Mayor"), a junior theatre major from Elk Grove, California
Travis Cox ("Judge" and "Abdulin"), a junior cinematic arts major from Newberg, Oregon
Araya Glancy ("Osip"), a junior theatre major from Keizer, Oregon
Lauren Vander Aarde ("Anna"), a senior theatre and history double major from Vancouver, Washington
Elyssa Winsheimer ("Marya," "Innkeeper's Wife" and "Grusha"), a junior theatre major from Vancouver, Washington
Elyse Bradford ("Corporal's Widow" and "Hospital Director"), a sophomore theatre major from Modesto, California
Abby Schriber ("Chernaeyev"), a senior theatre major from Rocklin, California
Mykaela Thomas ("Doctor"), a junior engineering major from Newberg, Oregon
Hannah Strawn ("School Principal" and "Panteleyev"), a senior psychology and theatre double-major from Newberg, Oregon
Kira Sandhu ("Postmaster"), a senior psychology major from Olympia, Washington
JeanAnn Faris ("Dobchinsky"), a senior theatre major from Coto de Caza, California
Olivia Stuart ("Bobchinsky"), a senior psychology and theatre double-major from Portland, Oregon.
The George Fox University theatre department has been recognized by the John F. Kennedy Center for the Performing Arts in Washington D.C. with awards for individual acting, set design, and overall production.
George Fox University is ranked by Forbes among the top Christian universities in the country and is a Christian college classified by U.S. News & World Report as a first-tier regional university. Money magazine ranked it the No. 1 school in Oregon in its 2017-18 "Best Colleges for Your Money" list. More than 4,000 students attend classes on the university's campus in Newberg, Ore., and at teaching centers in Portland, Salem and Redmond, Ore. George Fox offers bachelor's degrees in more than 40 majors, degree-completion programs for working adults, six seminary degrees, and 13 master's and doctoral degrees.
-30-
Contact:
Rhett Luedtke
Professor of Theatre, George Fox University
503-554-2632