George Fox University receives $1.2 million federal grant to provide integrated care at two Oregon locations
September 04, 2019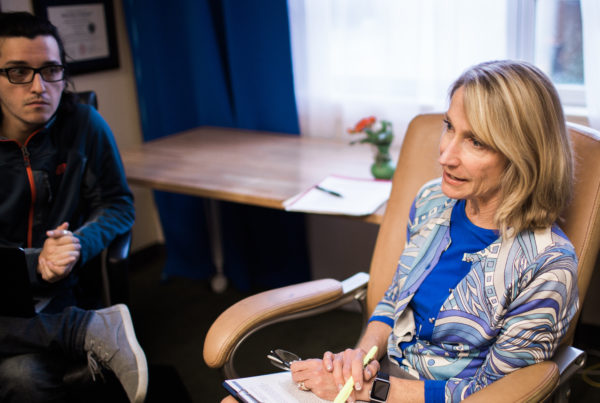 More than 4,600 patients per year will be served at Chemawa Indian School's Primary Care Clinic in Salem and at Providence Medical Group in Newberg
Editor's Note: Recently, KOIN TV in Portland, Oregon, featured a segment on the impact the grant will have on Oregon communities. It is available for viewing here.
NEWBERG, Ore. – A $1.2 million federal grant will fund the training of doctoral health psychology students, interns and post-doctoral residents at George Fox University for the purpose of providing integrated, interdisciplinary care at two high-needs facilities in Oregon over the next three years.
The grant, administered by the government's Health Resources and Services Administration, a branch of the U.S. Department of Health and Human Services, will provide annual $25,000 stipends to eight doctoral students who will treat individuals with Opioid Use Disorder (OUD) and Substance Use Disorder (SUD) at Chemawa Indian School's Primary Care Clinic in Salem, Oregon, and the Providence Medical Group facility in Newberg, Oregon. The program will begin this fall and allow four doctoral students to work at each location.
"This [grant] gives us the opportunity to serve people within our community by taking clinical services to the places they go, rather than expecting them to navigate barriers, which include a lack of mental health benefits, cost, and transportation challenges," said Mary Peterson, chair of George Fox University's Graduate Department of Clinical Psychology. "There is an opioid use epidemic in this state and a dearth of services to rural residents. This is a huge win for both our students and faculty, as well as the people we will serve."
With each trainee providing services to a minimum of 12 patients per week, Peterson estimates approximately 4,600 patients will be served each year. In addition, the grant provides funding for telebehavioral health services – the practice of using technology to provide access to behavioral health services – to reach people in underserved rural areas who experience transportation barriers. As a side benefit, it will provide support for faculty development in the area of health service psychology within George Fox's doctor of psychology program.
"What this grant does is further the innovative partnership between George Fox and Providence and allow future providers to offer cutting-edge treatment in behavioral health care," said Robin Henderson, Providence's chief executive of behavioral health. "Normally, these treatments aren't reimbursable. Not only will this help us optimize what we are doing now, but expand upon it and hopefully make it scalable to replicate it."
Students in the program will receive financial support and specialized training in two emerging areas of practice – medically assisted teams and telebehavioral health – in settings where the university has already established strong partnerships. And they will treat patients free of charge. Peterson said approximately 70 percent of the grant funds will go toward student stipends and enriched training opportunities for students and supervisors. The remainder will cover supervision stipends and equipment.
Oregon Health & Science University is the only other institution to received such a grant in the state of Oregon.
"This really puts George Fox on the radar in the field of integrated health services," Peterson said. "And it strengthens relationships at Chemawa and with Providence that we already had, building off a foundation we've built the last several years."
Peterson commended the efforts of Glena Andrews, director of clinical training in George Fox's doctor of psychology program, and Kristie Knows His Gun, director of its primary care track. Both were instrumental in the grant proposal process. The initiative also received a boost from Sen. Jeff Merkley, democratic lead of the appropriations committee.
George Fox University is ranked by Forbes among the top Christian universities in the country and is a Christian college classified by U.S. News & World Report as a "Best Regional University." More than 4,000 students attend classes on the university's campus in Newberg, Ore., and at teaching centers in Portland, Salem and Redmond, Ore. George Fox offers bachelor's degrees in more than 40 majors, degree-completion programs for working adults, seven seminary degrees, and 13 master's and doctoral degrees.
-30-
Contact:
Mary Peterson
Chair, Department of Clinical Psychology
George Fox University
503-554-2377