Portland Seminary receives $1 million grant to support the thriving of local congregations
December 16, 2019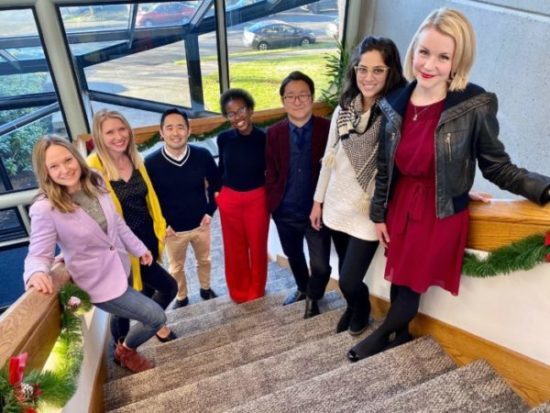 Grant to fund work with 12 Pacific Northwest congregations to more effectively recognize and adapt to their changing social and cultural contexts, exhibit clarity of mission, and cultivate Christian practice
PORTLAND, Oregon – Portland Seminary of George Fox University has received a $1 million grant to expand its efforts to support clergy and help churches more effectively recognize and adapt to their changing social and cultural contexts, exhibit clarity of mission, and cultivate Christian practices.
The grant was awarded to the seminary's Institute for Pastoral and Congregational Thriving.
The institute will identify 12 diverse regional congregations and work closely with each congregation to develop a feasible and sustainable grant proposal to nurture their own thriving over a two-year implementation period. The institute will fund each proposal and share each congregation's story of thriving with the wider community through a series of blogs, short videos and podcasts. In addition, it will work to create a sustainable fundraising pattern that will enable additional cohorts of congregations seeking to thrive in the 21st century.
The institute also will offer an annual symposium for grantees to gather as a larger body alongside the Portland Seminary student community, with the intent to foster fruitful conversations regarding congregational spiritual renewal.
The grant was authored by the seminary's Roger Nam, Leah Payne and Trisha Welstad, with contributions and research by Tiona Cage, Melissa Ramos, Gaby Viesca and Sunggu Yang.
"The challenges facing congregations in the Pacific Northwest are many, but so are the opportunities," Payne said. "By supporting congregational thriving, we hope to facilitate a spirit of collaboration, creativity, and support among churches in the region."
The goal of the grant, according to Lilly Endowment, is to "support selected charitable organizations located in the United States that work directly with congregations to develop new and/or enhance existing programs to help local churches explore and understand their rapidly changing social and cultural contexts; gain greater clarity about their own gifts and missions; and draw on Christian practices from their theological and ecclesial traditions to adapt their ministries to the demands of their changing contexts."
Lilly Endowment Inc. is an Indianapolis-based, private philanthropic foundation created in 1937 by J. K. Lilly and his sons, Eli and J.K. Jr., through gifts of stock in their pharmaceutical business, Eli Lilly and Company. While those gifts remain the financial bedrock of the Endowment, the Endowment is a separate entity from the company, with a distinct governing board, staff and location. In keeping with its founders' wishes, the Endowment supports the causes of community development, education, and religion, and it maintains a special commitment to its hometown, Indianapolis, and home state, Indiana. The Endowment funds programs throughout the United States, especially in the field of religion.
The principal aim of the Endowment's grantmaking in religion is to deepen and enrich the lives of American Christians, primarily by seeking out and supporting efforts that enhance the vitality of congregations and strengthen the pastoral and lay leadership of Christian communities. The Endowment also seeks to improve public understanding of diverse religious traditions by supporting fair and accurate portrayals of the role religion plays in the United States and across the globe.
For more information on the grant, contact Trisha Welstad, director of the Institute for Pastoral and Congregational Thriving, at 626-664-8519.
George Fox University is ranked by Forbes among the top Christian universities in the country and is a Christian college classified by U.S. News & World Report as a "Best National University." More than 4,000 students attend classes on the university's campus in Newberg, Ore., and at teaching centers in Portland, Salem and Redmond, Ore. George Fox offers bachelor's degrees in more than 40 majors, degree-completion programs for working adults, seven seminary degrees, and 13 master's and doctoral degrees.
-30-
Contact:
Roger Nam
Dean, Portland Seminary
503-554-6171