George Fox University invites alumni to campus for homecoming celebration Oct. 8-9
September 23, 2021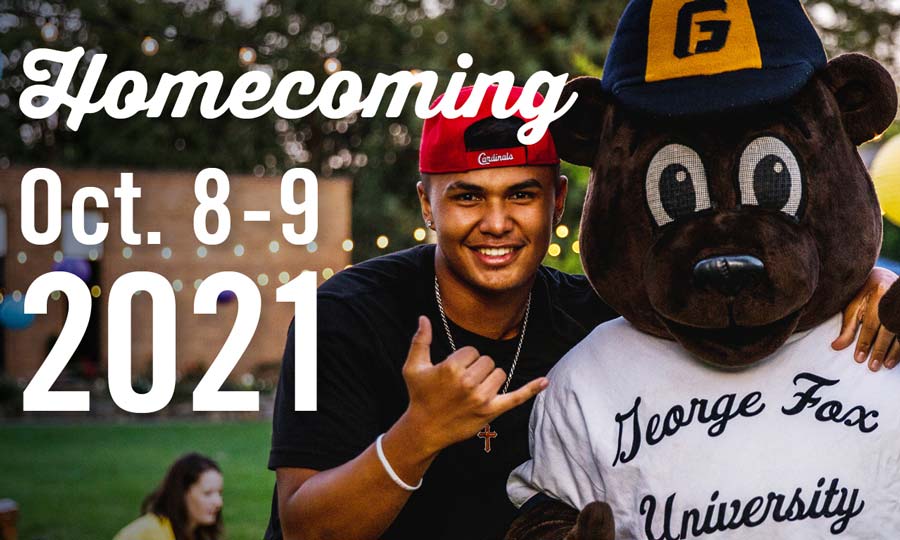 Events include class reunions, activities in the quad, a football game and a concert
NEWBERG, Ore. – An activities fair in the quad, a football game, and reunions for classes ranging from the early 1980s to the mid-2000s are among the events planned for George Fox University's annual homecoming celebration Friday and Saturday, Oct. 8-9.
The event begins Friday with an invitation for guests to attend morning and early-afternoon classes, enjoy lunch in the Canyon Commons dining hall, attend a networking event (1-2:30 p.m.), tour the university's new Medical Sciences Building (3-4 p.m.), and, for those who graduated in or before 1971, a Classic Bruins dinner (5 p.m.)
Also featured on the first day will be an art open house and auction in the school's Minthorne and Lindgren galleries (4-7 p.m.), reunions for the classes of 2000, 2001, 2010 and 2011 (6-7:30 p.m.), and a homecoming concert (7:30-9 p.m.).
On Saturday, the day includes a young alumni coffee hour (9 a.m.); an alumni board open house (9 a.m.); campus tours (10 a.m.); homecoming games and activities in the quad (11 a.m. to 1 p.m.), at which there will be fun events for children as well as the appearance of many well-known faculty members; a football game against Willamette (1 p.m.); and an open dinner time that allows time to reconnect with friends and former classmates. The classes of 1990 and 1991, as well as 1980 and 1981, will also host special gatherings that day from 11 a.m. to 1 p.m.
More information on the weekend, as well as a link to register, are available at homecoming.georgefox.edu.
In a departure from past years, the university opted to move a few of its affinity events to other weekends to better accommodate visitors. Among them is the Alumni of Color event, scheduled for February of 2022, and the Honored Alumni Awards and Gala Dinner, set for homecoming of 2022.
George Fox University is ranked classified by U.S. News & World Report as a "Best National University." More than 4,200 students attend classes on the university's campus in Newberg, Ore., and at teaching centers in Portland, Salem and Redmond, Ore. George Fox offers 60 undergraduate academic programs, degree-completion programs for working adults, and 19 master's and doctoral degrees.
-30-
Contact:
Sara Reamy
Director of Alumni Relations
George Fox University
503-554-2118