Photo & Video Production
The Office of Marketing Communications primarily produces photo and video content that serve two purposes: 1) support the university's admissions efforts, and 2) elevate the university's brand.
Because our production focus is narrow (admissions support and brand elevation), and because we have limited production staff, it's possible MarCom won't be able to complete your department's request for photo or video support.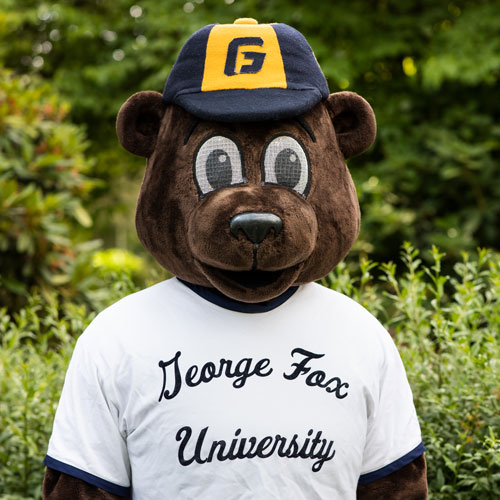 Photography
Faculty and Staff Headshots/Portraits
Marketing photographer Chris Low is available to take high-quality portrait photos for use on the university website and other official marketing collateral.
To schedule an appointment, contact Chris at clow@georgefox.edu or ext. 2122.
Photo Archives
For assistance in locating archived photos (e.g., higher resolution photos or access to protected photos), email Chris Low at clow@georgefox.edu.
Individuals who have other high-quality photos of university events can submit them to Chris Low at clow@georgefox.edu for inclusion in the archives.
Video
Audience
Videos are distributed via the university website, social media pages, email communication, online advertising, and on occasion, traditional TV. We target a wide audience that includes prospective students, parents, alumni, donors and other supporters of George Fox.
Department-Produced Videos and Outside Contractors
In the case that MarCom can't accept your department's request for video production, you have two options:
Hire a cinematic arts major as a work-study student to produce your video
Hire an outside contractor (freelancer)
In either case, the student or contractor must:
Connect with our staff videographer before production begins in order to learn about best practices and style guidelines
Provide a finished draft of the video to Marketing Communications at least 72 hours before it is to be publicly released so it can be reviewed for quality and messaging, and to ensure it is on-brand (some exceptions can be made to the 72-hour requirement with time-sensitive videos)
Marketing Communications reserves the right to stop the public release of any video content that it deems would detract from the university's brand. However, this has never happened when a department works with us as described above.
Sounds like a lot of rules to follow, right? Not really. This will make your life easier. MarCom will take all the guesswork out of the video production process. We can provide logos, recommend good freelancers, connect you with film students, and ensure your video looks great and is on-brand. In many cases we'll also feature your video on the university's social media pages, amplifying your message to our 50,000-plus followers.
We want to work together to ensure you get the video content you need and that it also represents our university well.
To get started, email Jake Thiessen, our video producer, at jthiessen@georgefox.edu, and he will walk you through the process.