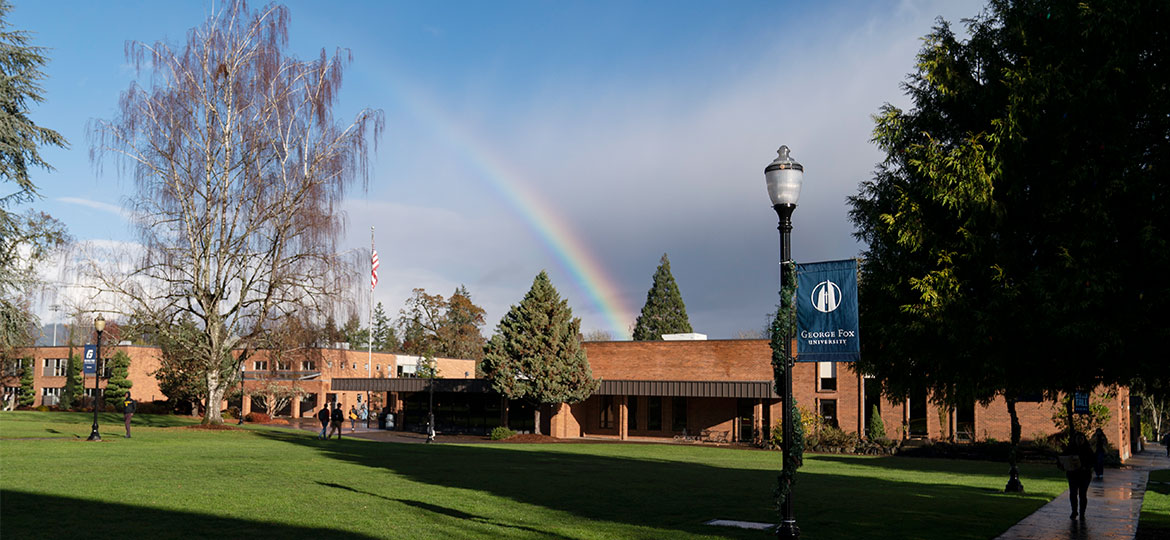 Environmental Health and Safety
The environmental health and safety office exists to assist the George Fox community by providing a safe and healthy university environment. Our mission is to address health and safety concerns by identifying hazards, providing training, and protecting students, faculty, staff and visitors.
If you need to report an emergency outside of regular department hours, contact the Campus Public Safety office at 503-554-2090.
Table of Contents
Policies and Procedures
The environmental health and safety office provides resources that help protect our students, faculty, staff, our facilities and our environment. Don't see what you are looking for? Please reach out to us at 503-554-2011.
Accident Prevention Plan (coming soon)
Report an Incident or Injury
All workplace injuries must be reported and documented according to the university and OSHA regulations. Employees, supervisors and the Office of People and Culture (human resources) must follow the proper Work Injury Protocols.
When an employee is injured on the job or reports seeking treatment, the supervisor will do the following:
Provide immediate treatment (first aid only) or direct them to seek medical treatment (nearest occupational health facilities).
If transport is necessary, take or make arrangements to take the employee to the nearest occupational health facility or call 911.
Contact Campus Public Safety at 503-554-2090.
Once medically stable, take the following important steps:
Document the accident in the Incident/Accident Report Form and send it to the Office of People and Culture immediately.
If the employee needs medical care and/or misses work as a result of the injury, please have the employee complete Form 801 and forward it to the Office of People and Culture immediately. If the employee is hospitalized, the supervisor shall complete sections 1-8 and 11 on the form and submit it to the Office of People and Culture immediately.
Give the employee the responsibilities checklist and instruct them to take the Return to Work Status Form to the doctor if they need medical care. Finally, instruct them to report their work status to the Office of People and Culture upon release from care.
If hospitalized with a head injury, amputation, loss of eye or fatality, please contact the Office of People and Culture immediately.
Safety Forms
Safety Committee Minutes
Your George Fox login is required to view the Safety Committee minutes. If you receive an error message, please make sure you are signed in to Google Docs with your George Fox account.
Chemical Safety
The worker's-right-to-know standard requires George Fox to make accessible to all employees information regarding chemicals used in the workplace. Plant Services provides this digital version of chemical SDS sheets used. All departments are required to maintain paper copies of SDS sheets in order to ensure continuous compliance.
Waste Removal
George Fox strives to be conscientious of our contribution to waste production. The constant production of waste can be a complex topic. The university generates waste as part of normal daily operations, both academically and as a facility. Not all waste can be disposed of through trash or sanitary sewage systems.
A determination is conducted to identify the proper disposal routes required for the protection of the George Fox community, facilities, and the environment. We are currently operating as a very Small Quality Generator (VSQG) of hazardous waste. Please contact EHS at 503-554-2011 for more information on waste disposal.
Contact
Location
Our office is located in the Thomas Center at 1101 N. Villa Road. 
Hours
8 a.m. to 5 p.m. (weekdays during the academic year)
7 a.m. to 3:30 p.m. (summer hours)
If you need to contact us outside of these hours, please call Campus Public Safety with any emergencies at 503-554-2090. 
Phone/Fax
Phone: 503-554-2010
Email: plantservices@georgefox.edu
Fax: 503-554-2009
Department box number: #6169