HEBREWS 13:16
And do not forget to do good and to share with others...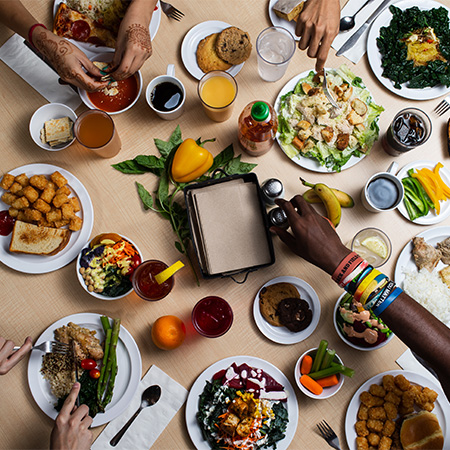 The Bruin Community Pantry is an Office of Student Life initiative seeking to address the real problem of hunger (food insecurity) in our community. We encourage students to take advantage of the various resources in the Newberg and Yamhill County communities that have been set up to help people when their resources are depleted.
Furthermore, George Fox has a wealth of resources available to students to ensure that they have every opportunity to achieve their academic objectives. In addition to addressing food insecurity, we also help connect students with resources that will help them achieve their personal goals of graduating and finding meaningful work.
How Can I Use the Bruin Community Pantry?
Once you sign in, you can shop freely. Limited items will be noted. There is no limit on how often you can use the Bruin Community Pantry food bank.
Items are donated or purchased at greatly reduced prices, and supplies are always limited and based on availability.
---
Spring Break hours
March 27 through March 31
Monday - 3:30 to 5:30 pm
Tuesday - 12:30 pm to 3 pm
Wednesday - 3:30 pm to 5:30 pm
Thursday - 3 pm to 5 pm
Friday - CLOSED
Hours
The food bank is open during the following hours for the spring 2023 semester - January 6 through April 28
Monday: 11 am to 5:30 pm
Tuesday: 1 pm to 5:30 pm
Wednesday: 8 am to 10 am, 11 am to 1 pm, 3:30 pm to 6 pm 
Thursday: 9:30 am to 12 pm, 1 pm to 4 pm, 5 pm to 6 pm 
Friday: 12 pm to 5 pm 
If you need to access the food bank during alternative times or need more information, please email bruincommunitypantry@georgefox.edu.
This schedule is subject to change due to volunteer availability.
We will be closed on the following days: January 16 & February 10 
Modified hours during spring break - March 27 through March 31
Location
We are located toward the front of the Roberts Center (Room 109) on the George Fox campus. The food bank entrance is to the left once you enter the building. You can also enter through the back by going behind this building on Sherman Street.
Our address
Bruin Community Pantry
501 Villa Road
Roberts Center - Room 109
Newberg, OR 97132
Call 503-554-2316 for more information. 
How Can I Help?
The success and sustainability of the pantry is dependent on our volunteers. We need people to unload the food truck each week, organize and restock the shelves as needed, and clean. If you are interested in volunteering, visit our Donations and Volunteers page to learn more.
Community Partners
We regularly partner with Grocery Outlet of Newberg, the Friendsview Retirement Community, the Yamhill Community Action Partnership, and Team A-dec to secure donations to the food bank.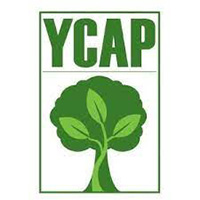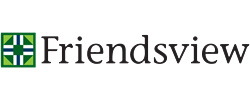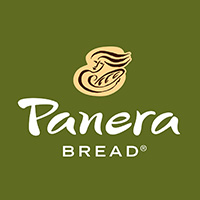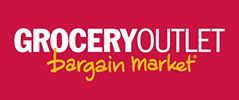 We are also supported by George Fox employees, parents, ASC (student government), individual students, and community organizations, including the Dundee Women's Club, which delivers recovered food from local grocery stores. The Panera outlet in Sherwood also supplies us with "end of day" bread.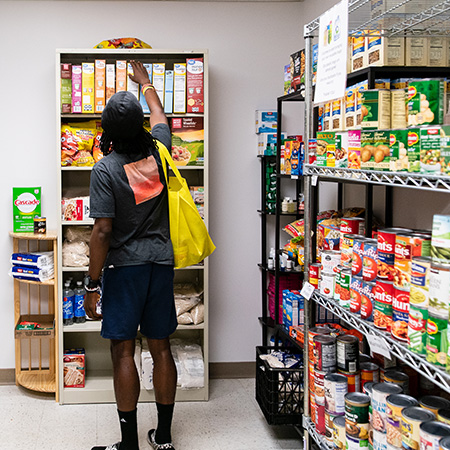 In the News
Our efforts to provide resources for our students has gained national attention. See this story from a recent issue of the New York Times to read more about the national hunger crisis on college campuses and what we and other schools are doing about it.
The Council for Christian Colleges and Universities recently outlined the problem of food insecurity. The efforts of the Bruin Community Pantry to combat this problem is featured in the article.
Questions?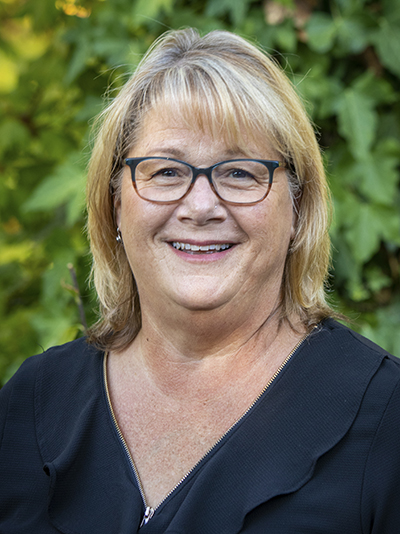 Student Care and Student Life Operations Specialist