Apply Your Skills in Diverse Settings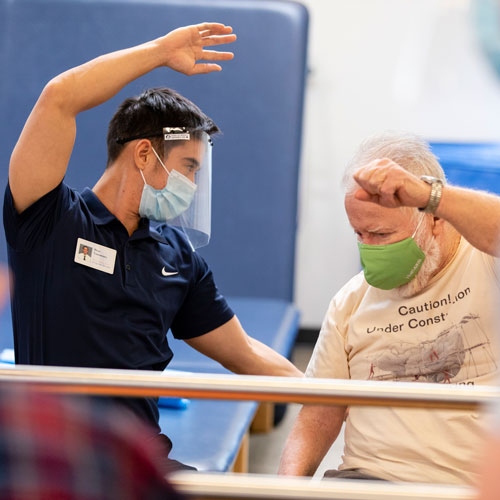 As a student in the George Fox physical therapy program, your learning experience will transcend textbooks and lectures. You'll have every opportunity to take the skills you've learned in the classroom and put them into practice.
In fact, a significant portion of your DPT education (37 weeks) consists of full-time clinical training. The hands-on clinical sessions are integrated throughout all three years of the didactic component and cover a variety of settings, including private practice, hospital acute care, orthopedics, pediatrics and rehabilitation facilities.
In order to stay competitive in the physical therapy education market, we have accelerated our clinical rotation series, which allows students to graduate three months before other local programs.
You can participate in clinical internships in the Newberg community, the Portland metropolitan area and beyond. It's a great way to serve people from diverse backgrounds and gain an understanding of the challenges they face.
Clinical Internship Calendar
2022
Jan. 3–Feb. 12
Clinical Internship II - 6 weeks (second-year students)
Feb. 21 –  April 28
Clinical Internship V - 10 weeks (third-year students)
Aug. 29 – Oct. 22
Clinical Internship III - 8 weeks (third-year students)
Oct. 24 – Dec. 23
Clinical Internship IV - 9 weeks (third-year students)
2023
Feb. 20 –  April 27
Clinical Internship V - 10 weeks (third-year students)