At A Glance
$618*
Cost per semester credit hour
3 Years
Average completion time**
Accreditation
ATS (Association of Theological Schools), NWCCU
Format
Hybrid (online courses with BridgeWeek in Portland each semester)
Application Deadlines
Rolling application deadline; apply now for the next fall cohort
* All stated financial information is subject to change. Financial aid available.
** Based on taking 8 credit hours of study per term in the fall and spring semesters and 4 credit hours during 1-2 summer semesters
Our Master of Arts in Leadership and Culture degree equips you to thoughtfully engage in theological reflection while practically focusing your studies in ways that will help you in your ministry context.
You'll strengthen your understanding of various spiritual disciplines that undergird a variety of ministries and provide you rich opportunities to grow personally and spiritually in your cohort community.
At the heart of Portland Seminary is a commitment to the spiritual formation of each student. Formation into Christlikeness prepares us to engage the world for the sake of Christ, and no matter what program you pursue, you will engage in an intentionally designed spiritual formation curriculum.
What 

Will I Experience?
Practice habits of authentic disciplines for living in Christ's presence
Gain a critical and constructive understanding of the biblical and theological foundations of the Christian tradition
Articulate the mission of God in the world and your place in it
Experience yourself and relate to others as created in God's image and called into community and ministry
Narrate the mission of the church, the church's role in the world, and your relationship to that mission
Gain confidence as a leader in specialized ministry to lead your faith communities and to serve the kingdom of God
Program Experiences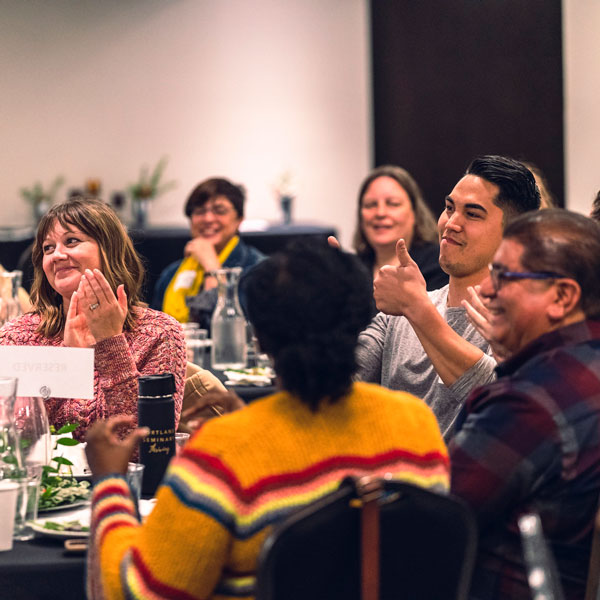 WaterFront is a required two-day online orientation for new students (with the exception of those enrolled in the spiritual direction certification program) every August. This event is full of opportunities for students to connect with faculty, other new students, make final preparations for studies, and participate in spiritual formation activities.
BridgeWeek is the seventh week of every semester when all hybrid students come to Portland for face-to-face intensives. Special events are offered throughout the week.
Flexible Format
Flexible in format, the Master of Arts in Leadership and Culture is a three-year program in which you study with diverse professors and cohort peers.
Our hybrid format blends online learning with intensive in-person instruction at two points during the year.
What does a hybrid format look like?
Connect with a vibrant cohort of learners who grow in faith and ministry skills through a variety of experiences: traditional classroom lessons, special off-site events and "hybrid" online courses.

Meet periodically through video chat for hybrid online courses or meet weekly for fully online courses

Attend BridgeWeek in Portland every October and February (7th week of classes)
Michael Lamb
Master of Arts in Leadership and Culture, 2021
I am grateful for renowned and Christ-focused faculty, faithful servants on staff, and all the classmates who have become absolutely astonishing people.  Every class and hallway moment has been precious to me.
Questions?
Admissions Counselor, Seminary