Remembering a Good Friend
May 02, 2019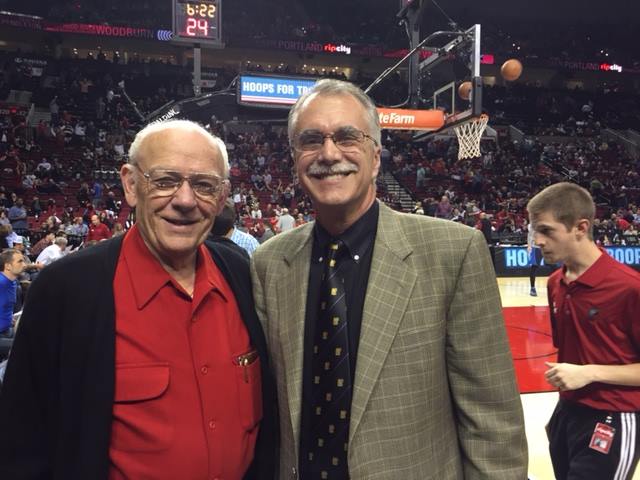 It was 2007 and I had just been named as the 12th president of George Fox University. It was a time of great angst for Ruth and me. I had been a university administrator for many years but had never sat in the chief executive chair. More importantly, I had never really been involved in what we now call advancement – raising support for the university's mission. That part of the job requires that you get to know people who have resources and help them understand why the mission is important and how they can contribute to its success. The prospect of the new work made me very nervous.
One of the individuals I was introduced to immediately in my new role was Ken Austin. Mr. Austin had served on our board for many years, but I did not know him personally. From a distance he was intimidating. He was very successful and was confident of his understanding of the university and what was required for an educational institution to be successful. I was new and inexperienced. He was highly regarded and seasoned. Ken and his wife Joan, I am sure, had experienced many presidents as they sought to engage them in the missions of their institutions – Oregon State University, George Fox University, Linfield College, Willamette and many others. They were two of the most successful Oregonians, and it was important to gain their support. In my own mind, I was just another president in a long line trying to get to know Ken and Joan.
Ken allayed my fears almost immediately in the summer of 2007. Instead of me having to reach out to the Austins, they reached out to me and Ruth. I will never forget that first phone call: "Robin, Joan and I have been talking and we want to make sure that you get connected to the broader community. We love Newberg and George Fox University, and we want to see you be successful." For roughly the next year, Ken and Joan took Ruth and me to gatherings throughout the northwest corner of Oregon. They sat us at their table at dinners and introduced us to most everyone they knew. From the very start, they treated us as if we had been long-time friends. Their embrace meant everything to Ruth and me, and we remain grateful. (Ken later told me that he enjoyed having me along because he could use me as his "blocker." When he first told me this I was not sure what he meant. He explained, "When I am at dinners there are any number of people who just want to get to know me to see if I might donate to a specific cause. When I get in one of those conversations, it is easy to say, 'Oh, by the way, have you met the president of George Fox University?' I always wondered why he disappeared after making that statement!).
In getting to know Ken, I learned that he was at heart a citizen of Newberg. His family was embedded in this community almost since its inception, and his love for Newberg was evident in all his interactions. Although he was extremely successful he chose to be a vital part of the community. The business that he and Joan created, Austin Dental Equipment (A-dec), had become the largest and most dominant dental equipment manufacturer in the United States. As the company grew and prospered, Newberg grew and prospered. Ken and Joan could have moved or sold the company many times to enhance their own financial position, but they were committed to the city of Newberg and Yamhill County (and more broadly, Oregon). They wanted to see this community thrive and be successful. In fact, it is hard to think of Newberg without Ken and Joan Austin. Their names are synonymous with the city.
What I remember most about Ken is his humility, his heart and his commitment to service. Ken was a longtime Rotarian, and he epitomized their motto of "service above self." As we got to know each other, he introduced me to Rotary and sponsored me as a member of the Early Bird Rotary Club in Newberg, where I remain a member to this day. His energy and creativity gave birth to the Rotary Foundation's efforts to develop and sell two products he created to further education and support networks in Newberg. (Everyone in Rotary also remembers his graciousness and sense of humor, as he often paid his fines in quarters!) He was the first to reach out and provide help to those in need. He was gracious in all things and approachable. As my father would say, he did not have a "pretentious" bone in his body! He led by example.
Although his first love in terms of universities was his alma mater, Oregon State University, Ken consistently extended his hand and help to George Fox, and I am forever grateful. More important to me, he extended his heart to me personally. After I became president, Ken and I began to meet once a month for breakfast in Newberg. You might think that someone of his status might select only the most elite restaurants; Ken preferred simple, local places. His place of choice was J's just off Highway 99W in the middle of Newberg. We always sat at the same table. While we were eating, it was common to have numerous citizens of Newberg stop to greet Ken and, of course, he always introduced me to them. Over the past 12 years we ate together more than 50 times, and I think became genuine friends.
It was roughly 10 years ago that we had a very significant conversation that transformed our relationship. Ken was one of the most creative and innovative persons I had ever met. He could design a mechanical solution to almost any problem he faced. He had the ability to imagine how something would work in his mind and then design it on paper. (Most people do not know that he designed his own "headers" and sold them on the private market for years.) He was brilliant. At the same time, he often saw himself as someone who was not "learned" in the traditional sense of the word. He struggled to read books and comprehend the context – especially the Bible. In spite of his obvious brilliance, he told me that he was not much of a Christian because the text felt "alien" to him.
I am not sure why, at times, within the Christian community we make people feel like "outsiders" because they do not follow a scripted path to Christ. It was the intellectual community in Jesus' day that had the most difficulty with his message. That day when Ken noted his difficulty in getting to know the story of Jesus in the typical way of reading assigned texts, I asked him if I could tell him a story. He said yes. I am a historian and love to tell stories of the past, which often in my own family leads to comments from my children like, "Dad do we have to hear another one?" Fortunately, this was the first time for Ken! For most of the last 2,000 years since Christ's resurrection, the people who followed Jesus were illiterate. They could not read or had limited reading ability. Those tasked with teaching the messages of Jesus learned to use other means to convey the truths of his story and life – stained glass, beautiful pieces of art, music, and liturgy. Since the Reformation the Christian community has increasingly used words, but it was not always so. The goal has always been to remove the barriers so that one can simply better know Christ personally. Ken was encouraged.
I went back to my office and found a gift for Ken that would become part of our dialogue for the next few years – the Stained-Glass Bible. I presented it to him at our next meeting, and he was amazed. He never realized that the beautiful cathedrals that he had visited included stained glass that had been designed to teach the average person the truths of the message of the Bible. If you could not read, you could see it and remember the story. From that starting point, we "graduated" to reading a children's Bible (at J's). Each week we would read another story written for children and discuss it together. I will never forget that when we started Ken brought his children's Bible in a paper sack because he was a little "sheepish" about being seen reading a Bible intended for children. I used to tell him that Jesus often credited the children with a depth of understanding that adults almost never achieve. After a year or so, we both carried our children's Bibles proudly and openly into J's. The point is to know Jesus, not the method one chooses to develop the relationship. Ken always thanked me for taking the time to teach him. I do not think he ever realized that I learned as much from him and Jesus in those sessions as anyone.
In my years knowing Ken, it was clear that he came to know Jesus better and became a genuine follower of Christ. I also got to know his equally creative and gracious son, Ken III. About a week ago, we had lunch together, and Ken III told me that his father had entered hospice care. I was surprised. I had been traveling and had not seen Ken for a month or so, and did not know that he was so ill. After our lunch, Ken took me to see his father at his home. Ken was resting on the couch when we came in. When he saw us he promptly sat up and greeted me. It was obvious that he was not well, but I was so grateful for the chance to talk one last time. Ken was ready to meet Jesus even though some of us were not ready to let him go. It is hard to know what to say when someone you deeply love is not going to get better. When words escape me, prayer becomes my only response. I asked Ken if we could pray together, and we did. I left him knowing that he would soon meet Christ and rest in his hands. On May 1, he passed this life into the hands of God.
It was a genuine gift from God for me to be introduced and to come to know Ken Austin. Outside my father, I can think of few other men who have had a more important impact on my life. He used to tell me that he most wanted people to know that Jesus transformed his life. I give testimony to that transformation today. I look forward to seeing him again when I greet him in heaven.