The year 2020 will forever be remembered for the novel coronavirus that ravaged the world. The details are still a bit unknown, but it is believed that Washington state had the U.S.'s first case on Jan. 20. About five weeks later, Oregon reported its first case, and soon after Gov. Kate Brown announced that schools would close starting Monday, March 16. That was followed by a stay-at-home order on March 23. Students at George Fox went on spring break March 20-27 and were asked not to return to campus for the remainder of the semester.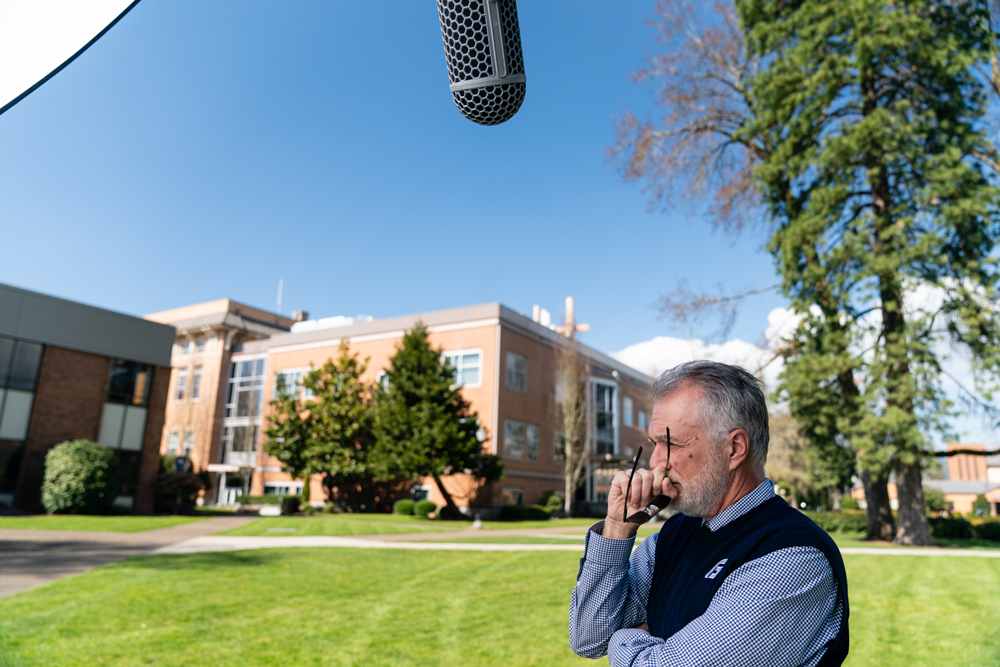 March 18: University President Robin Baker prepares to film a short video message of encouragement for the university community.

President Baker writes his remarks in his office. Just before filming, two students met him on the quad and offered to pray for him and the university, keeping six feet of distance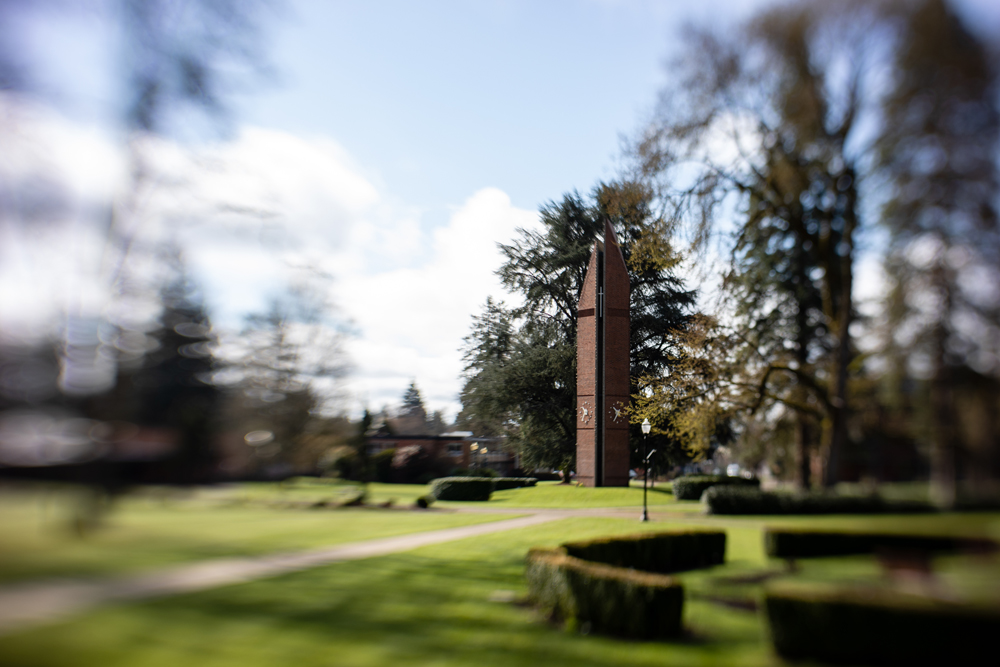 Once the reality hit that students were not coming back, everything felt surreal and distorted.

The number of meetings on the phone and Zoom skyrocketed. Everyone had questions and problems to solve. Instantly, communication was more digital than ever before.

Students moved out and gave premature goodbyes in late March. Giving final hugs and trying to lift spirits by sharing cupcakes weren't ideal for social distancing.
The Oregon Department of Transportation posted warnings about COVID-19 on its dynamic message signs, as pictured here on Highway 99W at the North end of Newberg. It reads: "COVID-19 AVOID GROUPS."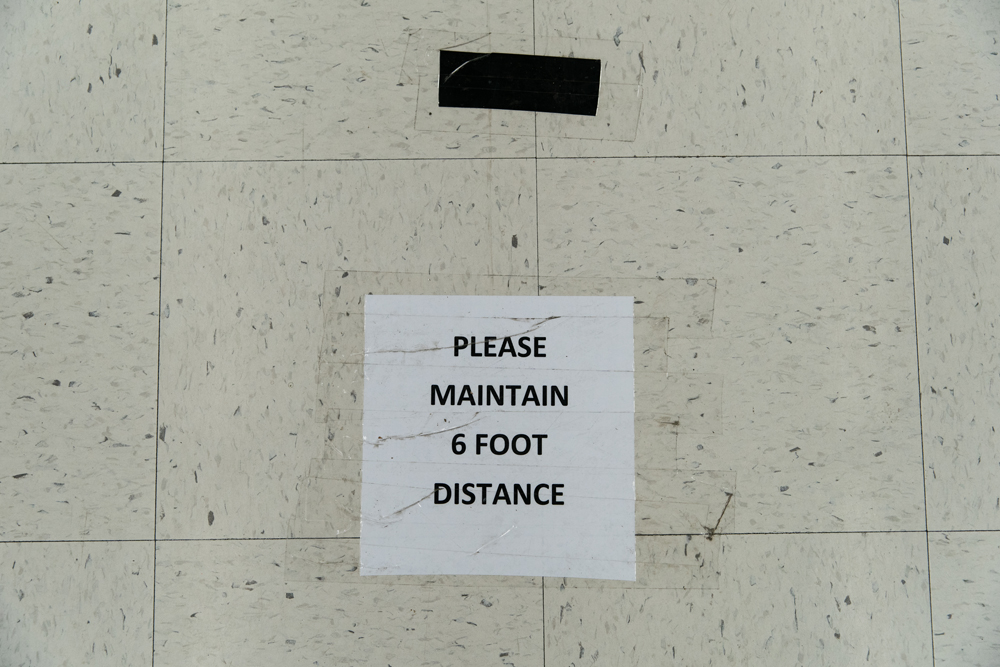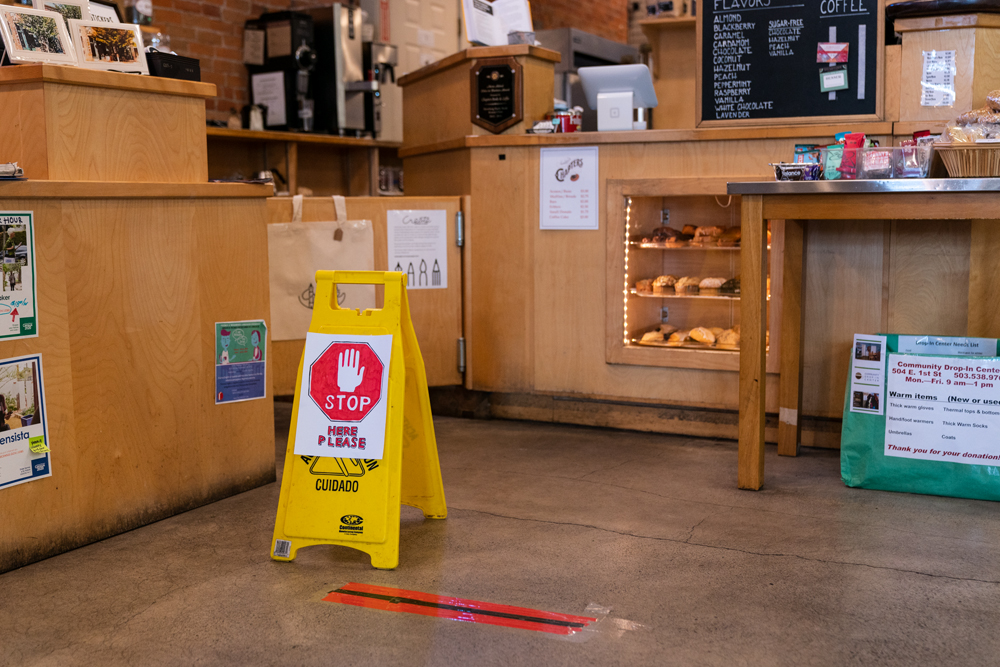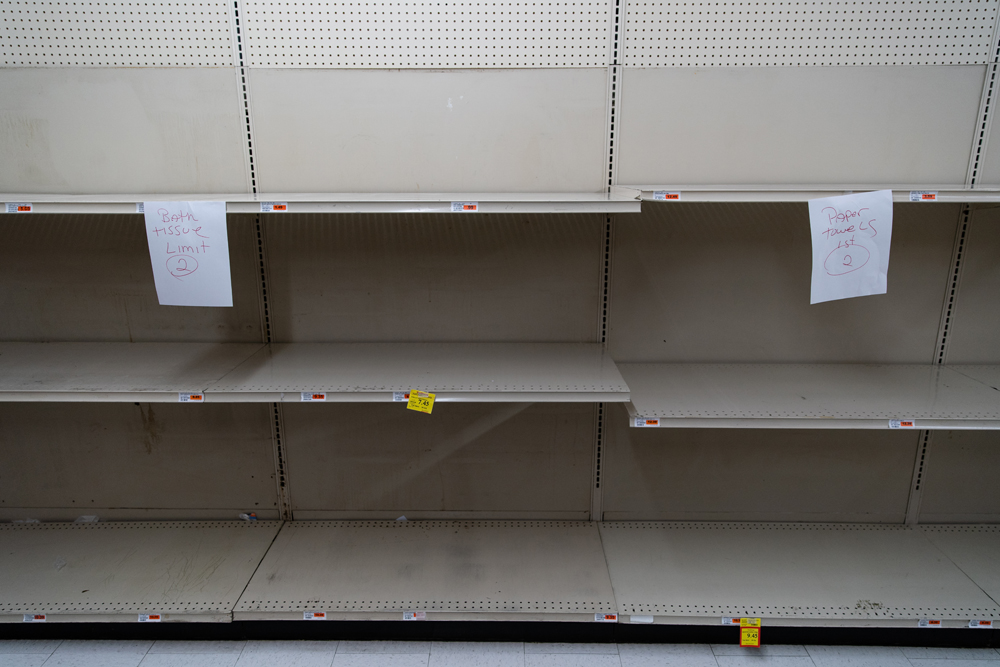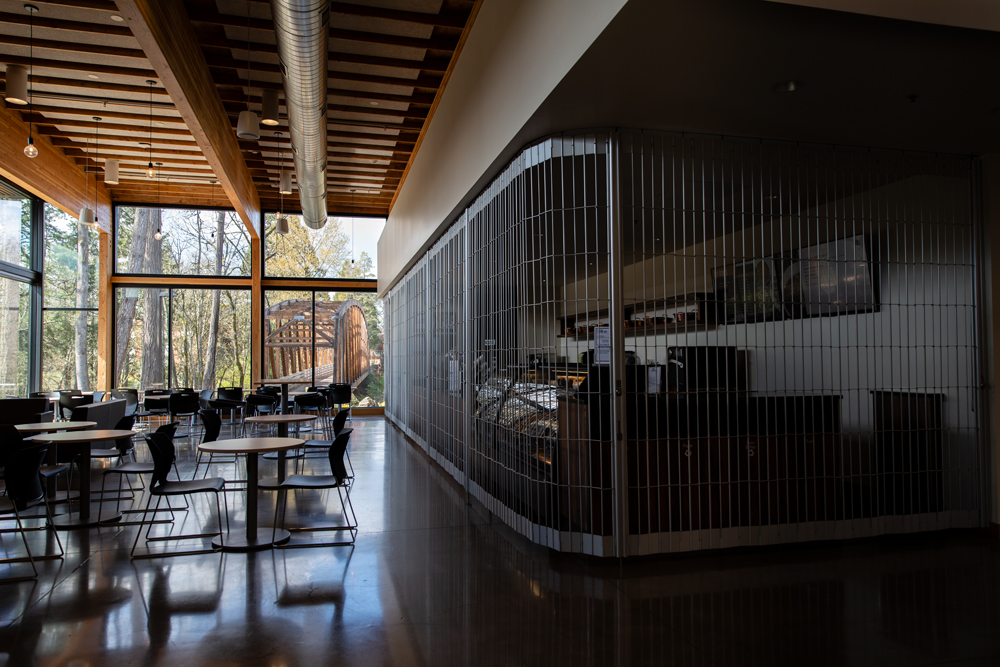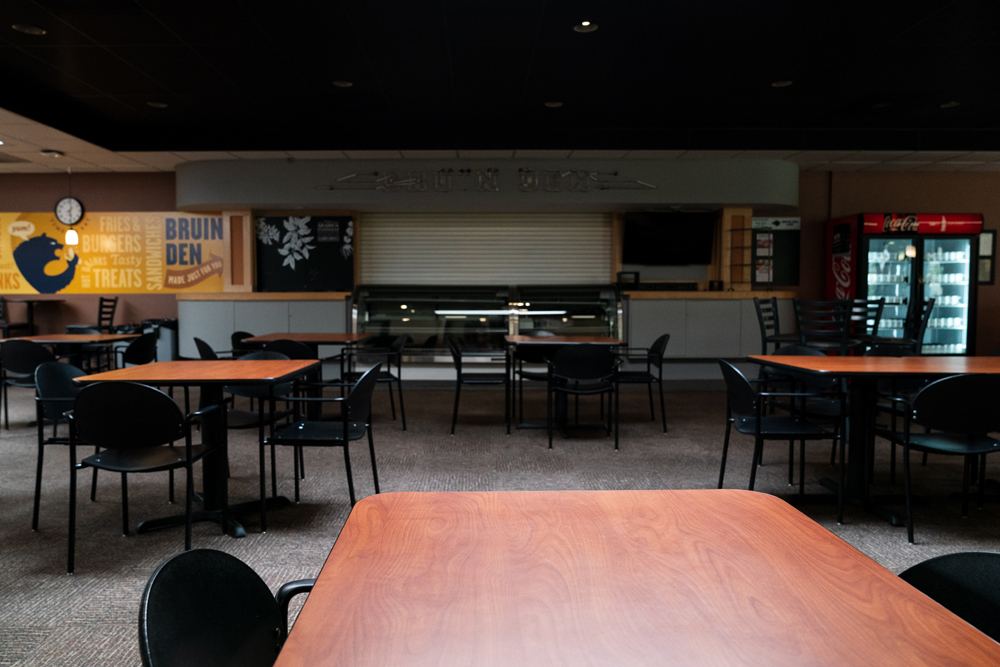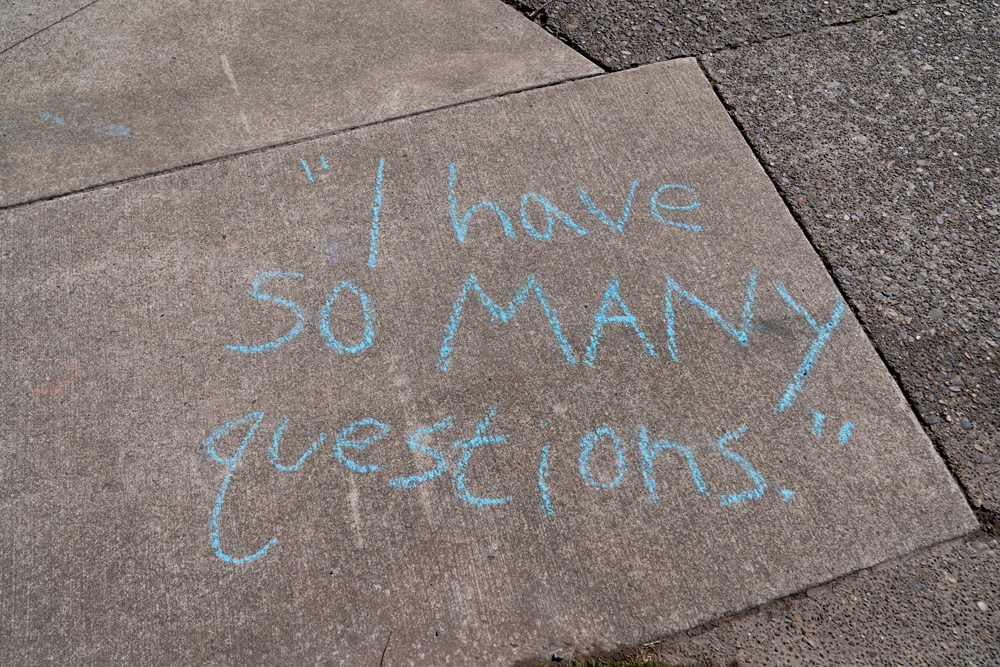 Scenes of closures and physical distancing protocols could be seen around town and on campus. Chapters, the popular coffee shop and bookstore, closed for everything but takeout and required you stay behind the red line, six feet away. The local Walgreens and grocery stores ran out of paper products and disinfectant sprays, and taped physical distancing markers on their floors. Cafés on campus that were usually crowded with students were empty and shuttered. Notes of encouragement and frustration had been scrawled on the sidewalks on campus by displaced students.

While the university was still technically open and students were still on campus, many offices were closed and strict physical distancing protocols were put in place. Student Services was "Temporarily Unavailable," and only the study area of the Murdock Library was open, with sanitation stations available.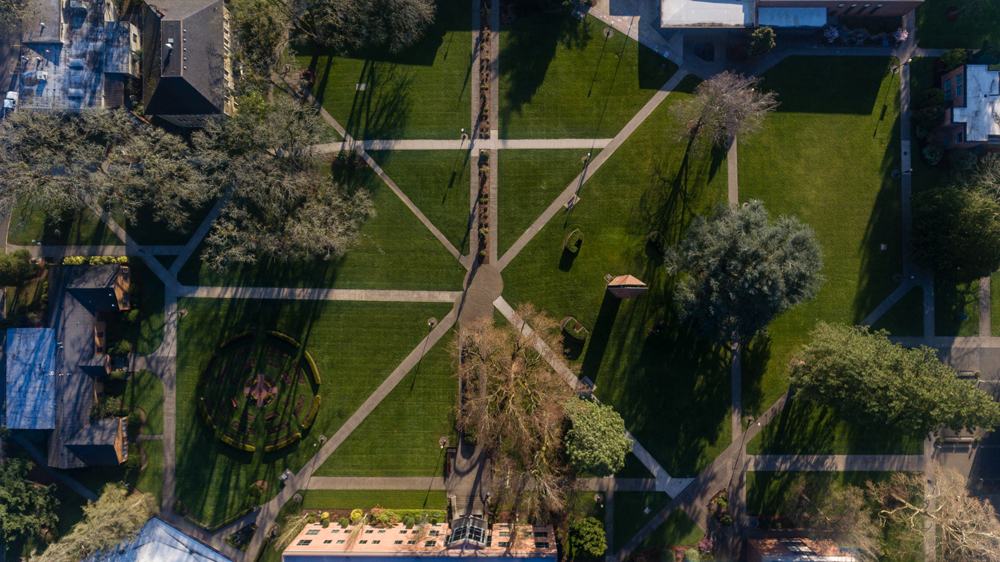 A still, quiet morning drone photo of a prematurely empty campus.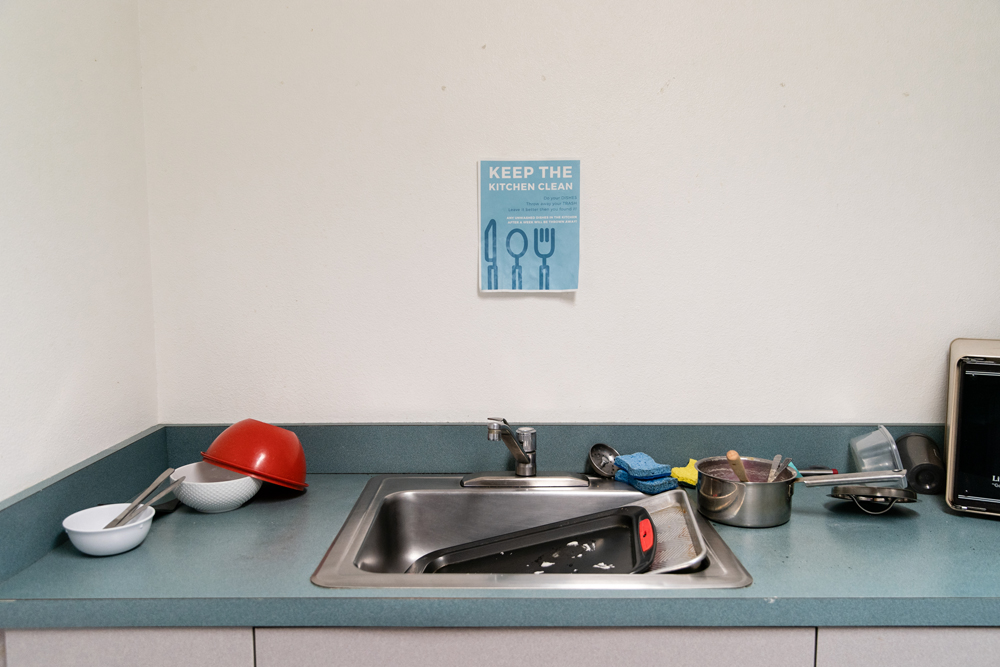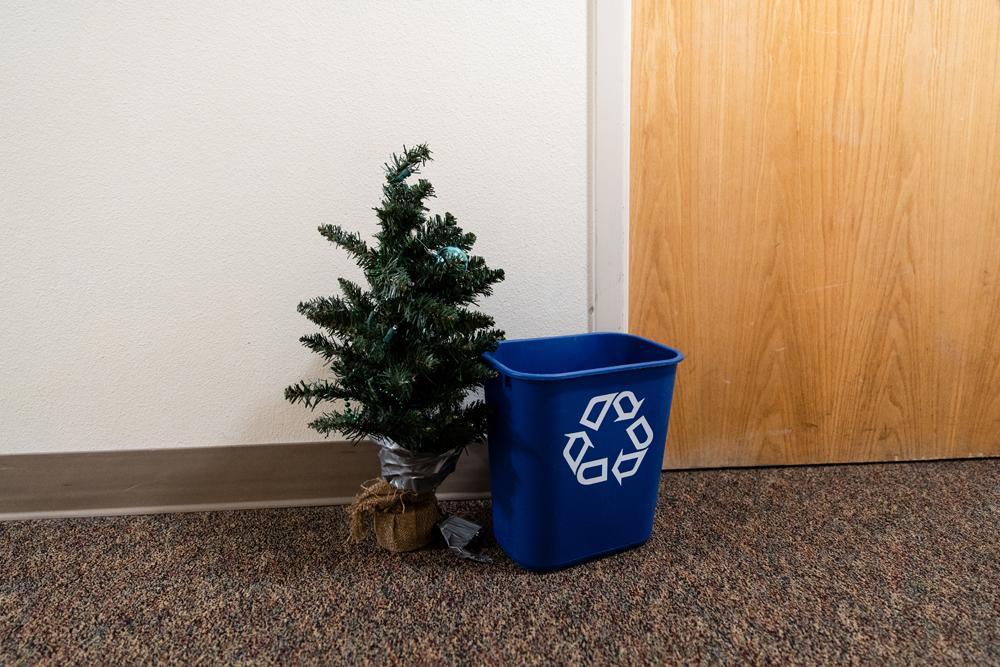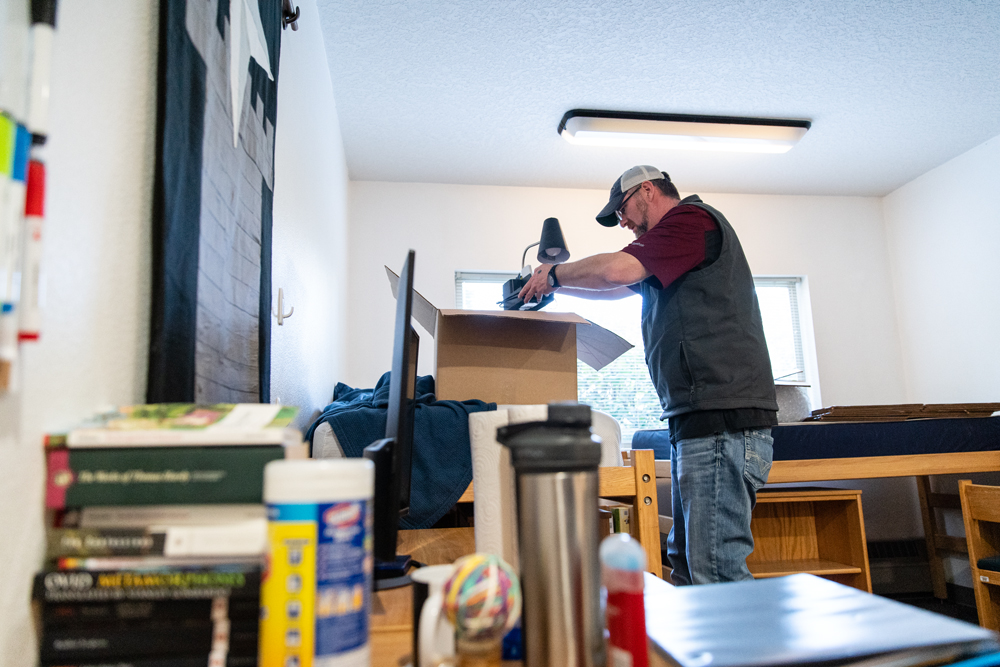 Students left in a hurry, or weren't able to return after spring break. Community sinks and hallways were left a mess while some dorm rooms had only been partially moved out of. Student worker Jeff Brown volunteers to help pack up the dorm room for one such student stuck at home in California.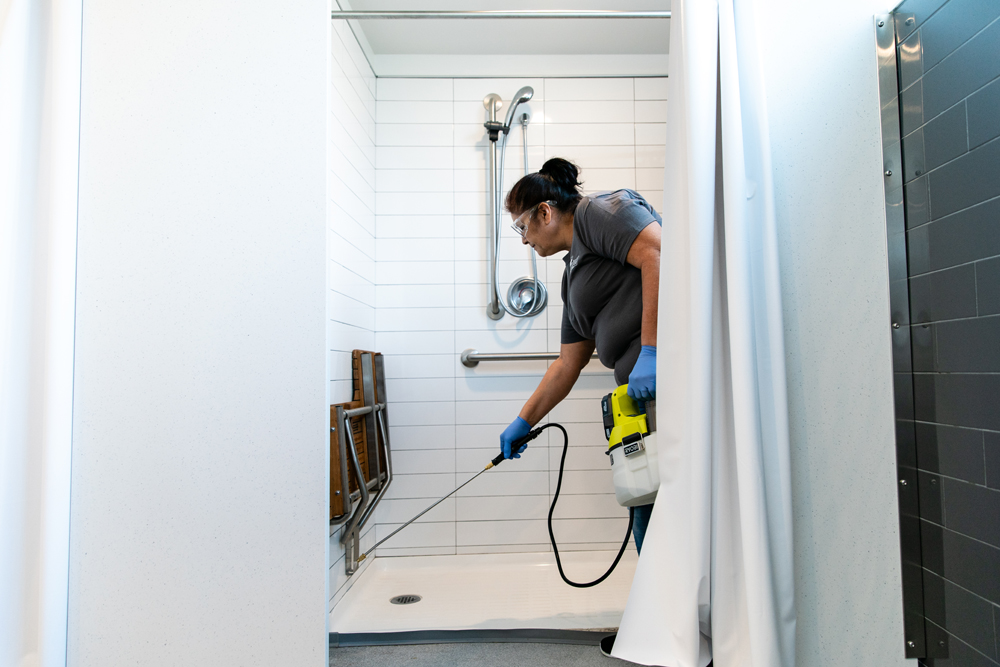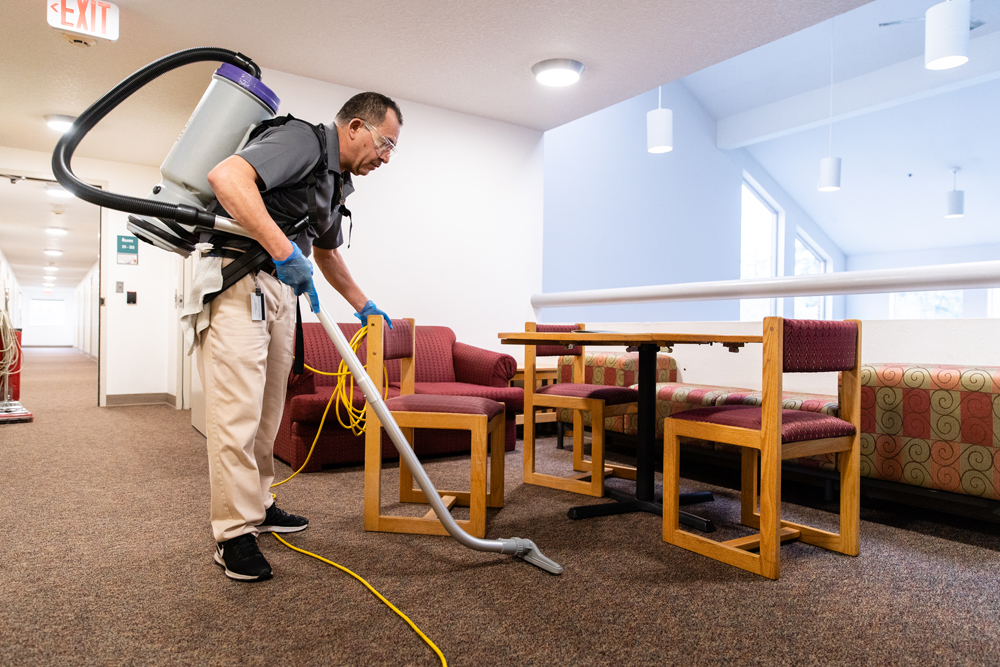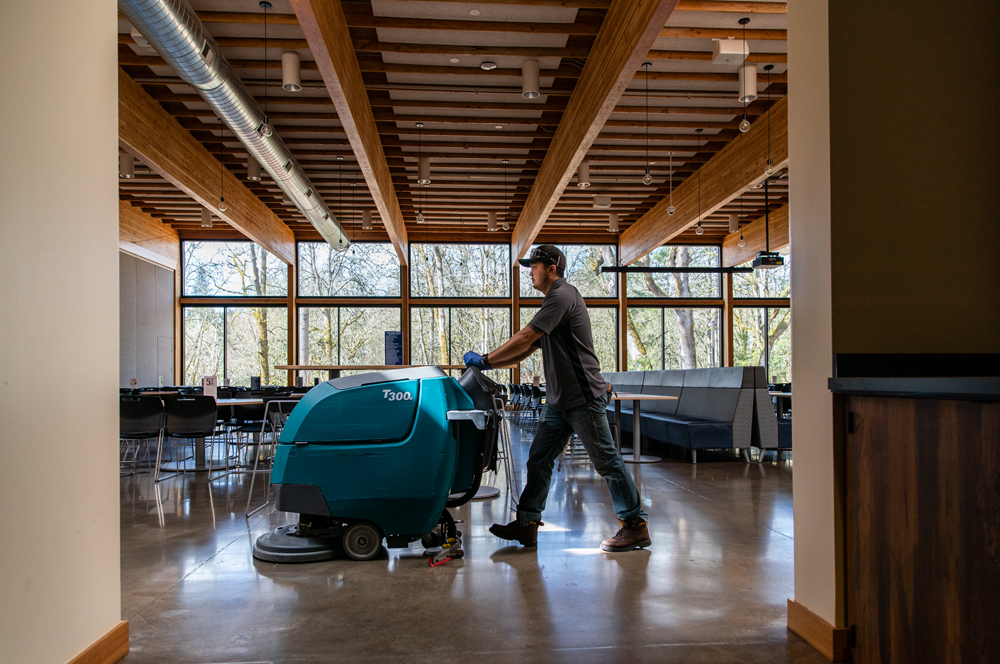 Because everyone is gone, the contracted janitorial team, Jani-King, cleans during the day. They typically work late at night to avoid having to work around students.

Once the decision was made to go digital for the remainder of the semester, teachers and students alike had to figure out how to manage this new reality. Art teacher Ashley Lippard holds a class session on Zoom in an empty lecture hall. Each athletics team individually but simultaneously hosted a Commitment Day celebration for incoming student-athletes over video conferencing (screenshot courtesy women's golf team).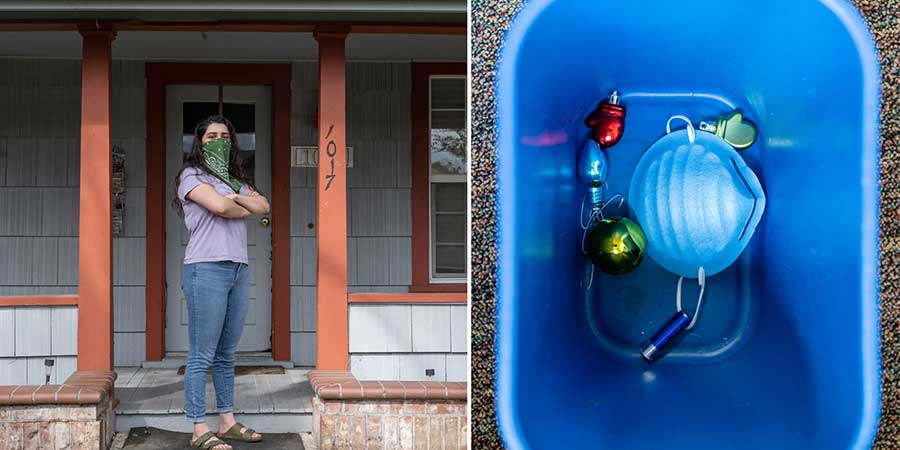 A student poses on her front porch for a portrait series on the George Fox community at home (photo courtesy Adam Long, assistant professor of art and design). Meanwhile, used masks start to show up in trash bins around campus.

Masks and physical distancing quickly became part of the daily norm on campus. Students eat lunch in the Newlin dorm lobby while keeping distance. Jessie Li, an international student, shows her mask during her portrait session. Li is a junior music major from Qingdao, China, and is still (as of early June) stranded on campus due to travel restrictions.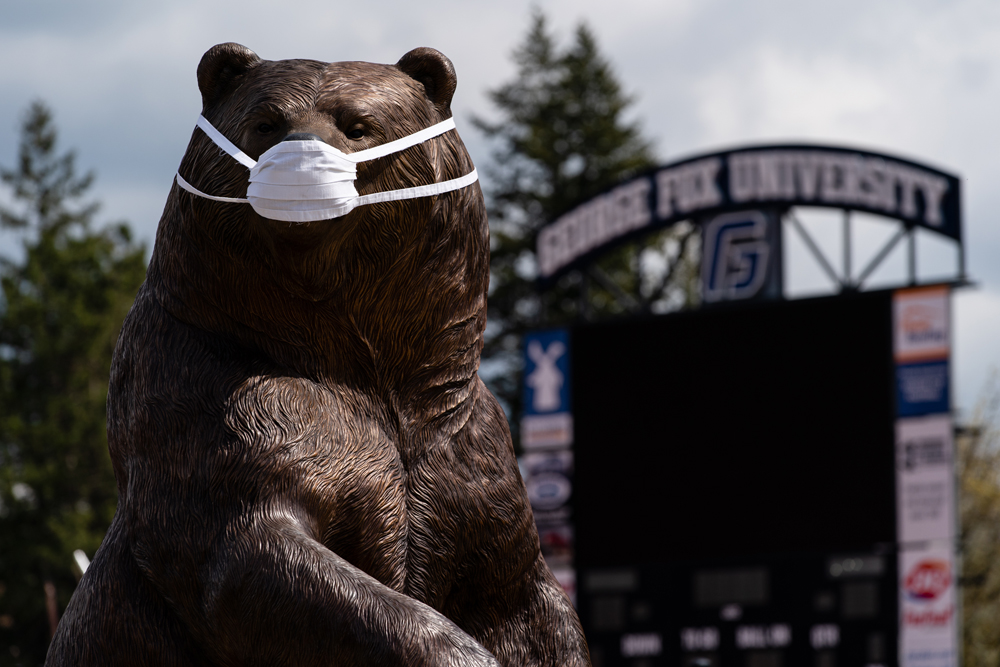 Even our Mama Bear wore a mask to protect herself from COVID-19.

By late March the engineering department, including some local students, was hard at work 3D-printing up to 150 face shields daily to donate to Yamhill County. Hospitals and healthcare facilities across the nation are in desperate need of PPE, and these shields helped alleviate some of that deficit throughout the county.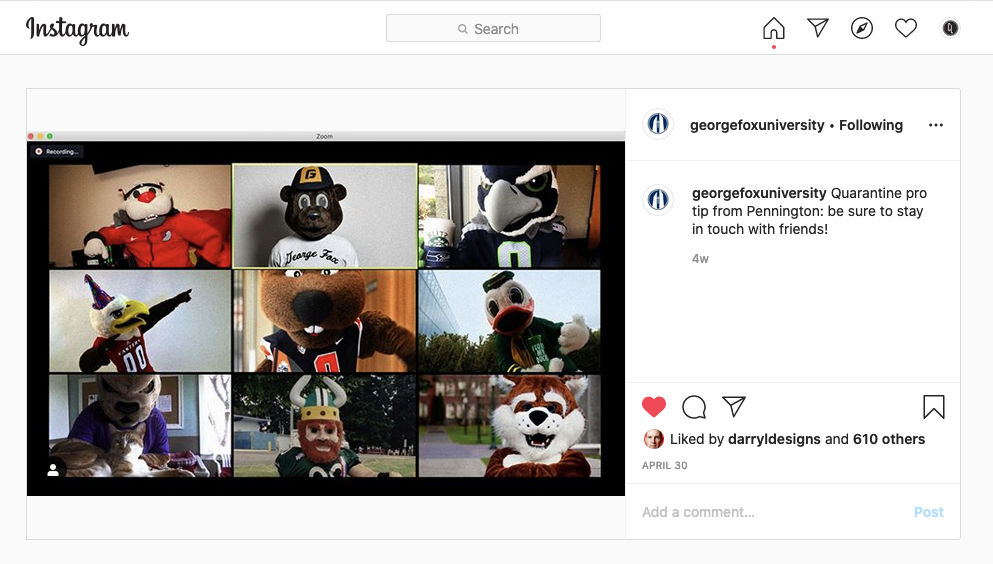 By late April we began to introduce a bit of humor into our Instagram feed with Pennington Bear, the university's mascot (top center). He wanted to keep in touch with his mascot buddies through Zoom. *Not an actual Zoom call; thank you to Photoshop and Google Images.

As there were still students living on campus, the food bank, Bruin Community Pantry (BCP), remained open and continued to receive donations … a lot of donations. The director of the BCP, Jere Witherspoon, is seen here with hundreds of pounds of rice in her car that was donated that morning to the BCP. Romare Ashford, a student employee, is seen here assessing the pantry inventory.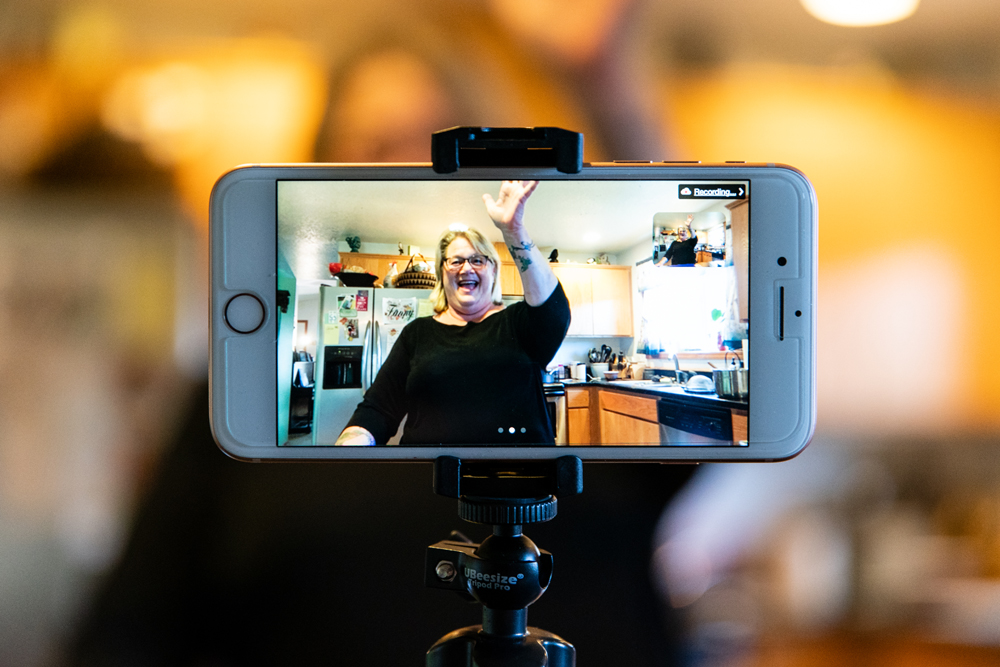 Witherspoon not only provides ingredients to the students, she is equally passionate about teaching them how to prepare that food. Here, in her home, she offers the first Zoom BCP cooking class. For an hour her husband filmed her as she prepared from scratch two different meals, the whole time teaching how to do it in your own kitchen.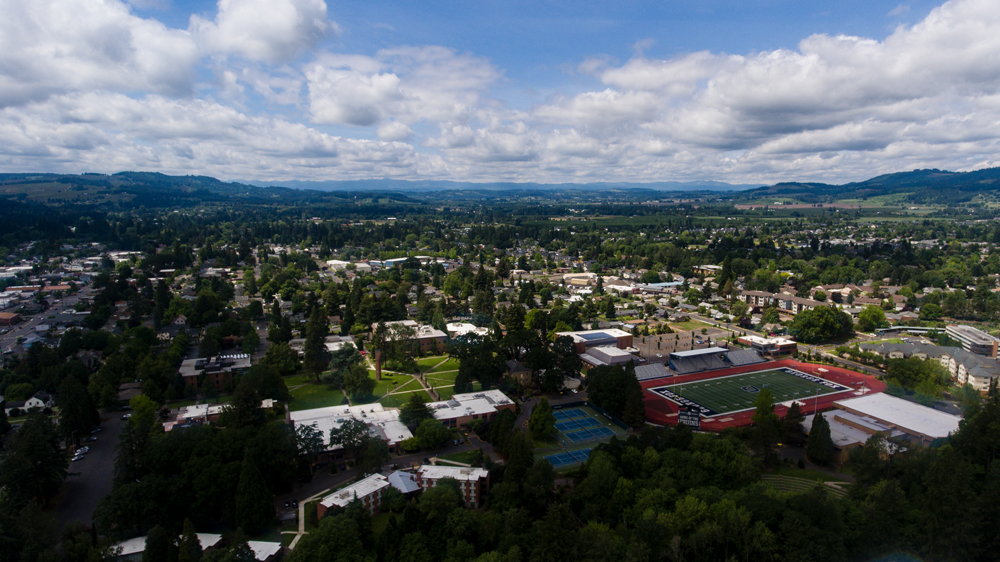 And for now, summer is in swing, students are gone, campus is quiet and nothing in our cultural climate feels normal or even real sometimes. COVID-19 rocked our world, and there is no returning to what it was like before. We are experiencing such chaos, division, injustice, and uncertainty. This photo essay is just one tiny time capsule of what this moment in time was like for George Fox University. And even at that, it's the tip of the iceberg in the telling of the story of 2020, quite literally the most painful and strange year of my lifetime.