Be Known.
If you are affiliated with George Fox University in any way, these two words are a familiar and, in some instances, fundamental part of your life. Even before setting foot on campus, students are reminded time and again of the university's pledge to connect with them on a personal and spiritual level.
It's a daunting task to take on and one that not all professors are able to meet. However, there are those who deliver on this promise day after day, student after student. Courtney Anderegg, a professor of Communications at George Fox, is one of these individuals.
After opening up my laptop and clicking to my Zoom meeting to conduct my first ever interview with Courtney, I couldn't help but note my nervous jitters. As soon as her face popped up on my screen, however, the butterflies drifted off immediately.
Sophomore Anthony Ujdur recounted a similar calming effect on the first day of classes his freshman year. Having taken a gap year after high school, he admitted that the prospect of going back to school was extremely intimidating. However, his worries were soon abated by his Intro to Communication class with Courtney.
"By the end of that first class session," he said, "I knew that I was in the right place."
The relatability and comfort he felt in her class went a long way in establishing a connection right off the bat. Later, he realized that this connection had served as a much-needed reassurance that he was on the right path.
"My approach to interacting with students is to say I'm a flawed human just like you," said Courtney with a shrug. "I don't want [students] to be worried about how they interact with me because I think that sometimes takes away from how they learn and connect," she said.
Though she iterated that there are numerous approaches a professor can take to the Be Known promise, she's tried to stay consistent with who she is as a person and just be herself. This is a significant part of what makes Courtney such an easy person to open up to and form a genuine relationship with.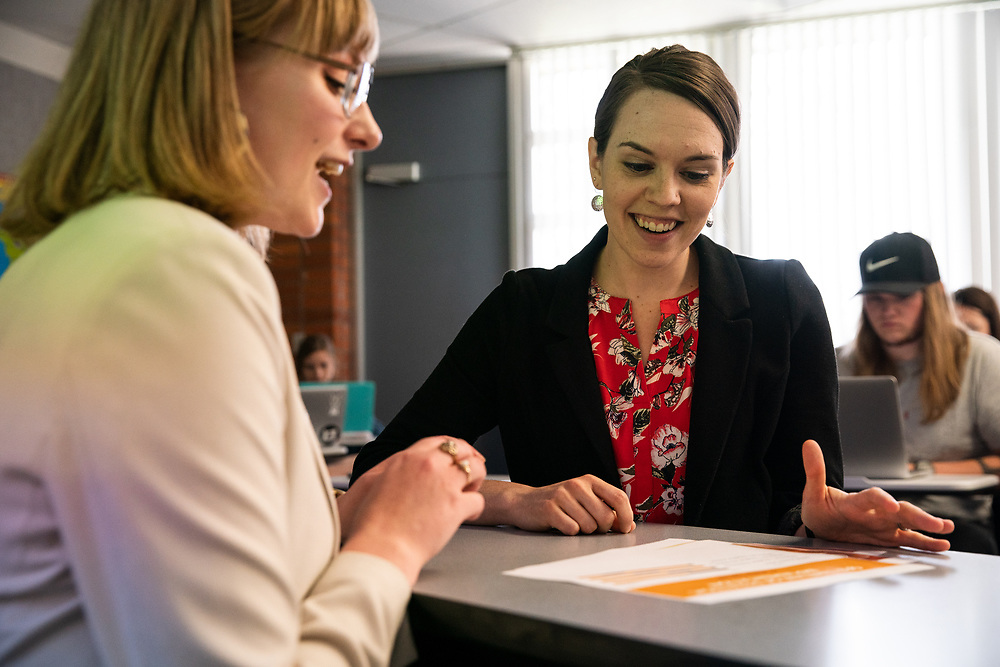 During the emotional rollercoaster of college life, those relationships with mentors are crucial for students as something constant they can depend upon. Katie Helmcke, a senior at George Fox, thought back on a very tough period last year when Courtney's guidance and presence in her life was just what she needed.
After having to miss multiple classes, Courtney worked with her to move assignment dates around and accommodate for what she was going through. More importantly, she was there for Katie as a mentor and fellow sister in Christ.
During this time, Courtney met with her frequently to talk about life, give advice, and pray for her. "Basically," said Katie, "she let me know that I had a solid adult on my side that would offer any assistance she could whenever I needed it."
These are the types of connections Courtney loves making. In fact, they were a large part of why she chose to make the big move from the Ohio State University to George Fox. 
"I never had meaningful interactions with students [at Ohio State]," Courtney reflected, leaning back in her office chair. After a brief pause, she continued, "At Fox, I'm not just spewing information at you. We're connecting with one another and talking beyond class and that to me makes my job more fulfilling."
Courtney doesn't see the Be Known promise and forming meaningful relationships with her students as just another part of her job. It is something that she genuinely enjoys doing and pursues in every facet of her day to day life.
For many students, myself included, the Be Known promise is a major factor in making the decision to attend Fox. Nobody wants to feel like just another number. We want to feel special, important, wanted.
Unfortunately, that's not something you're absolutely guaranteed to find in every professor at Fox. It is, however, something you can count on the moment you walk into Courtney Anderegg's classroom.
Until then, I'll leave you with the same thing Courtney left me with as I logged off of our Zoom interview. "It's been good to connect."