Maybe you think living on campus at George Fox isn't worth it when you're a junior or senior. Life off campus just seems like a better bang for your buck, or perhaps you think the pros of living on campus just don't outweigh the cons. That's a myth, and we're here to debunk it.
Here are the top five reasons that living on campus is the best decision you can make. 
1) Living on campus is convenient.
It's 7:55 a.m. Your alarm didn't go off (or maybe you pressed snooze), and you have your first class in five minutes. If you're a commuter, you aren't making it to class on time. There's just no way. However, if you live on campus, it's only a matter of how fast you can throw your shoes on and run to class. Proximity might not seem like a big deal now, but when you're running late to class during midterms, you'll think differently.
Living on campus also means you have convenient access to resources like the Murdock Library and Hadlock. Murdock provides a great space to get homework done, print out a paper, or check out various books and articles. Hadlock is a state-of-the-art facility that was only recently built, and it has all the equipment you need for your next workout. Whether you're into dancing, lifting, or rock climbing, Hadlock has got you covered. 
2) Living on campus is affordable.
This is where most people get confused. They see the living cost (including residential housing and meals) on their financial statement, and their eyes pop out of their head. They think to themselves, "This is so expensive! Living off campus must be cheaper." This is a common misconception, and here's why.
When you live off campus, a lot of extra expenses come into play. You have to pay for rent, utilities, additional gas, weekly groceries, laundry, internet, and even cable (if that's important to you). Those numbers add up fast, and what once seemed like the cheaper option doesn't look so cheap anymore. If you live on campus, utilities are included. Plus, Bon Appetit saves you money and time, with various meal plans to suit your needs.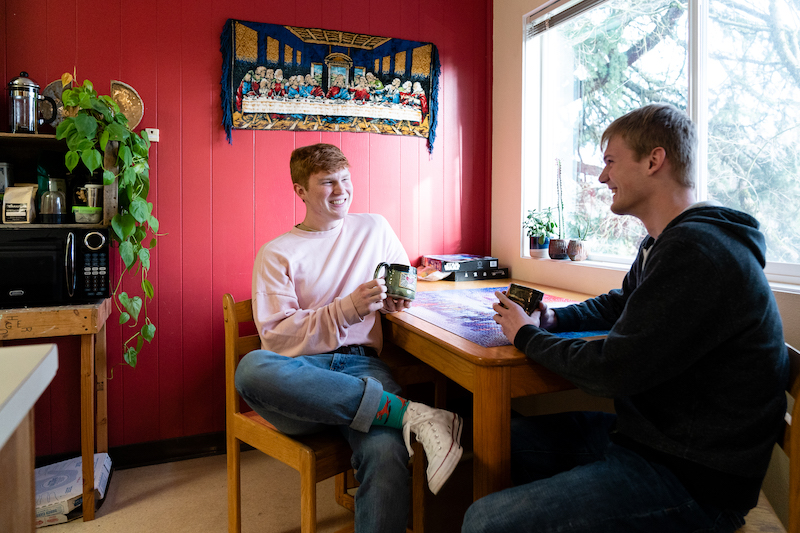 3) Living on campus means access to additional support and safety. 
When you live on campus, there's always someone you can contact if you feel unsafe or need help. If something's going on in your residence hall, your resident assistants and area coordinators are there to help.
If you're nervous about walking to and from academic buildings and resources at night, there are campus public safety officers on site. Various resources located across campus are available to you, no matter the time or place.
4) Living on campus provides community and connections.
Living on campus builds camaraderie. You get to meet new people, live with friends, attend residence-sponsored events, and more! Your resident assistants will throw different relationship-building events throughout the year, and you get to experience college life to the fullest. Plus, there are campuswide activities you can easily attend, from The Dating Game to the annual Lip Sync event. College is about learning while having fun and making memories, and living on campus allows for both. 
Living on campus also allows you to build connections. Students who live on campus are more likely to be involved in extracurricular activities, join a club, attend a Bible study, or work on campus. There are various on-campus jobs across different academic departments, and these jobs and internships can set you up for success in the future. Clubs and Bible studies give you a place to truly Be Known, and are a great way to meet new people and get involved.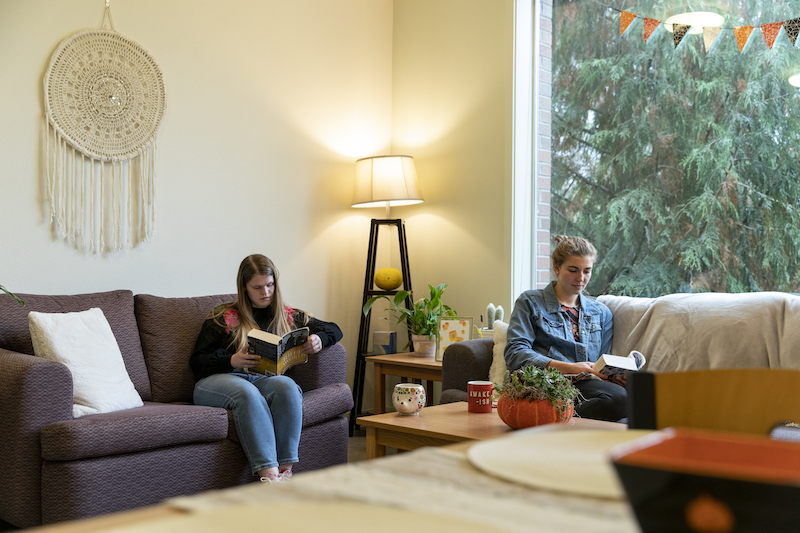 5) Living on campus fosters academic success.
You may think that living on campus is too much of a distraction, and that your grades will suffer. This isn't true. There are plenty of places to study without distraction (Murdock being one of them), and various resources like the Academic Resource Center (ARC) and other tutoring services are here to help you succeed in your studies.
Also, living on campus makes it easier to attend your professors' office hours and discuss any questions or concerns you may have. A study conducted at the University of Maryland found that students who live on campus have a 22% higher graduation rate than those who live off campus. This study also found that students who live on campus are more likely to have a higher GPA than those who don't. What more could you ask for?
Today we've debunked the myth that living off campus is better than living on campus. Living on campus is convenient, affordable, safe, and better when it comes to building community and succeeding in your classes. Even if you've already lived on campus in the past, there's still more to be gained. Don't believe us? Find out for yourself and sign up today!