There's a lot to love about online classes – namely, the freedom to study from wherever you're at and the flexibility to get things done whenever it fits your schedule best. At George Fox, we have beautifully produced and thoughtfully constructed online course options through George Fox Digital. But even with well-structured courses, learning virtually comes with its own learning curve.
While taking classes online may require less adjustment to your schedule, you might find it does demand some changes to your approach. If you're taking an online course – whether through Summer Online, First Year Online, Cornerstone Core or the Adult Degree Program – the practices below might be helpful to you!
Make a Schedule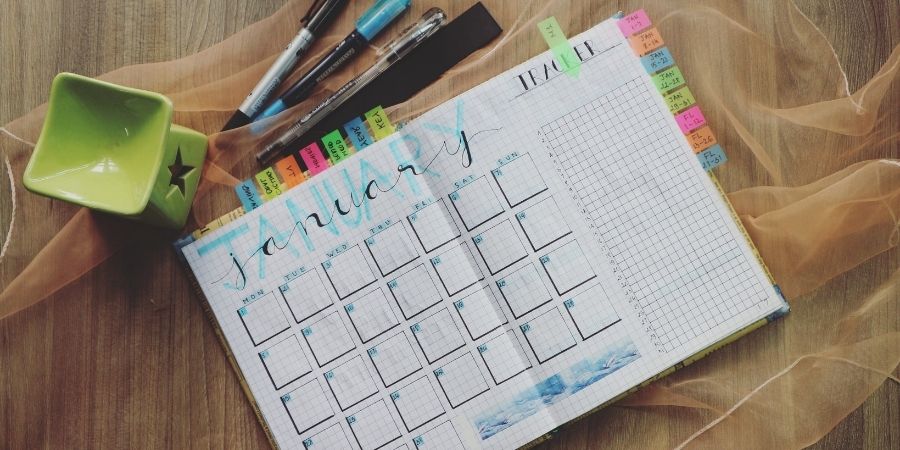 Schedule your to-do list

Create a plan and map it out with real time periods attached. You can use a calendar, bullet journal, planner or app. If you prefer to-do lists with no time associated, that's OK, but from our experience, having real blocks of time designated is more helpful and motivating.

Put everything you do in your schedule

When you shower, when you go for a walk, when you have a Zoom meeting, when you're going to read for that class – EVERYTHING! Even if you don't think you need this level of detail, it can help you visualize your day and save you from running late.

Google Calendar is a great tool

If you download it on your phone,

the app

will give you notifications for each "event" on your calendar. You can set notifications to go off five or 15 minutes before an event – or whatever increment makes most sense to you.

Add buffer time

When you schedule time for working on an assignment, put it in your calendar with more time than you expect it to take, so you have buffer room to answer a text or grab some coffee.

Example: If you think it will take you 30 minutes to read for your class, give yourself 45 minutes for it in your Google Calendar, bullet journal or daily schedule.

Leave empty spaces in your daily schedule for free time

If that's too unstructured and will lead to disregarding your schedule for the rest of the day, label the time as whatever activity you plan on doing (example: one hour of watching

The Office

, 30 minutes to call your friend, etc.)

Put due dates in your calendar and keep track of them
Create a Good Workspace
Separate your work space

Try to distinguish your work area from areas you associate with leisure. Set up a station at the end of the kitchen table or get a desk for your room. If being in bed makes you more likely to fall asleep, don't study there.

Mix up your environment

If you are a fully online student or spend a lot of time at home, it can be helpful to take your studying to a new location, like the library or a quiet coffee shop. Set a goal for what you'd like to finish while you're there and try not to leave until it's done.

Keep everything within reach

Think through what you'll need for a study session, just like you would if you were heading to class in person. If you have to get up, you risk losing your focus on schoolwork.

Let others know you're working

If you live with family members or roommates who aren't in school, let them know that when you're studying, so you won't be disturbed or distracted.

Silence your phone

Put your phone on "do not disturb" or simply disable internet access while studying.
Ask for Help
Professors are still available over email!

If you have a question that can't be answered via email, schedule a phone call or video chat.

Reach out to fellow students

You might not be the only one adjusting to online learning. Never be afraid to suggest a video meeting, to answer each other's questions or just to connect. Consider a group Google Doc for studying together and answering each other's questions asynchronously.

Take advantage of university resources

If you're struggling with a class, need help writing a paper or preparing for a test, the

Academic Resource Center (ARC)

can help! If you're fully remote through Summer Online, First Year Online or the Adult Degree Program, you can access

virtual academic support

through the

Portland Writing Center

. 
Set yourself up for success, and you can enjoy the many benefits of taking classes online. If you start to feel overwhelmed (most of us do at some point!), don't forget to reach out! We are here to help and would be delighted to support you, even if you've never set foot on campus.