When I came to college, I didn't anticipate the life-changing opportunity I would experience in the George Fox Honors Program. Among the many offerings at Fox, honors stands out for its unique alternative to the standard curriculum. The Socratic seminars, book selection, and personal engagement with peers and professors are only a few of the reasons I love being part of this community.
This great books program challenges students throughout their undergraduate years to think critically about the deepest questions raised over time – from ancient Mesopotamia and Rome, the Medieval era, the Renaissance and Enlightenment, and into the 19th and 20th centuries. An average of 20 texts are read per semester alongside meaningful discussions twice weekly.
In all, there are six semesters worth of material, with an optional semester to construct a cumulative thesis, so the program can be completed in three or four years. Although these are challenging requirements, each text and discussion has deeply contributed to my intellectual and spiritual formation.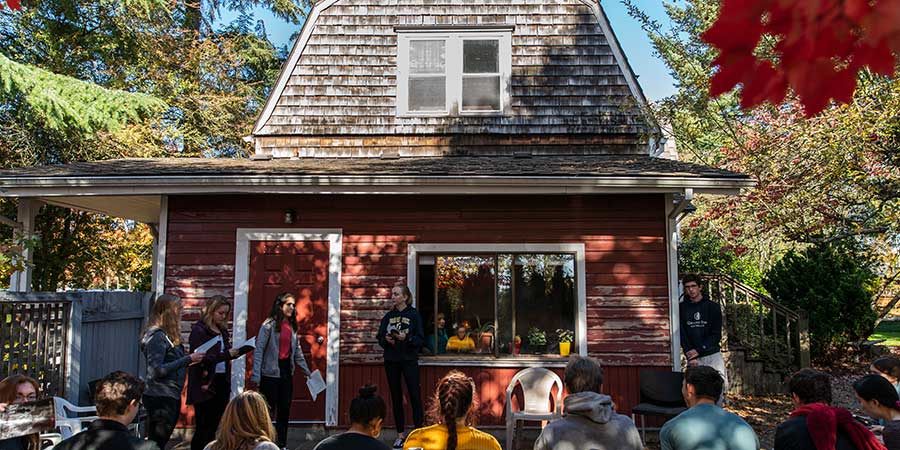 Socratic seminars form the basis of the program and act as an alternative to the traditional undergraduate general education requirements. I appreciate the seminar model as opposed to a lecture-based approach for the interactive, community-enriching, and intentionally focused conversation. As an external processor, having space to cultivate my understanding of concepts through discussion is invaluable.
For the internal processors in the room, hearing others' thoughts can initiate and nourish their own ideas. Beyond hashing out actual ideas in seminar, we collectively learn how to cultivate charitable discussion in a Christ-focused environment. Our discussions begin and end with unified prayer, and I can attest there is often much internal prayer throughout. Christ is present in unique ways during seminar.
One of my favorite authors I read during my four years in the program was Saint Bernard of Clairvaux. His ideas radically challenged how I viewed the love of God. Having professors who patiently guided me during and outside of class is a significant way I saw the Be Known promise fulfilled in the honors program. With Bernard's and other authors' rather earth-shattering concepts suddenly entering my life, I am tremendously grateful for the professors who were willing to meet me outside of class as I processed the personal implications of these texts.
Members take six honors classes throughout their college tenure, each counting for six credits, along with their specific major requirements, and can take a semester off their junior year to either take an increase in elective courses or study abroad.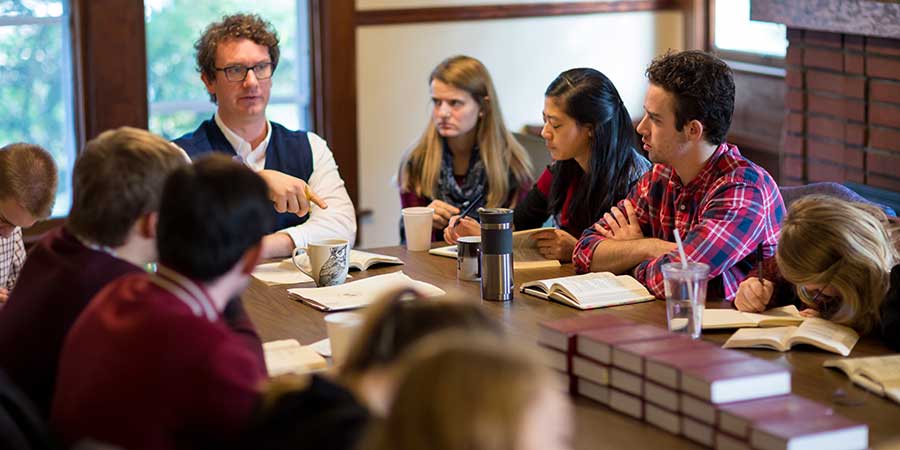 Honors program students also have the opportunity to grow as a community by having small class sizes with a cohesive cohort of classmates throughout all four years. With many social and educational events outside of the classroom as well, such as Honors Forums, where a panel of professors discuss topics and answer students' questions, students have the opportunity to build long-lasting relationships with peers and professors alike. My best friends and roommates are those that I met through the program!
As I reflect on the past four years as a senior member of the honors program, I am full of gratitude. While George Fox in its entirety has blessed me with great opportunities and relationships, the honors program has been the cornerstone of my experience. In and out of seminar, the assigned reading has shaped who I am and provided me with long-lasting friendships with both professors and peers. 
A note for those who think you aren't the type of person for this program … Take it from a STEM major from a public high school who didn't like to read before college: You ARE meant for this program. Whether you have plenty of experience with classical texts and discussions or haven't yet been given anything like this opportunity, there is a place for you in the George Fox Honors Program. 
An honors education is both a unique and fruitful experience for students looking to push their intellectual limits while being supported by talented professors and peers. If what you've learned from this blog post stirs any interest in being part of this curious, Christ-centered community, I encourage you to apply to the Honors Program!