Oregon Extension Program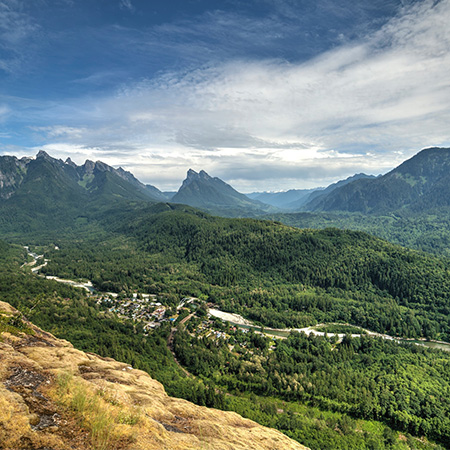 Photo by Zach Taiji on Unsplash
Program Overview
The Oregon Extension offers a fall semester of accredited college studies for the student who wants a more down-to-earth, honest, lively and deeply engaged learning experience in an intentional community setting.
The Oregon Extension (OE) is located in a mountain hideaway in the Southern Oregon Cascades and invites students to live a simplified life in a rustic forest setting as they deepen their love of learning and seek a more integrated vision of life in which all things can be understood in their relations to God. This is a unique alternative semester for Christian college students and other honest seekers.
Course Content
The OE semester is divided into four three-and-a-half week segments or courses. Each course is taught one at a time. The overarching interdisciplinary themes for each segment are "What is Nature," "What is Community," "What is a Sustainable World," and "What does it Mean to be Human."
Excursions
Over the course of the semester, you will leave campus both for single-day outings and multi-day trips. These excursions will include attending plays at the Ashland Shakespeare Festival, overnight camping to Lava Bed National Monument, a six-day backpacking trip in the Cascades or Sierras, a three-day trip to the Oregon Coast, and a four-day trip to San Francisco.
Housing
You are housed in cabins (built in 1929 to house families of local mill workers) with three other students. The cabins are basic, but do have electricity, hot water, a kitchen and a wood stove for heating. You will have the opportunity to shop, eat and clean up after meals, and join faculty in chores such as cutting and chopping firewood.
Program Fees & Eligibility
You pay your regular George Fox tuition and room and board and continue to receive all of your financial aid. Due to the high cost of some programs, an additional fee may be charged. You are responsible for round-trip airfare. The fee does include emergency travel insurance.
To apply, you must be a full-time undergraduate student with junior or senior status, holding a cumulative GPA of 2.75 or higher.
Application Process
Applying to the program is a two-step process, requiring that you complete both a George Fox and external site application. Visit the Application Page to get specific details. Once you've completed the George Fox application, we will provide you with information to apply to the Oregon Extension Program.