Dual Enrollment Credits
Taking college credits prior to your time at George Fox University opens up flexibility to double major, take extra electives or even graduate early.
Dual enrollment or dual credit programs allow high school juniors and seniors to attend college courses numbered 100 or above while completing high school. These programs have various names (Running Start, College Now, Eastern Promise, College in the High School, etc.), and George Fox accepts and transfers credit from all accredited programs.
You can also get college credit for AP, CLEP, IB and foreign language equivalencies.
Below are some frequently asked questions concerning George Fox University's policies regarding dual credit. For more information and to get your specific questions answered, please make sure to contact your admissions counselor.
What is George Fox's policy regarding dual enrollment credit?
Dual enrollment credits are treated the same as traditional transfer credits. We will accept dual enrollment credits for transfer if the granting institution is regionally accredited, the courses are college-level (100 or higher) and academic (no professional/vocational/technical courses), and the student earns a C- or better.
Credits are generally transferred course by course, however George Fox does accept the following associate's degrees as a block transfer, taking care of all your general education requirements except for a few courses that are tied specifically to our institutional mission.
Oregon: The Associates of Arts Oregon Transfer Degree (AAOT) or the Associates of Science Oregon Transfer Business Degree (ASOTB)
Washington: The Washington Transfer Associates of Arts (WTAA), also known as the Direct Transfer Agreement (DTA)
California: The Associates of Arts Degree for Transfer or any associates of arts degree if you also met the Intersegmental General Education Transfer Curriculum (IGETC) requirements or the CSU General Education Breadth requirements
How many credits can a dual enrollment student transfer to George Fox?
Students can transfer a maximum of 64 semester credits from a community college. Quarter credits are transferred as semester credits at a ratio of 3:2.
What dual credit subjects are eligible for transfer to the university?
Only academic courses are allowable for transfer. Writing, literature, math, science, social studies and history are examples of the types of credits that are transferable. No professional/vocational/technical courses are transferable.
What steps do I need to take to get my dual enrollment credits to transfer?
In order for credits to be transferred, we will need an official transcript from the granting institution.
How much time can I potentially shave off my college years transferring dual credits?
Depending on how many credits are transferred and the degree program a student is entering, between one and four semesters could be saved. Each student's situation is evaluated on a case-by-case basis and should be discussed with an admissions counselor or a representative in the registrar's office.
As a dual enrollment student, am I classified as a transfer student?
Since you are taking college classes while still in high school, you will still be considered an incoming first-year student. This works in your favor, as first-year students qualify for more financial aid than transfer students. Therefore, make sure you apply as a freshman student.
Does dual enrollment credit look good on my college application?
It does! Our admissions staff is always looking for evidence of a student's ability to be successful at George Fox, and completing college-level work while in high school is typically a clear indicator of college readiness.
Have more questions about dual enrollment?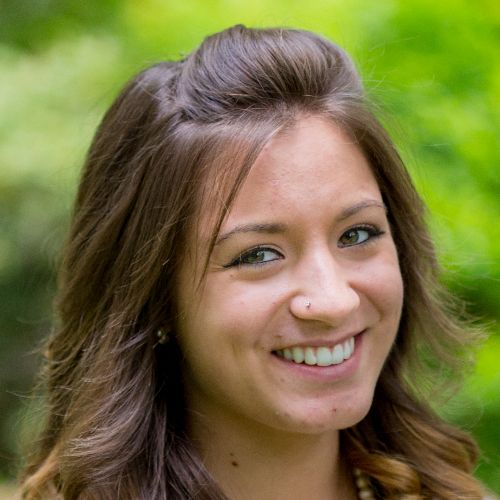 Sierra McNeil, Class of 2017
Running Start allowed me to complete both a high school diploma and an associate's degree in business at the same time. Upon graduating from high school, I had taken 109 quarter-credits at a local community college, which I was able to transfer into 64 equivalent semester credits when I began as a freshman at George Fox. This will allow me to graduate from George Fox in just two years with bachelor's degrees in both business management and marketing.

This opportunity to start on college early has encouraged me to not only succeed academically but also professionally. I appreciate the fact George Fox was accommodating and easy to work with when it came to transferring my Running Start credits.