After four years of football games, homecomings and on-campus shenanigans, Marissa Flood shares her secret identity as university mascot By Sean Patterson
There were times she had headaches, was outright sick, or just wasn't feeling up to being cheery and fun. But all those feelings seemed to vanish when Marissa Flood strapped on that big beanie-capped head and floppy paws to become the university's beloved mascot, Pennington.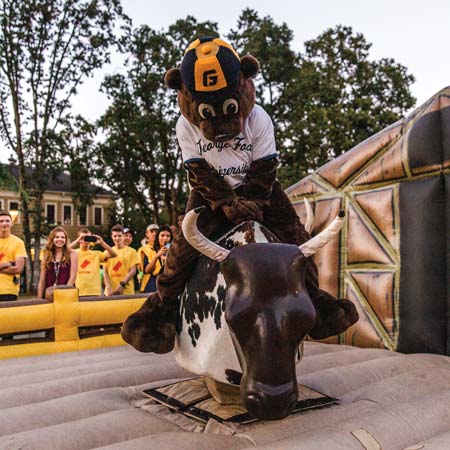 Flood graduated this spring with a degree in marketing after working all four of her college years as Pennington. She leaves feeling the bear has made her a better person.
"When you're in the suit, you have to be kind and personable – you can't be in a bad mood," she says. "I mean, can you imagine an angry bear walking around? It's funny, because I'm not a big hug person. But when I'm Pennington those personal feelings go away. I just become a different character who loves to hug and encourage people."
Flood didn't plan on being a college mascot, but when she observed what she considered an uninspiring Pennington performance at her first football game freshman year, the thought entered her mind: "I could do this." Friends encouraged her to look into it, and after expressing interest to the marketing communications department, she was hired for the job.
Since then, she's led a double life – as Marissa Flood, the student, and as the high-fiving, always-energetic Pennington. "A small group of friends know, but most people don't know that I did this all these years," she laughs. "I'd have people come up and start talking to me, asking me who I was. Others just needed someone to talk to. I couldn't talk back, but I'd listen, nod my head and give 'em a hug or high five."
One of those individuals – the grandmother of a football player – was Flood's favorite "target." "That older lady just loved me, and I'd seek her out in the crowd and find her to give her a hug," Flood says. "One day, her grandson came to me and told me how much he appreciated me giving her that attention, with tears in his eyes. It just made me think, 'Wow, you really can have an impact on people. We all can. We just need to take the time to do so.'"
Flood was honored for her work, receiving an "MVP award" at a mascot camp she attended, but the joy of being Pennington is what inspired her to continue suiting up.
"People love Pennington, so how can you not love the job?" she says. "That's what made it great. You didn't feel like you were working. You were just out there having fun."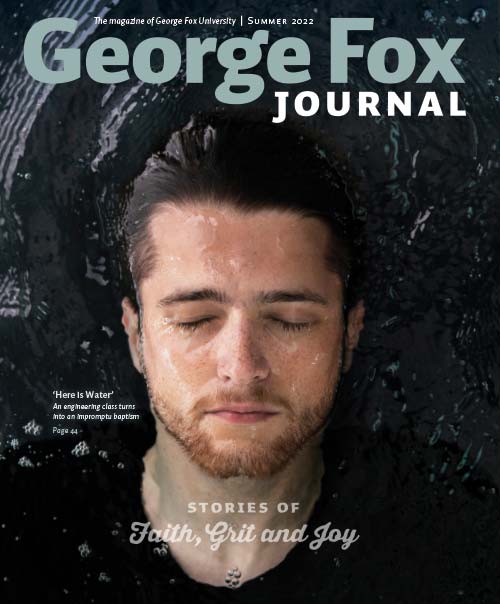 Looking for more?
Browse this issue of the George Fox Journal to read more of the stories of George Fox University, Oregon's nationally recognized Christian university.