A Milestone 130 Years in the Making
Psychology major Violet Herrick becomes the university's 30,000th degree recipient By Sean Patterson
Violet Herrick isn't big on being the center of attention, but it isn't every day you get singled out to celebrate a milestone 130 years in the making.
Days before graduating, Herrick learned she would be the 30,000th degree recipient in the history of the university, putting her in the spotlight for a surprise bash that included an appearance from President Robin Baker, Pennington the bear mascot, her psychology professors, and a handful of George Fox employees and friends.
Going into this spring, George Fox was 403 graduates shy of 30,000; Herrick was, alphabetically, the 403rd student to receive a degree or certificate in 2022.
Herrick smiled as she was presented a gift basket full of sweets and George Fox swag, as well as a custom-made framed piece of artwork based on a campus mural designed by alumna McKenzie Young.
"I don't normally like to draw attention to myself, but this was nice – I feel celebrated," she said moments after the big announcement. "I'd say this was on the higher end of all-time surprises in my life."
She was recognized again during her commencement ceremony on April 30 in front of the Stoffer Family Stadium crowd. The big event signified the start of a new chapter for Herrick, who plans to pursue a master's degree in marriage and family therapy.
"I've really enjoyed my George Fox experience, so this is a bittersweet time for sure," says Herrick, a psychology major from Sacramento, California. "In a community like this, you get to meet so many amazing people. I loved hanging out in the quad and coming across five to 10 people I knew on any given day. I'll miss my amazing psychology professors – Kelly Chang and Jordan Fastenau were especially supportive and really helped me grow while challenging me. Be Known really struck a chord and was real for me.
"At the same time, I'm excited for the future. I have a two-year online master's program, then plan to be a marriage and family therapist, with the hope of working with adolescents."
In the meantime, Herrick and her husband Joshua will celebrate their graduation – he earned a degree in engineering from George Fox this spring – by going to Italy. They also have snacks to consume, thanks to her milestone gift-basket prize. "I might share some of it with him," she laughs.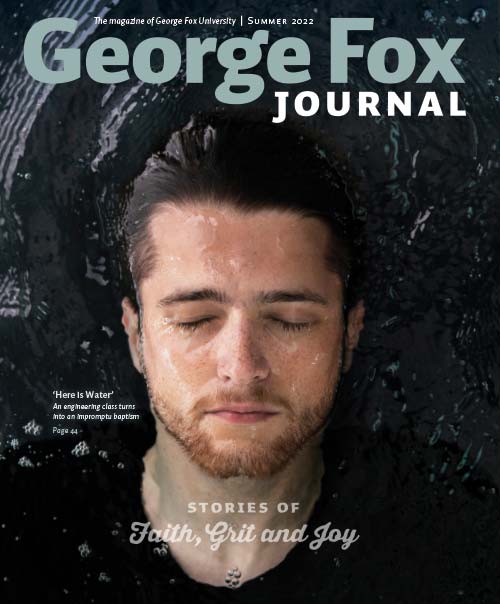 Looking for more?
Browse this issue of the George Fox Journal to read more of the stories of George Fox University, Oregon's nationally recognized Christian university.