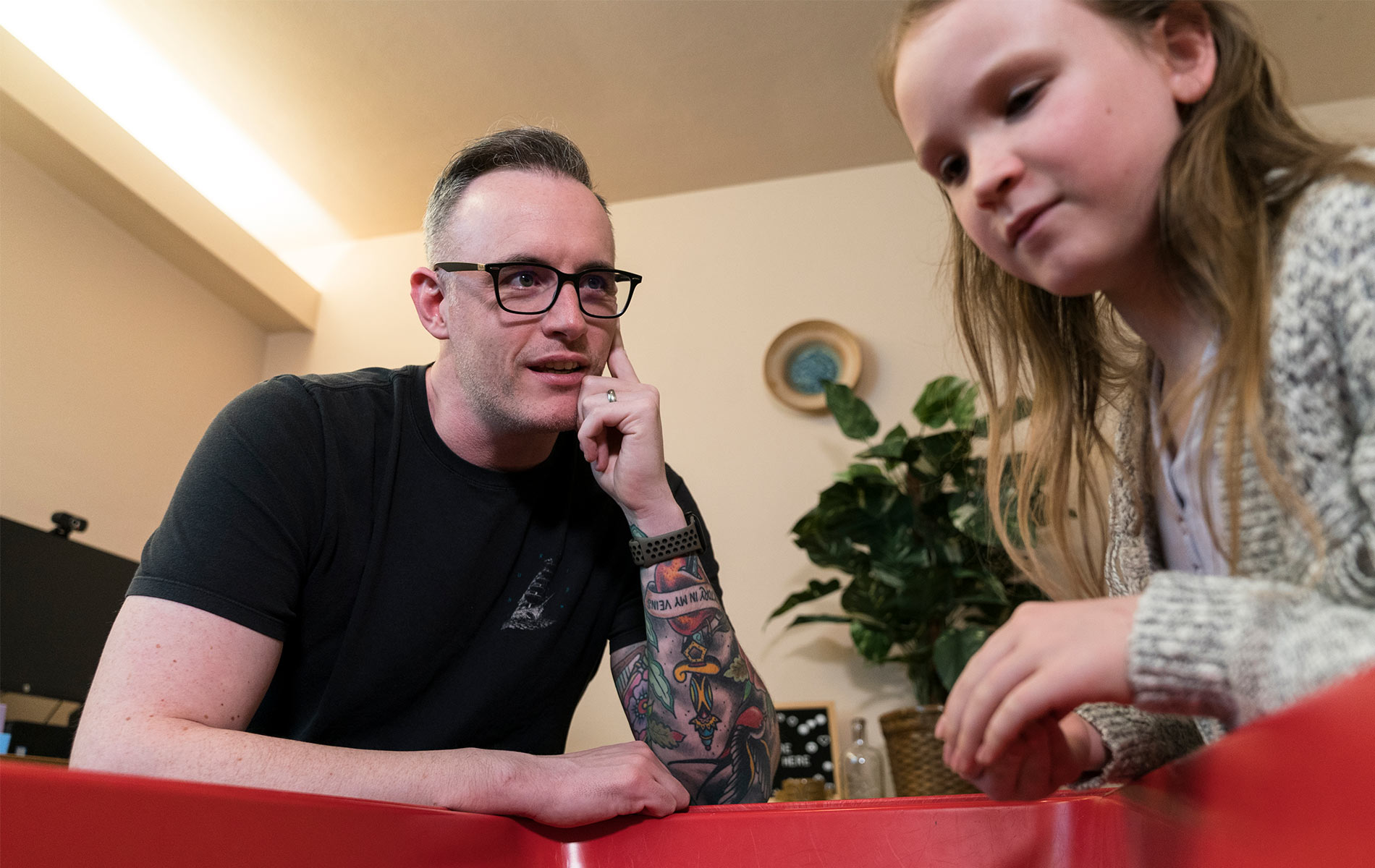 A Hero for 'Superheroes'
Chris McMullan's passion to advocate for children was inspired by the care and love he received from his own childhood mentors By Sean Patterson
Sometimes, all someone really needs is another person willing to sit with them in the sacred space of silence.
Chris McMullan is willing to be that person. A 2021 alumnus of George Fox's Master of Social Work program, he regularly encounters the hardships and heartache of the children he works with as a social worker in the Woodburn (Oregon) School District.
"Inadvertently, I'm trying to work myself out of a job because, once they're equipped with the skills and the capacities to find those solutions, they won't need me there."
One recent interaction stands out. Sitting with a young boy in a sandbox, McMullan made a simple request: "Show me a happy memory." Using the toys and figurines he had to work with, the boy recreated a scene of him and his father fishing at the beach. But the boy wasn't ready to stop there: He had another story to tell.
Exploring the creative possibilities further, the child took what looked like a coffin and buried it in the sand, placing on top of it a headstone.
"Did you know my mom died this summer?" came the question. "Tell me more about that," McMullan responded.
Silence. Words just wouldn't come in that moment, so McMullan and the boy were content to simply take in the scene. A minute passed. Still no words.
Finally, the young boy's hand reached into the sand and pulled the coffin from its subterranean space and into the daylight. "I'm not ready to talk about that yet," he sighed.
In these moments, McMullan finds his purpose. He reassures the boy that, though his sadness will never fully go away, he can still experience hope and joy in the future. This isn't the end of the journey.
"It's just such an honoring experience to be a part of kids' stories," says McMullan, who transitioned from a career as a school teacher to serving as a social worker. "I find that kids will share when they feel safe around you. To create that safe space for kids to talk about these hard things – stuff that is churning inside, that is affecting their overall thought process – I'm changed because of it. It's not just the kid who benefits."
Inspired Through Hardship
McMullan can relate to the hardships his young clients experience. While growing up in Ireland, he was often the victim of bullies. "I spent a lot of time with principals because of it," he recalls.
And yet, through the trauma, something inside of him was inspired. Witnessing the care of the school administrators and teachers who came to his aid sparked a desire to model the very same behavior. Though not fully clear on what to pursue for a career, he knew he would become an advocate for children.
"Those teachers I saw wanted to help and wanted to offer support and kindness in a place where I didn't think there was opportunity for kindness," he says of his childhood heroes. "As I progressed through life, I got to do the same. I get to give back to kids in the same way that I was given support – to be a kind person to them – and I think that has perpetuated my desire to serve people and serve children, specifically."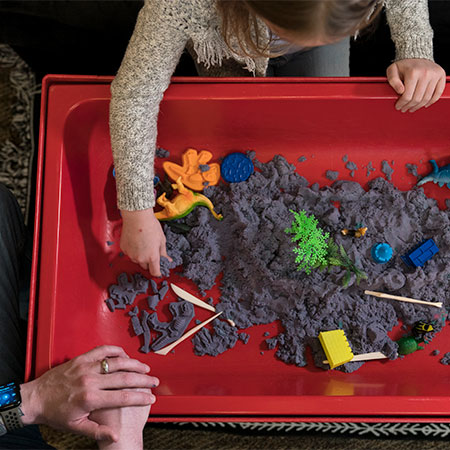 Breaking Down Barriers
Though the former school teacher's job description has changed, his role is similar. He continues to see children on a daily basis, but his focus is now on their overall well-being rather than their academics. Working in a community that is more than 80% Latino, he stands out as the "tall white guy" willing to work with kids.
"That expectation that folks who look like me aren't willing to immediately show kindness is shattered," he says. "It's been life-giving to break down those barriers in multiple ways to help people understand that we're all just human. We all bleed the same, and we all deserve worth and value and support.
"I get to do that every day, and it almost feels like a dream. It's not really a job, it's more of a passion or a calling."
Willing to Go to the Edges
As a social worker, McMullan accepts the fact his job isn't easy. He has to be willing to see the brokenness and step into those places where most fear to tread.
McMullan calls it "being willing to go to the edges."
"When I say 'going to the edges,' what I mean is going to the places where people are often considered lesser – where there's an expectation of either less ability or less social status – and helping to bring those folks hope where they maybe don't know that there is hope to be found," he says.
Put into practical terms, that means sitting with children navigating a family crisis, being a non-judgmental listener of kids who act out, and digging deep to find out what a child believes, how they see the world and themselves, and what they dream about for the future.
Ultimately, he's there to make children believe they can find solutions to their own problems.
"When I'm working with students, I'm not just working in the moment to create temporary fixes to the stuff they're experiencing," he says. "I'm working to develop coping skills and long-term solutions to find their own support in the future by creating their own opportunities. I want them to get to the point where they don't need people like me to find the answers for them.
"Inadvertently, I'm trying to work myself out of a job because, once they're equipped with the skills and the capacities to find those solutions, they won't need me there."
Seeing Progress
McMullan credits the mentorship he received in George Fox's Master of Social Work program for the confidence and acumen he's developed as a social worker. "While they weren't our peers, there was this peer-like attitude of support that I got from professors that I wasn't initially expecting to get," he says of his mentors. "I was thinking that it was going to be about meeting rubrics and getting the right answers. What I found were professors who would stand with us when we struggled and stand with us when we didn't understand something and help explain it. They took the time for us – took the time for me."
Now, in turn, McMullan is taking the time to sit in sandboxes in rundown playgrounds to get to the heart of what makes a child tick.
In the case of the young boy coping with his mother's death, McMullan is happy to report progress.
"Every week that we've met together, I've seen him leave our time together with a little bit less weight on his shoulders," he says. "It's nice for him to see that there is hope somewhere in the future. I simply tell him, 'It's OK to be sad right now, but don't lose hope. You always have hope.'
"I've heard the phrase, 'I'm a social worker. What's your superpower?' But as I think about that, I realize the people I get to work with are, in fact, the superheroes. Yes, I'm helping them. But they're helping me more than they know."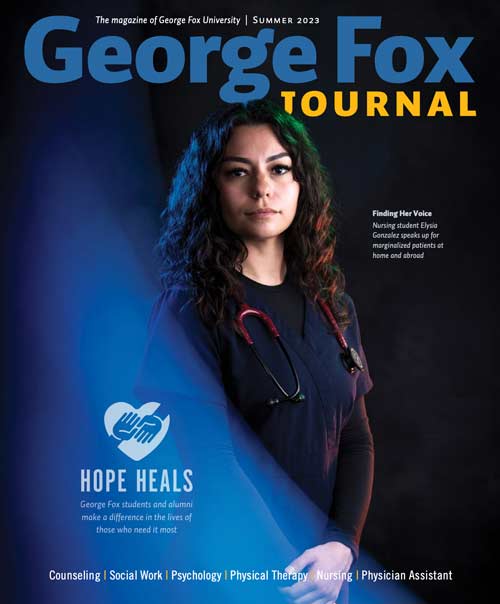 Looking for more?
Browse this issue of the George Fox Journal to read more of the stories of George Fox University, Oregon's nationally recognized Christian university.