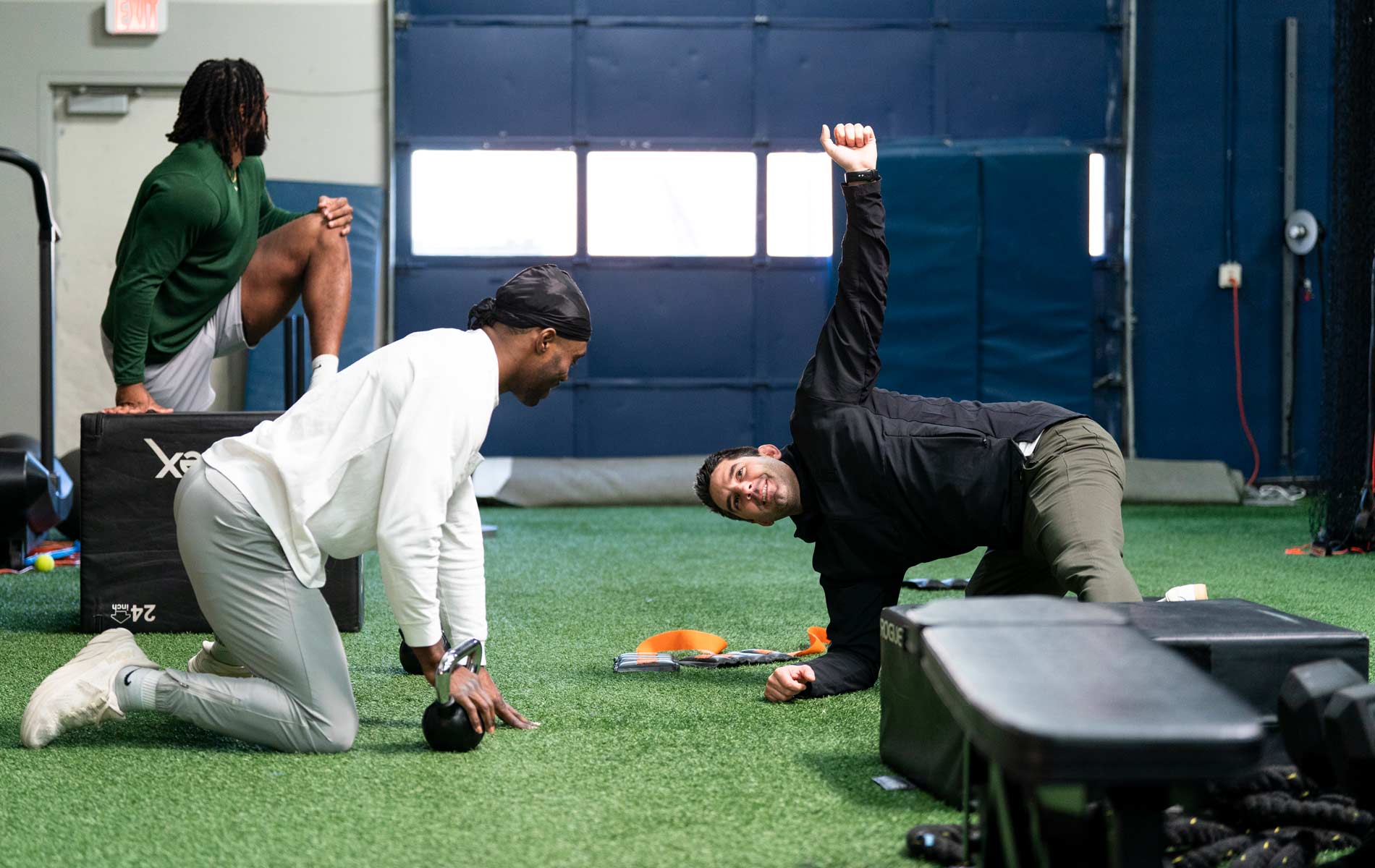 Physical Therapist to the 'Stars'
Whether he's working with NFL athletes or a 94-year-old trying to walk without pain, Ryan Baugus treats his physical therapy clients with the same mindset: They are the "star of the show" By Sean Patterson
The thud of the exercise ball reverberates in the room, seemingly to the beat of the hip-hop music blaring from a nearby speaker, as Ryan Baugus keeps a watchful eye on his client.
Running him through drills that include quick bursts and turns, catching a tennis ball on the run, and various stretching and balance exercises, Baugus banters all the while, discussing everything from the news of the day to whatever happens to be on his client's mind at any particular moment.
It's a sight common at gyms and training facilities across the country, but what sets this scene apart is the elite level of talent present. The client in question is Brandin Cooks, a nine-year NFL veteran who recently joined the Dallas Cowboys after distinguishing himself as a standout wide receiver with the New Orleans Saints, New England Patriots, Los Angeles Rams and Houston Texans.
In another corner of the room is Dominique Dafney, a tight end with the Tampa Bay Buccaneers. They are a pair of morning clients Baugus will work with before he heads out at 11 a.m. to visit the home of another – Cooper Kupp, the wide receiver who became only the fourth player in NFL history to lead the league in receptions, receiving yards and receiving touchdowns before winning Super Bowl LVI MVP honors at the conclusion of the 2021 season.
"I love waking up in the morning and having this feeling of the possibilities ahead – you know, that feeling of, 'What's gonna happen today?'" says Baugus, a 2015 graduate of George Fox's Doctor of Physical Therapy (DPT) program and the cofounder and owner of Headquarters Physical Therapy, with locations in Beaverton, Milwaukie and Bend, Oregon. "It's such a cool feeling, because you just never know what kind of opportunities you'll have. That's what keeps me going at this."
A Wide Clientele
On one particular day, Baugus will work with a young athlete attempting to overcome a recent injury so he can get back on the field. On another, a 94-year-old man simply wishing to walk without back pain will pay him a visit. On still another, a firefighter who sustained injuries in multiple car wrecks will begin a rehabilitation program that will ultimately restore him physically, emotionally and mentally.
"Those are the people who stand out to me – the firefighter who used to be a powerlifter who can now barely lift a barbell," Baugus says. "His wife told me he was a shell of his former self. It's so hard to engage the world when you're in pain. So, we started small. We started with the bare minimum. I told him, 'Let's just get the barbell up 18 inches.' That was, like, eight months ago. Just the other day he lifted 325 pounds."
As much as he enjoys working with NFL athletes, these are the stories Baugus loves to tell. The demographic of his clientele is wide, but he approaches treatment for each individual with the same philosophy: The client is the "star of the show." Baugus is merely the conduit through which they will progressively improve their physical well-being.
"I'm Yoda to you, Luke Skywalker, who is the star," laughs Baugus, bringing his love of Star Wars into the conversation. "Yeah, it's kind of a dorky analogy, but it's basically the nature of physical therapy. Luke has the Force in him. He just needs a Yoda to show him how to use it."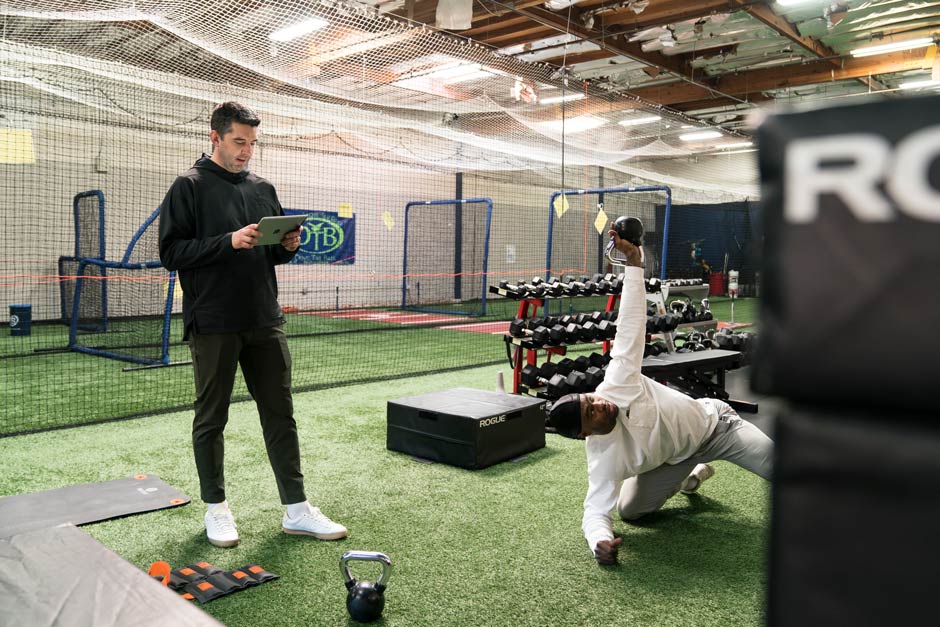 In practice, that means listening to the client, educating them, and putting them in positions where they can adapt positively, build confidence and apply basic principles of movement – be it lifting weights, walking, marching or stretching – on the road to rehabilitation, strengthening and overall improved health.
What that doesn't involve is nitpicking and alarming the client with scare tactics. "I'm not into fear mongering, saying things like, 'Hey, if we don't fix this movement dysfunction, you're going to have an X, Y, Z problem,'" says Baugus, who also holds athletic training certification in addition to his doctorate. "It's much more along the lines of, 'Let's just focus on how we can build capacity. How do we bring the best out of you? How do we help you look for that inside of yourself?' Then it's all about adaptation and teaching them how to build that capacity."
Ironically, Baugus accomplishes the feat without the benefit of a lot of high-end equipment. His tools are relatively simple – a tennis ball, a medicine ball, an elastic stretching band, a set of weights. And the workouts, conducted on this particular day in a Beaverton facility that doubles as a baseball and softball batting cage, are tailored to the individual.
What doesn't fluctuate from client to client is Baugus' insistence that every person be equipped with the knowledge and tools to empower them.
"First and foremost, I'm asking questions like, 'What's the uniqueness you bring to the table as a human or as an athlete, or as a mom or a dad, or whatever place you are in life? What's the uniqueness you bring from a structural standpoint, from a pain standpoint, or from an injury standpoint?' Once we've established the answers to those questions, we can better determine how to adjust dosage and how we should stress your body in a way that leads to positive adaptation."
It's a philosophy that was ingrained in him as a student in George Fox's DPT program, where patient-centered care is the focus.
The Unlikely Physical Therapy Student
Baugus has built a business that serves the highest level of athlete and requires that he frequently travel, particularly with Cooks, who insists on flying him out on Fridays in preparation for home games on Sundays. Baugus has been to two Super Bowls and interacted with dozens of professional athletes over the years.
It would seem he's always been destined for success, but there was a time he didn't know where to turn. All he needed was someone to give him a shot.
Though he gained valuable experience as an athletic trainer as an undergraduate student at Oregon State University, where he worked with the baseball and football teams, Baugus struggled to manage his schedule. The time commitment of working in a Division I athletic program, while inspiring and invaluable, took a toll on his grades. He graduated from OSU with a degree in athletic training in 2011, but didn't have the GPA to impress doctoral-level program admissions committees.
"I knew physical therapy was pulling at me. I've known this is what I wanted to do my whole life," says Baugus, who drew inspiration from his mother Lori, an athletic trainer at the collegiate level in the 1980s. "I remember driving somewhere and just praying, 'Lord, give me the opportunity. I know this is what you want me to do.' At that point I was solely reliant on God's providence to lead me to the right place, and he did."
That "place" was George Fox, which had just launched its DPT program in the fall of 2012. He got acquainted with then-director of the program Tyler Cuddeford and began "bugging him almost daily," Baugus recalls.
"I asked him all kinds of questions about what it would take to be successful in the program, and he was very gracious and gave me the time of day. In my admissions interview, I told them I knew they would be taking a chance on me, but I said, 'If I'm not the hardest worker you've ever seen, I will bow out. I'll buy you a steak dinner.'"
George Fox gave Baugus the shot he was looking for, and he returned the favor by diving headlong into his studies. "I practically lived in that PT building for three years," he says. "I was part of the first class. We all relied on each other to do what needed to be done to help get the program accredited, so there was a lot of camaraderie. I loved it."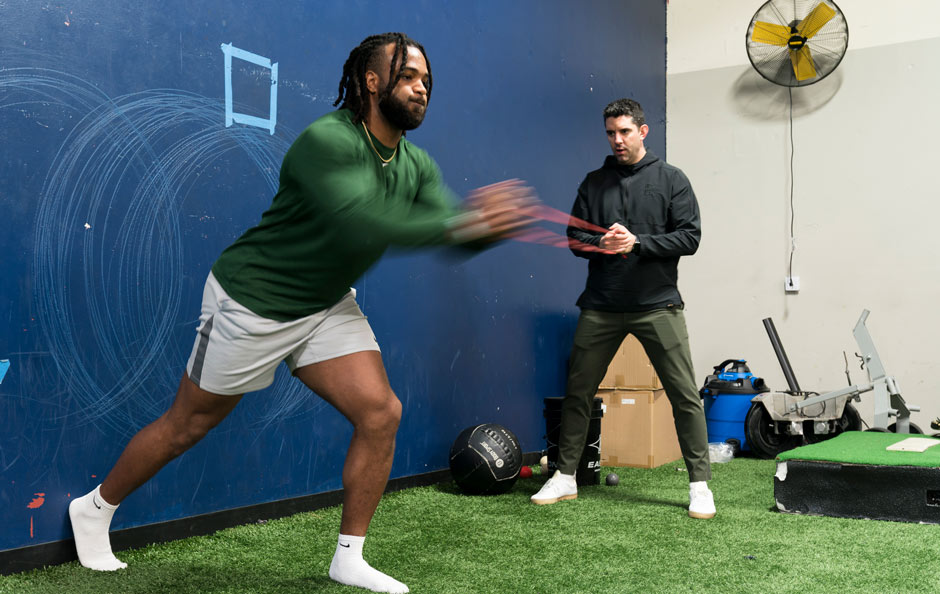 The Emergence of a Mentor
What stood out to Baugus at George Fox was the faculty. In addition to Cuddeford, he bonded with several of his professors, but it was one in particular, Daniel Kang, who made the biggest impact. Kang's passion for the practice of physical therapy resonated with him, and the two hit it off. "He saw that same passion in me and just stoked the flame," he says.
The two maintain a close relationship to this day. In fact, when Baugus decided to launch Headquarters Physical Therapy in 2018, Kang was the third person to get the news. "The first was my wife, Brittany, and the second was my mom," he laughs.
Kang also partners with Baugus, doing heart health presentations on behalf of Headquarters, which, in addition to individual PT appointments, specializes in corporate wellness programming that covers topics such as nutrition, sleep, mental wellness and stress management with companies throughout the region.
'A Tremendous Blessing'
For three years, Baugus worked in a corporate PT setting before deciding to branch out on his own. Teaming with fellow George Fox alumnus Curtis Dodson, Baugus fulfilled his lifelong dream of opening his own business to serve people in need of physical strengthening or rehabilitation.
The success of the business was due, in part, to the internships he gained while at George Fox, where he got the opportunity to work with professional-level athletes. In turn, he met Erik Jernstrom, an elite strength coach who was already working with Cooks and other pros. Baugus and Jergstrom continue to work together, combining to offer top-notch physical therapy and strength training.
"He's literally one of the best strength coaches in the world," Baugus says of Jernstrom. "He was working with Cooks, who then hooked us up with Cooper [Kupp] when they played together with the Rams. The whole thing has just been a tremendous blessing. I'm amazed at how the Lord has orchestrated it. When we started this, we had no idea if we were gonna make it. We could end up trying to do this out of a broom closet, for all we knew.
"I just gave it all to God and he has blessed it. In all I do, I'm just trying to bring God glory and honor him. With that as the motivation, it gives you purpose when you go to work every morning."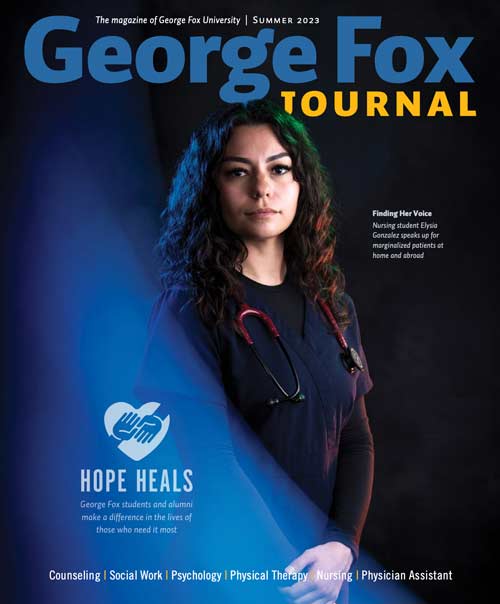 Looking for more?
Browse this issue of the George Fox Journal to read more of the stories of George Fox University, Oregon's nationally recognized Christian university.