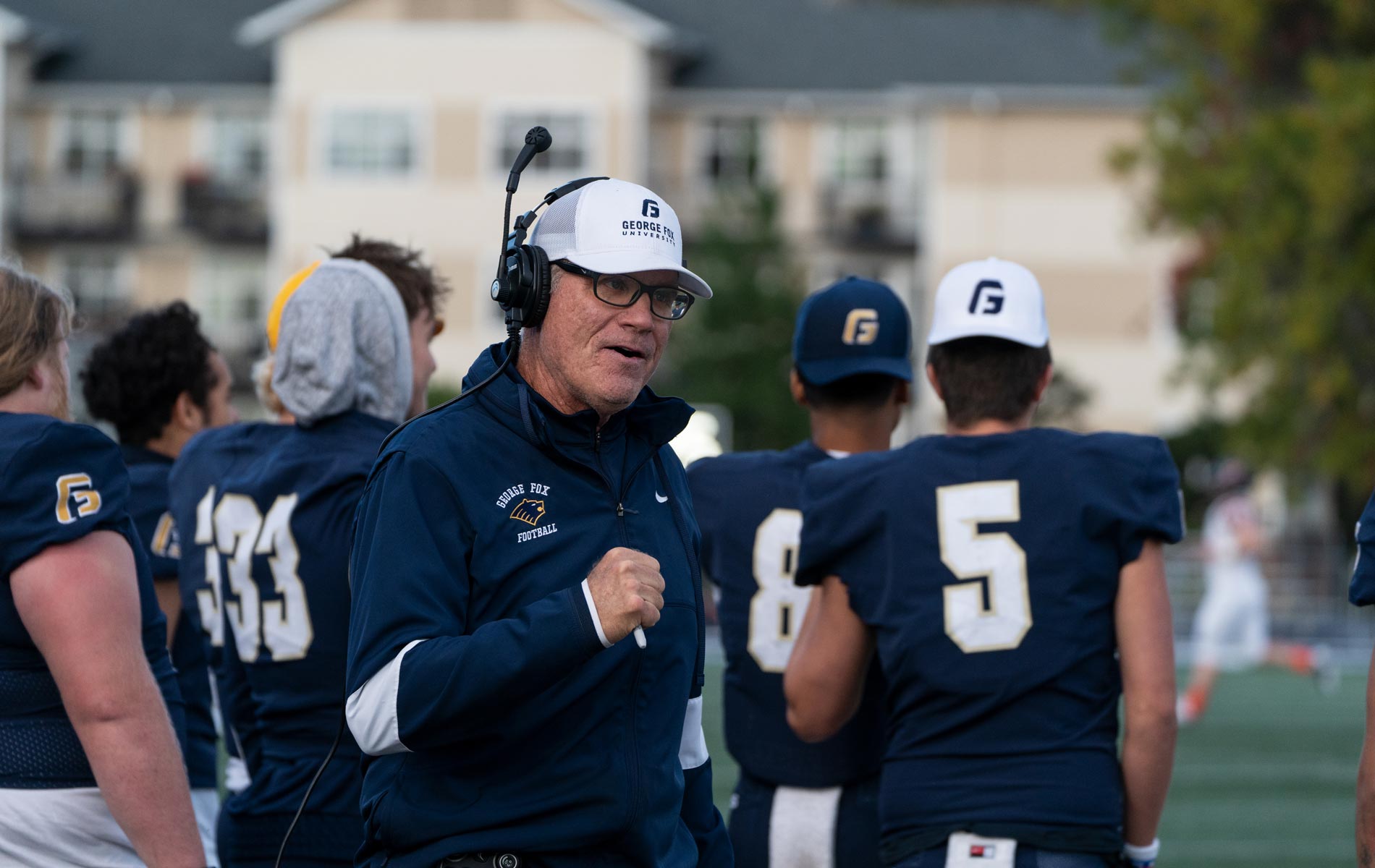 Answering the Call
Former NFL quarterback and high school football coach Neil Lomax had decided to call it a career – until a fateful phone call changed his mind By Sean Patterson
Neil Lomax had just decided it was time to take a break. He was 62, after all, and had spent the last decade-plus working as a football coach at a number of high schools throughout the Northwest.
Then the phone rang. On the other end was a person he knew of but didn't know well: Chris Casey, head football coach at nearby Division III George Fox University.
Casey was in search of a new coach, and he knew Lomax had connections. Not only had Lomax coached locally for 13 years, he was active in Nike Football Camps and had run his own training camps in the Portland metro area. He was also the local legend who, after graduating from then-NCAA Division I-AA Portland State University in 1981, had forged a 10-year NFL career as the quarterback of the St. Louis/Phoenix Cardinals. To top it off, he had run his own sports marketing company, ProMax Event Management, in the years following his retirement from the NFL.
So, if anybody knew where to find potential coaches, Lomax was the man.
"Coach Casey says, 'Hey, I know you know a lot of guys. You know anyone who's available?' And I'm like, 'Coach, it's August, so … no,'" Lomax recalls. "Then he comes back at me: 'Well, what are you doing?'"
Lomax wasn't sure how to answer the question. Just the day before he'd decided it was time to take a hiatus from coaching. He was going to take the year off to hang out with his grandkids, play golf, and spend time with his wife Laurie. But something was drawing him to George Fox, and Casey wasn't making it easy to resist.
"He was very convincing," Lomax says. "I don't know if it was God-ordained or what, but everything lined up. I came in here and knew this is where I needed to be. 'Case' and I lined up philosophically, and the culture here was unlike anything I had ever seen. The opportunity just came at the perfect time in my life."
It was August of 2021 when Lomax embarked on his latest football endeavor as quarterbacks coach with the George Fox Bruins. Now in his third year with the program, Lomax scouts the local area for talent, meets regularly with players and staff, and does whatever is necessary in the moment. "I'm a part-time coach, recruiter, mentor and father figure," he says. "Let's just say it's a multi-faceted role."
What Lomax appreciates most is the opportunity to speak into the lives of young men and see them flourish.
"It's a joy and privilege at this stage of my life to work with young men who truly care about their future, their teammates, their faith, their journey," he says. "They're just using football to grow and learn in these areas, because, when you get right down to it, football is just an activity, a sport. It's not their identity. It's not who they are. I just love working with 'em. They're like sons to me."
"It's a joy and privilege at this stage of my life to work with young men who truly care about their future, their teammates, their faith, their journey."
Ironically, the majority of players he works with know nothing about his playing background. None had even been born when Lomax was racking up gaudy numbers at Portland State – where he logged 13,320 passing yards and 106 touchdown passes in four years – or earning two Pro Bowl selections as an NFL quarterback.
"Every now and then I pull out YouTube videos of me playing, and they're like, 'You look slow … [Patrick] Mahomes is better,'" he chuckles, "and I'm like, 'Yeah, he is. No kidding.'"
What he tries to impress upon them the most is the fact they are multi-dimensional – with a heart, soul, body and mind. "I really focus on the mental and character part – the qualities and characteristics that make them a leader," he says. "Ultimately, my message to them is they are a unique individual who's been created by God – a God who has given them certain gifts, certain abilities, certain passions.
"I'm not gonna lie or mislead 'em. They realize their chances of playing pro ball are minimal. We focus more on questions like, 'What does it mean to be a leader? What does it mean to have integrity? What does it mean to be transparent? What does it mean to be coachable?'"
All the while, Lomax stresses the importance of belief. "We really dig into the mental side of the game," he says. "A lot of coaches and programs don't want to go there, focusing all on the physical. Not me. I want to get to their heart, because if I can get that young man to believe with his heart and he truly has the desire and passion to do this, he'll go through a wall for you."
Lomax's influence has helped pay dividends – the Bruins are coming off their best season since football's relaunch in 2014, going 8-2 overall and 5-2 in Northwest Conference play in 2022. And, despite the fact he isn't playing as much golf or, as he puts it, "not goofing off as much these days," he is enjoying the ride.
"I wasn't sure what to think at first, especially when I got here and four or five coaches were out with COVID," he says. "But then that first game came along and there were 3,000 fans in the stands on a Saturday night. I had no idea there would be all this electricity and all this excitement. I knew right then and there I'd made the right choice."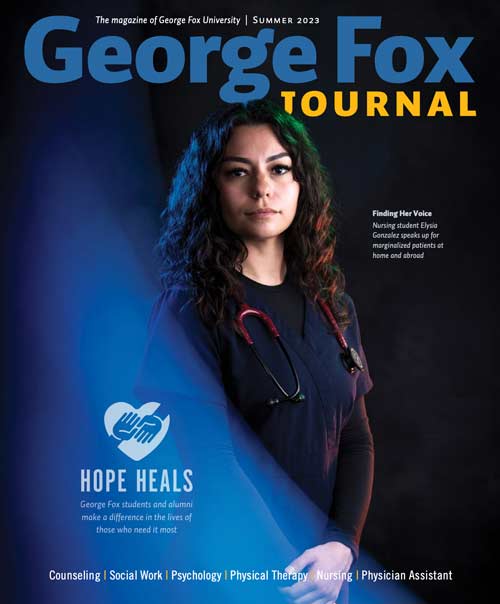 Looking for more?
Browse this issue of the George Fox Journal to read more of the stories of George Fox University, Oregon's nationally recognized Christian university.