Into the Fire
Alumni Liz Thompson, Janet Campbell and Kaylee Kolin blaze a path for a new generation of female firefighters
By Kimberly Felton
" Mommy! Mommy! A fire lady!"
The little boy in his mother's arms waved frantically at Liz (Stephens) Thompson and her crew as they walked into the grocery store. But it wasn't until he was in the parking lot that his exultant yells reached them inside. "I saw IT!"
"As if a 'fire lady' was a mythical creature," says Thompson, a 1996 George Fox graduate and "fire lady" of 16 years. "My colleagues were laughing hard. Still one of the best lines I've heard."
While Thompson, at 5-foot-10, holds her own, height-wise, with her male colleagues, Janet (Killary) Campbell shakes up stereotypes not just as a female firefighter, but as a petite one. "I've always been 5-foot-1 1/2," says Campbell, a 1995 graduate, "but I may be shrinking by now." Nineteen years of carrying 45 pounds in gear can do that to a woman.
Kaylee Kolin is the rookie, fresh off her probation period on July 16 of this year. She applied in the fall of 2014, along with 4,000 applicants, prior to her graduation from George Fox in 2015. After the six-month vetting process – which included a written test, panel interview, physical agility test, and medical and background checks – she was one of 12 chosen from the first class. Then she entered her year of probation: six months in the training academy, followed by six months on a functional engine and truck crew, with exams every three months. The standards are the same for women as for men.
Kaylee Kolin (right) and Liz Thompson are among a small group of female firefighters who serve with Portland Fire & Rescue.
---
"I knew going in it was not a cakewalk," Kolin says. "I knew I would have to work harder at this than I had for anything, ever. I'm smaller than your average firefighter. Mechanically, I have to do things differently. I'm completely competent and capable of doing anything the guys can do – I just have to approach things differently."
Now a full-fledged firefighter with Portland Fire & Rescue, Kolin joins Thompson as two of just 48 women out of 674 total sworn fire personnel in the city. Thompson estimates about 10 of those individuals serve in office positions, meaning the 38 remaining women are a rarity in what has traditionally been a male-dominated profession. Campbell serves in the Salem (Oregon) Fire Department. She is the only woman on her crew.
Campbell was pursuing a bachelor's degree in health and human performance at George Fox, intent on entering the medical field, when she went on a ride-along in an ambulance with the Newberg Fire Department. "They asked if I wanted to be a firefighter," she says. "I had never even considered it."
Janet Campbell is the only woman on her crew with the Salem Fire Department.
Recruited for the university's first women's soccer team in 1991, Campbell feels right at home in the Salem Fire Department's team atmosphere. "I'm an athlete at heart," she says. "This was the job for me because in this job you are part of a team. We work together and depend on each other."
But Campbell isn't the only former college athlete in the group. Kolin helped establish the university's lacrosse team in 2014, which, as it turned out, was good practice for her future career.
"We started from nothing and in two years went from winning half of our games to having a winning season [11-5]," Kolin says. "We got to exceed expectations. When I was going through firefighter training, I thought about never being complacent, always going after goals and achieving something regardless of what other people think and what society may say."
Thompson, who was recruited for basketball and track at George Fox, also (ruefully) recalled her days of team sports during her training. "Training is challenging and exhaustive," she says. "I remember wishing for two-a-day basketball practices instead of one day in training."
The similar mentality required for both team sports and firefighting is obvious to Thompson, Kolin and Campbell. "Whether it stems from athletics or not, having a team-oriented mindset is important because it is how the fire service operates anything from small to large," Thompson says.
"The dynamic is all team-oriented, and I like that. It's like a career athlete, but you get to play with fire."
"The dynamic is all team-oriented, and I like that," says Kolin. "It's like a career athlete, but you get to play with fire."
All three women remain in touch with teammates from George Fox. Coaches, teammates and Athletic Director Craig Taylor were among the most influential people during their time on campus. "The relationships I formed were significant and lasting," Thompson says. "I feel fortunate to have had friends and teammates who were genuine in their faith."
"While soccer may have gotten me in the door, my growth in my faith and the relationships I developed at George Fox are what kept me there," Campbell says. "When I attended George Fox, I was not interested in God. I had no idea how much God was interested in me. The education and experiences I received there gave me a better understanding of who I was and where I was going in my life. I got a clearer picture of what my interests were. My faith in Jesus became more real, and that influenced me greatly in how I chose to live out my life."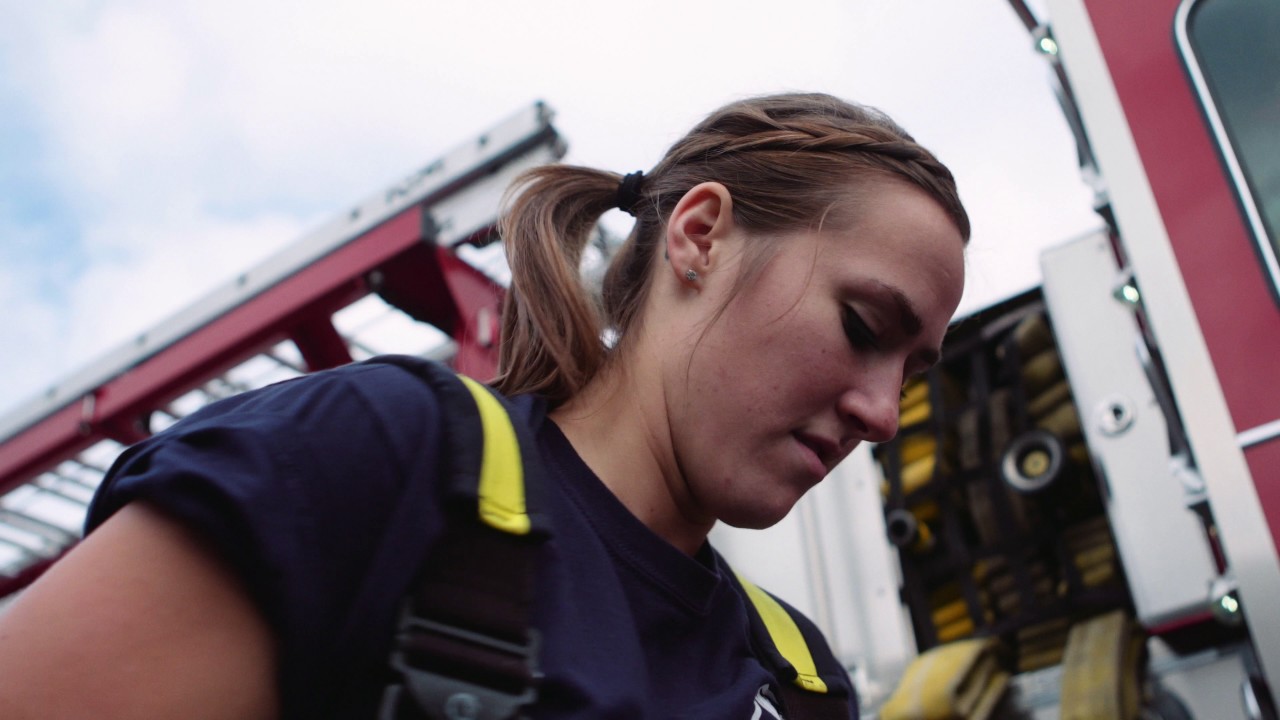 "In my four years, my faith grew, my heart changed," Campbell continues. "Today, I can say that I serve an awesome God, and I am proud to have chosen a path that is honoring Christ." None of the women thought this path would be easy. "I've expected it all to be difficult and challenging," Campbell says. The sleep deprivation that comes with 24 hours on, 48 hours off, can be tough. So can dealing with people who don't think women should be in this line of service, says Thompson, who isn't afraid to set the record straight for anyone who thinks she isn't capable. "As the 'foul' column in my basketball career shows, tact is not always my strong suit," she says.
Yet the positives far outweigh the negatives – like "having the brothers I never wanted," Thompson says, smiling.
"I'm always just like one of the guys," Kolin says. "Politically correct has never been important to me. I'm just a firefighter. I'm here to serve you. I just do what I do because I love it."
That camaraderie and love for their job is worth a lot, as is knowing they're forging a path for others.
"A number of older women have approached me over the years with remarks of appreciation, stories of how they wanted to be in the fire department but were denied in some manner or another due to their gender," Thompson says. "I love showing little girls and kids from diverse backgrounds that they can do this job."