George Fox Ranked 'Best College for Your Money' in Oregon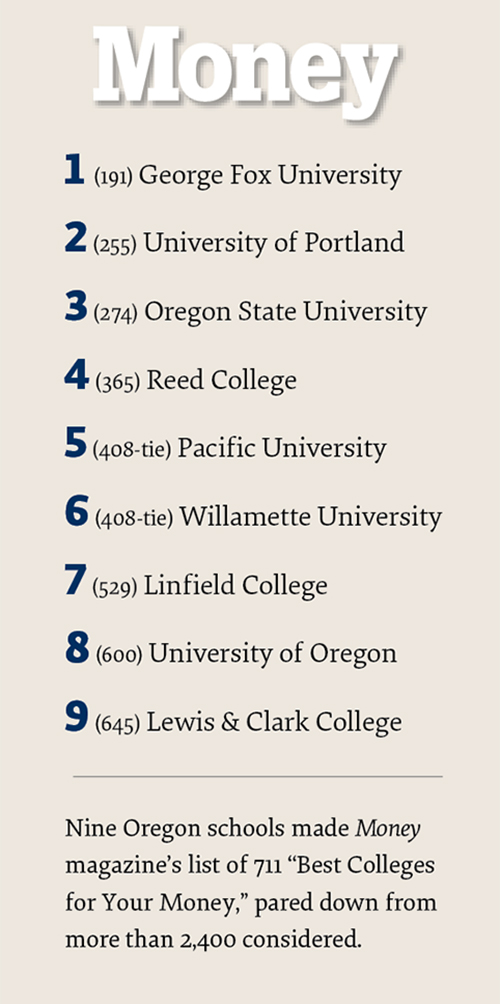 What's the best value in Oregon higher education? According to one national publication it's not the University of Oregon, Oregon State or the University of Portland. It's George Fox University, this summer ranked No. 1 in Oregon in Money magazine's 2017-18 "Best Colleges for Your Money" list.
In addition to being recognized as the top value among all schools in the state, George Fox also compared favorably to Christian universities nationwide, coming in at No. 5 in Money's rankings among all schools in the 121-member Council for Christian Colleges & Universities.
Nationally, Princeton University ranked No. 1 overall, with big names like the University of Michigan (#3), the University of California, Berkeley (#4), UCLA (#5), Stanford (#5) and Harvard (#10) among the top 10. George Fox came in at No. 191 on the publication's national list, considerably higher than the eight in-state competitors listed: the University of Portland (#255), Oregon State University (#274), Reed College (#365), Pacific University (#408), Willamette University (#408), Linfield College (#529), the University of Oregon (#600) and Lewis & Clark College (#645).
Rankings were based on 27 factors in three categories: quality of education, affordability and outcomes. Quality of education included factors like graduation rates, instructor quality and peer quality. Affordability incorporated the net price of a degree, average student debt and affordability for low-income students. The outcomes category, meanwhile, considered statistics such as graduate earnings, the percentage of students moving from low-income backgrounds to upper-middle-class jobs, and the results of a survey on "job meaning" ("Does your work make the world a better place?").
The 2017-18 ranking also gave weight to new data developed by a Stanford economist that shows how many low-income students schools propelled into the upper middle class over the past 20 years – pointing to colleges that helped students achieve the "American Dream."
Initially, more than 2,400 schools were considered. Of those, only 711 met the criteria to be included in the publication's final list. Read about methodology and view the entire "Best Colleges for Your Money" list.