George Fox University's online programs receive national recognition in 'U.S. News & World Report' rankings
January 26, 2022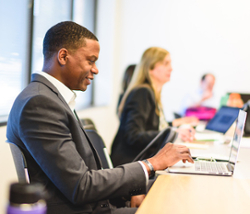 The quality of George Fox University's online degree programs received third-party affirmation this week with the university's inclusion in U.S. News & World Report's "Best Online Bachelor's in Business Programs" ranking, released on Tuesday, Jan. 25.

George Fox's management and organizational leadership adult degree completion major ranked among the top-100 on the national list marking the highest undergraduate business degree ranking for a private college in the state of Oregon.

The 16-month, fully online accelerated bachelor's degree program is designed for working adults. Graduates of the management and organizational leadership program go on to successful careers in accounting, management, business analysis, human resources, law enforcement, logistics, marketing and more.

"The online learning experience at George Fox University is remarkably different from other institutions," said Jennie Harrop, associate dean of George Fox Connect, which includes the adult degree programs. "Our courses are fully asynchronous, allowing students to engage with materials when their busy schedules allow, yet each course is a lively montage of current voices in the field, an instructor who is fully present and engaged, and peer video discussions.

"Students form professional networks and make lifelong friends in our programs, and we are proud that more than 90% of the students who join us to begin coursework successfully complete their bachelor's degree. Students who start with us finish with us."

The institution also earned recognition in U.S. News' "Best Online Bachelor's Programs," which provide "strong traditional academic foundations based on student-instructor access, graduation rates and instructor credentials," according to the U.S. News website. They also excel at educating distance learners while offering robust career and financial support. This marked the third straight year George Fox earned "Best Online Bachelor's Programs" distinction.
In all, more than 1,200 online programs were surveyed and evaluated by U.S. News & World Report, putting those who were ranked in exclusive company.

George Fox's Adult Degree Program is an online accelerated bachelor's degree completion program. Designed for working adults, the program offers bachelor's degrees in psychology and mental health, management and organizational leadership, project management, healthcare administration, and elementary education. Visit the university's Adult Degree Program page to learn more.

George Fox University is classified by U.S. News & World Report as a "Best National University." More than 4,000 students attend classes on the university's campus in Newberg, Ore., and at teaching centers in Portland, Salem and Redmond, Oregon. George Fox offers more than 60 academic programs, degree-completion programs for working adults, seven seminary degrees, and 14 master's and doctoral degrees.

-30-

Contact:
Jennie Harrop
Associate Dean, George Fox Connect
George Fox University
503-554-2401