Print & Graphic Services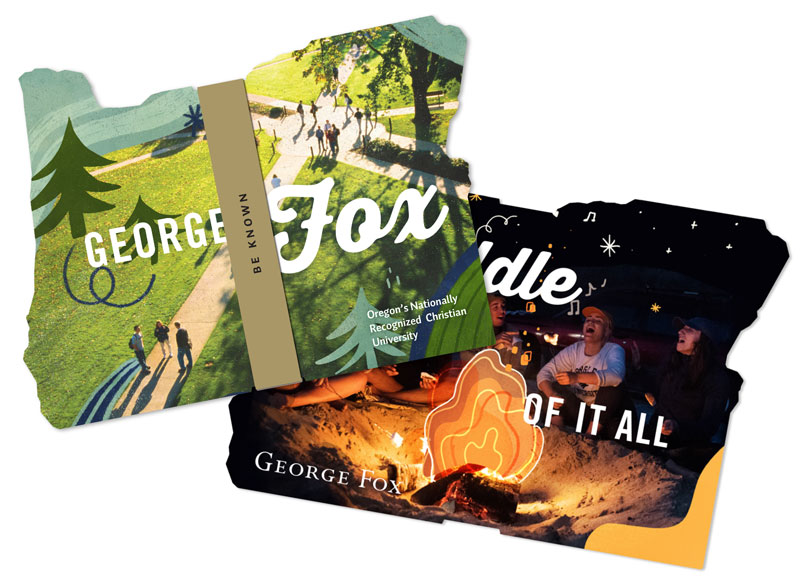 Marketing Communications (MarCom) provides a variety of print and graphic design services to support the mission of the university. While our most strategic work is focused on supporting the university's enrollment efforts and elevating the university's brand, we invite our campus partners to request services to support their on-campus events and communications. 
Depending on our strategic priorities, it's possible MarCom won't be able to complete your department's design request. In this case, MarCom will assist you in finding an alternative way to get your needs met.
Before submitting a print or graphic request, please familiarize yourself with our policies and procedures below.
Time Frames and Planning Ahead
Production time varies depending on the service and marketing material requested. The following time-period estimates provide assistance through the planning process. The examples listed are representative of general project categories. These time periods are from the day the project text and images are received to the day the product is delivered.
Posters, brochures, invitations and fliers: four weeks

Reprint with corrections: three weeks

Reprint with no corrections: two weeks

Rush projects: as schedule allows
Kill fees: MarCom reserves the right to charge a fee of $25/hour for requests canceled after 30 minutes or more of production time invested.
Project Process
Submit a design request using the link at the bottom of the page

The marketing program manager reviews the request for approval

Collects information (unformatted Word/Google document and images)

Discusses project with the university partner, as needed

Assigns project to a graphic designer or editor

Designer begins design (refer to timeline estimations)

Partner is encouraged to review and request changes no more than three times before it is sent to print 

Partner approves printing costs and delivery time and provides cost approval. Important: The project will not move forward until MarCom has received purchase approval.

Project is sent to an appropriate vendor.

Professional printing typically requires roughly five to 10 working days.

Printing turnarounds vary by vendor
Rush Requests
We will do our best to accommodate rush requests. However, be aware that we may not be able to accept rush requests when doing so will compromise the schedule of ongoing time-sensitive and strategic projects.
Design Text
We will advise when the text is due upon receiving the request. Submitting text after this date may affect the delivery date. All copy should follow the George Fox University Style Guide. This guide outlines such things as capitalization, names of offices and services, school names, building names, titles, etc. All text for the design project is reviewed by the university editor, and updated as needed.
The text should be submitted in a Word or Google document that does not use all caps, extra tabs or extra spaces to visually format text. Use a single space after periods. When using data collected from administrative software, consult with the art director.
Proofread
Please proofread the text, check the layout carefully, and see that everyone who has a voice in the project has given approval.
Proofing checklist:
Check spelling: Pay special attention to headlines, subheads and photo captions

Verify names, dates, facts and figures

Check mail permit, label guide, return address and other mail components

Confirm that editing from the previous proof is correct

Upon receiving final approval and cost approval, the communications office will send the project to the printer.
Mail Services
If your publication will be mailed, indicate the type of mailing when submitting your request. The type of mailing may affect layout and printing. All mailed projects (bulk or otherwise) must be approved by George Fox Mail Services. Ensuring compliance with postal regulations is included in the client's proofing process. Extra postage costs may be incurred if design does not conform to postal regulations. Clients are responsible for all labeling and mailing after the publication has been delivered.
Printing
The marketing communications office will select a printer for your project based on the specific needs of the project, pricing and schedule. Changes made to a project after it has been finally approved and sent to the printer may result in additional cost and a delay in the schedule.
All completed publications will be delivered to the marketing communications office by the printer unless other arrangements are made. As soon as your project arrives, the marketing communications office will contact you. Please check your project immediately for any printing errors. If there is a problem, we will act as your liaison with the printer.
Our office keeps file samples from all completed requests. (When alternative arrangements are made for delivery, send 10 copies to the communications office.) Publications with a quantity of 5,000 or more should be sent to your area.
Invoicing and Charges
MarCom does not charge for customary creative services (consultation, editing, design, production, some photography or arranging for printing). However, we do charge a $25/hour fee for canceled requests once we've begun design.
Complete submission of a request should include the cost center, quantity and account number to be charged. We will not begin work without this information.
MarCom does not pay invoices on behalf of our campus partners. Prior to printing, MarCom will get a cost estimate from the print vendor. Projects will be sent to the printer after the cost has been approved. Failure to approve the cost may significantly delay your project.
Invoices will be provided upon delivery of the printed goods, or shortly thereafter. For smaller, less expensive jobs, payment may be made over the phone with a university Visa. For larger, more expensive jobs, paying by requisition is suggested.