Web and Digital Communications Services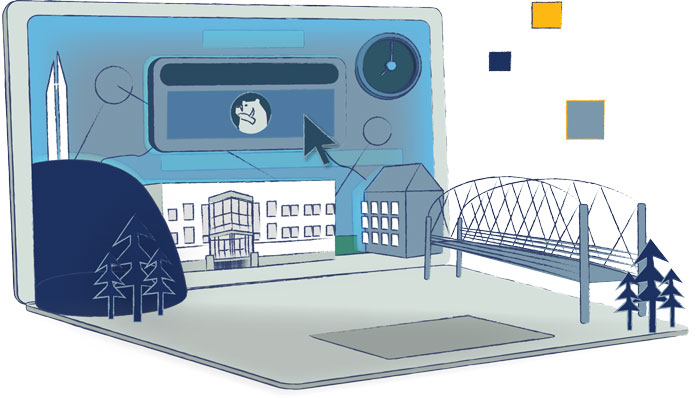 Marketing Communications manages the development and maintenance of the university website, as well as provides some support in email design. 
Before submitting a web and digital communications request, please familiarize yourself with our policies and procedures below.
Print or Graphic Requests
Website
The university's website is a collaborative effort between Marketing Communications and web editors who maintain their department websites.
Marketing's Role
Oversees content and design for entire site

Manages architecture/navigation of the main site and assists web editors with department site architecture

Edits copy as needed for style and consistency, as well as search engine optimization (SEO)

Provides or assists with photos/icons/imagery

Creates website templates

Periodically reviews department sites to ensure compliance with George Fox brand guidelines and to address accessibility compliance 

Manages all technical aspects of the site

Provides training in Cascade Server (content management system)
Web Editor's Role
Create written copy for department websites

Ensure websites are regularly updated and content is factually correct
RegFox Forms
RegFox forms are used by the institution to accept online payments for events hosted by George Fox University. Forms are set up by Marketing Communications, but the requesting department must handle populating forms and communicating with attendees.
Cost
RegFox charges a credit card processing fee of 2.99% and a $0.99 plus 1% (cap of $4.99) service fee for each transaction. These fees typically are not passed on to the registrant, so if someone filling out the form pays $100, we will receive $95.02 in our account. The event manager will need to take this into account when determining pricing for the event. You may use the RegFox Price Fee Calculation sheet to determine what you might charge in order to net the amount you'd like to receive.
Required Information for RegFox Forms
Marketing Communications needs the following information to create a new RegFox form:
Budget information on what account the money will go into

Which employees will be managing this event so permissions can properly be set up
Please note: Once a RegFox form is set up, the individuals responsible for the event must put all of the required information and fields in place. 
Post Set-Up Event Planning
Once the form is set up, the individual department running the form will be in charge of contacting attendees and arranging other details for the event. If additional information or help is needed on this front, please contact Event Services.
Email
For HTML email jobs, Marketing Communications needs the following:
Account information: Let us know if you have an account in either Constant Contact or Mailchimp. If you don't, you will need to set one up. We need the login information for the account you're going to use.

Content: Provide content for the initial email (the copy, the title for the banner, if needed, and images if there are specific images you would like to include).
Once the initial template is built, you are free to learn the process of setting up future campaigns using the template as a base. Resources on how to do this are available in both Constant Contact and Mailchimp.
MarCom is not responsible for determining audiences or sending emails on your behalf. If you do not plan to send out emails on a regular basis or do not have a large volume of contacts, you might consider simply sending out a PDF attachment.
If you have any questions, please contact Peter Crackenberg, our director of web development, at pcrackenberg@georgefox.edu or ext. 2138.