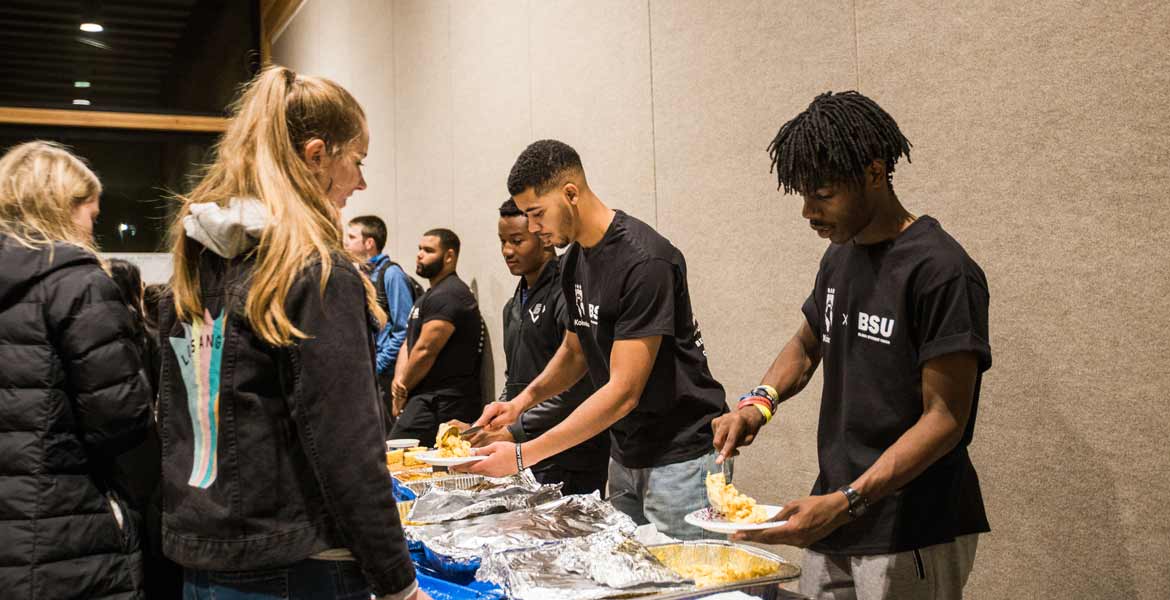 Get Involved
Welcome! We invite you to get involved with the Intercultural Resource Center (IRC). We provide programming, advising, and space for students – and the greater George Fox community – to engage in holistic development.
Our goal is to create conditions where students can be authentically known for who they are and celebrated for the richness of the diverse experiences and perspectives they bring. Join us as we work together to empower, engage, and educate our community.
Empower
We provide opportunities for our campus community, and specifically those in marginalized communities (i.e. students of color and first-generation college students), to find their voice and recognize the inherent value and worth that comes with being made in God's image (Genesis 1:27).
"Sometimes just being yourself is the radical act. When you occupy space in systems that weren't built for you, your authenticity is activism."  
- Elaine Welteroth, More Than Enough: Claiming Space for Who You Are (No Matter What They Say) 
Mentorship
Mosaic Mentors
In the Mosaic Mentor program, first-year students of color apply and are paired with upperclassmen students of color. Over the course of their entire first year at George Fox, students involved in the program will have a peer and mentor to discuss anything and everything, from classes to larger-life questions.
Additionally, every month the Intercultural Resource Center (IRC) hosts a social event for the mentor/mentee pair to connect and have fun!
LEAD Mentors
The LEAD (Learn, Engage, Achieve, Develop) Mentor program is designed for incoming first-generation students, who are paired with upper-class first-gen students who meet with them twice a month during their first year at George Fox. We recognize that navigating college can be a transition for many of our students; our hope is that LEAD mentees gain connection and guidance as they begin their academic journey.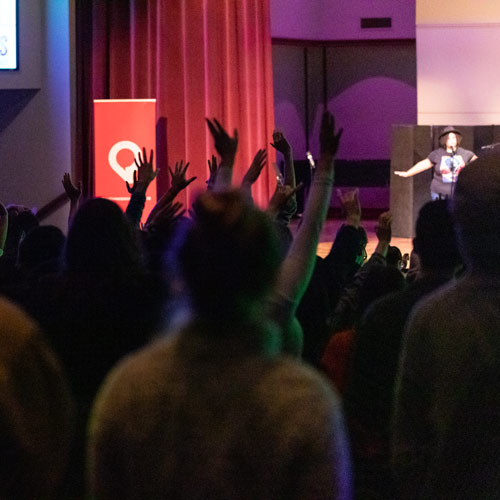 The Voices Conference is a multicultural leadership conference open to people from all backgrounds and cultures. Our vision is to create space for students, faculty, staff and community members to engage in meaningful conversations about being multicultural leaders in an increasingly diverse society. Founders of the Voices Project, Donna & Leroy Barber, join other nationally renowned speakers and local change makers in leading workshops and discussions regarding social justice, leadership and diversity.
This event spans over a weekend full of amazing worship, thought-provoking speakers, passionate student spoken-word poets, and stirring conversations about what it means to live for the multicultural kingdom of God.
Engage
Commiting to one another, sitting in discomfort with each other, extending honor, grace, and forgiveness, just as God has forgiven us (Ephesians 4:32).
We must use our lives to make the world a better place to live, not just to acquire things. That is what we are put on the earth for." 
– Dolores Huerta
Multicultural organizations on campus exist to celebrate some of the various cultural, ethnic, and racial backgrounds that make up our campus student body and provide spaces for students to find community. These clubs provide opportunities for students to learn and appreciate their own background, interests, values, beliefs, etc., as well as the diverse backgrounds of other student groups. 
Soul Food Fridays
Soul Food Friday happens every week from 2 to 3:30 p.m. at the Intercultural Resource Center (IRC) and is an opportunity for students of color to be in community with others and care for the soul. At the end of full, challenging and fruitful weeks, whether it's talking through particularly salient topics, laughing, crying or venting, Soul Food Fridays is a space to just be. We hope you will join us!
Educate
We are commited to learning together how to practice respect, mutual understanding, and reconciliation in an ever-changing, diverse world.
"Education is the most powerful weapon which you can use to change the world." 
- Nelson Mandela
Mathetes
Mathetes is a monthly opportunity that provides students a space to engage difficult topics/conversations that leads to a deeper understanding of the people and experiences behind the issues.
Mathetes is Greek for "disciple," and this monthly program challenges attendees to consider how our faith might compel us to respond to contemporary issues. We traditionally invite four panelists with at least one student, faculty member and community member present.
The goal is for panel members to speak from their perspectives and to model healthy dialogue amongst deeply held beliefs. Attendees are then invited to ask questions and participate in the discussion.
Cultural Heritage Months
In recognition of the federally recognized heritage months, the Intercultural Resource Center (IRC) partners with George Fox student multicultural organizations to provide programs that honor, celebrate and create awareness around the diverse ethnic cultures represented on campus.
Whether through acknowledging the legacies of brilliant women and men throughout history or sharing culture through food, these monthly programs are an opportunity for everyone to come together and celebrate the rich diversity on campus. 
Resources
The Council for Christian Colleges & Universities maintains a robust list of diversity-related resources for higher education.
Upcoming Events