Recycling
Thank you for your interest in the George Fox recycling program. We are committed to active, intentional stewardship of our God-given natural resources.
Please contact plant services at 503-554-2010 if you have any questions regarding trash pickup or recycling on campus. Currently, trash is picked up on Monday and Thursday, and recycling is picked up on Tuesday when school is in session.
Why We Recycle
As Christians, we are called to love and protect God's creation. George Fox University is dedicated to reducing the amount of trash that ends up in public landfills. You can help us by recycling. Please be sure to place the appropriate materials in the correct container.
A single incorrect item can cause a whole load of recyclables to be rejected and dumped into a landfill.
Where We Recycle
Used batteries and electronic recycling bins are located in EHS, the Klages Center (near the bookstore), the Murdock Library, the Roberts Center (by the Bruin Community Pantry) and the Stevens Center
Corrugated cardboard recycling is located behind Canyon Commons
Glass recycling is located behind Canyon Commons
Metal and small appliance recycling is located at the Thomas Center
Refundable bottle collection sites are at EHS, Hoover, the Lemmons Center, the Klages Center, the Roberts Center, Ross/Bauman and the Stevens Center 
What We Recycle
For a more detailed list of what can be recycled in the comingled recycling bin, please see this Waste Management webpage. All recycling bins on campus have bright yellow lids to distinguish them from trash.
Corrugated cardboard
Flatten cardboard boxes.
No wax-coated cardboard or cardboard with food residue like pizza boxes.
All metal cans, foil and aerosol cans
Empty and non-toxic metal aerosol cans and food and beverage cans (no plastic lids). Rinse food cans and put metal lids inside cans and crimp closed.
No food residue in containers or plastic caps.
Do not puncture aerosol cans or remove nozzles.
Glass bottles and jars
Clear and colored; rinse clean.
No plastic lids; no oil, chemicals or pesticides.
Window glass should NOT be placed in the recycling container.
Refundable aluminum cans and plastic bottles
Look for the Oregon redemption stamp. 
Water-rinsed clean and empty.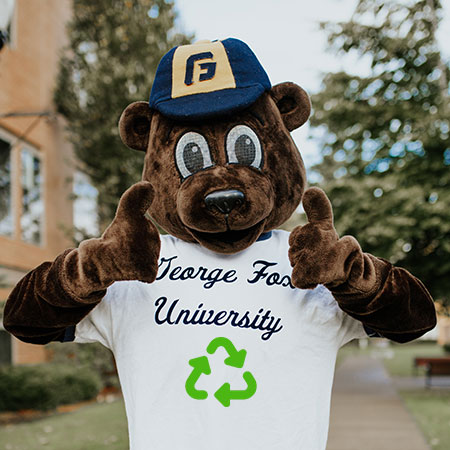 Comingled Recycling:
Cardboard (flattened)
Clean plastic
Paper
Tin cans
Additional recyclable items:
Motor oil
Fluorescent lightbulbs
Paint
Ink cartridges
Contact plant services at 503-554-2010 if you have any special items to be recycled, or if you have other questions about recycling.