Sunggu Yang

,

PhD

Associate Professor of Theology and Christian Ministries

Director, Margaret Fell Scholars Program

Research and teaching interests
Homiletics
Theological aesthetics
Multicultural and emerging worship
Christian formation
Asian American Christianity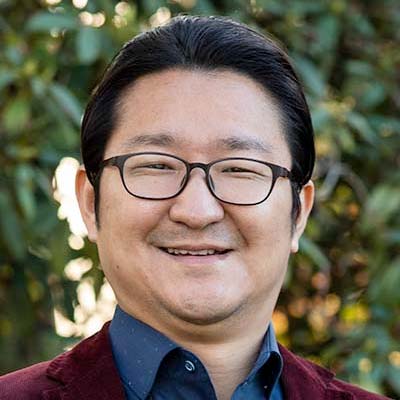 Sunggu Yang joined the College of Christian Studies in 2017 as an assistant professor of Christian ministries. Before coming to George Fox, Yang served as the Louisville Institute's Post-Doctoral Teaching Fellow at Wake Forest University School of Divinity, where he taught courses ranging from homiletics and worship to prophetic ministry. One of his innovative courses was "Film & Preaching: The Gospel According to Hollywood."
Since 2014, he has served as founder and general editor of The Journal of Asian American Theological Forum. He was also managing editor of The Journal of Homiletic (2011-15), a top-tier journal in the field of homiletics, and now serves the same journal as book review editor for the Practical Theology section.
Yang is the author of four books: Digital Homiletics: The Theology and Practice of Online Preaching (forthcoming, 2024), Arts and Preaching: An Aesthetic Homiletic for the 21st Century (2021), King's Speech: Preaching Reconciliation in a World of Violence and Chasm (2019), and Evangelical Pilgrims from the East: Faith Fundamentals of Korean American Protestant Diasporas (2016).
He also has a book under contract with Baylor Univeristy Press, Preaching Philosophy: French Thought for Gospel Proclamation (coauthoring with Jake Mayer), and two essay books in progress, Sacred Waters: Pastoral Essays for Aspiring Preachers and The One God Is Looking For: Biblical Essays on Being a Christian Today. His peer-reviewed articles appear in Theology Today, Homiletic, HTS Teologiese Studies, Journal for Preachers, Religions, and Encyclopedia of the Bible and Its Reception.
Ordained by the Presbyterian Church (U.S.A.), Yang has preached at various venues around the nation. He lives in Sherwood with his wife, Rebecca Jeong, and their daughter, Stella. 
Academic Background
PhD, Vanderbilt University
STM, Yale Divinity School
MDiv, Emory University
BA, Yonsei University
Book Chapters
"Preaching," Oxford Handbook of the Bible in Korea (OUP, 2022)

"Preaching / Hermeneutics and Rhetoric / Religious Speech," International Handbook of Practical Theology, Birgit Weyel et al. eds. (De Gruyter, 2022)

"The Promised Land: A Postcolonial Homiletic of Promise in the Asian American Context," 

Homiletic Theology Project

, vol. 3, David Jacobsen ed. (Wipf & Stock, 2018)

"A Three-Fold Homiletic Lesson from Dr. King's Pastoral and Prophetic Preaching on Violence," 

Festschrift for Dale P. Andrews

, Ron Allen et al. eds. (Wipf & Stock, 2018)

"The Promised Land: A Postcolonial Homiletic of Promise in the Asian American Context," 

Homiletic Theology Project

, vol. 3, David Jacobsen ed. (Cascade Books, 2019)
Peer-Reviewed Articles
Guest Editor, Special Issue Topic, "Preaching in the Revolutionary Era of Digital Technology and Social Media: Homiletical-theological Assessment and Strategic Suggestions," Religions vol. 14, (2023)

"The Word Digitalized: A Techno-Theological Reflection on Online Preaching and Its Types,"

Homiletic

, vol. 46 no. 1 (2021), 75-90

"With Jørn Utzon: Approaching and Preaching Architectural Texts,"

Homiletic

, vol. 45 no. 2 (2020), 53-69 

"Between Text and Sermon: Exodus 20:1-17,"

The Journal of Interpretation

vol. 75 no. 1 (2021), 56-58

"The Pilgrim's Call: A Critical Need for Korean American Prophetic Preaching,"

The Journal of Liturgy

vol. 35 no. 3 (2020), 25-31

"Picasso for Preaching: The Demand and Possibility of a Cubist Homiletic,"

Religions

vol. 11, no. 5 (2020), 1-13

"Preaching to Episodic Ears: Practicing a Dramaturgical Homiletic," 

HTS: Teologiese Studies/Theological Studies

 (accepted, May 2019)

"Homiletical Aesthetics: A Paradigmatic Proposal for Holistic Experience of Preaching," 

Theology Today,

 73 no. 4 (2017): 364-377

"An 

Other

-Typological Illustration of the Exodus Story according to Dr. King's Perception of Universal Reconciliation in His Sermon on Exodus 14:30" 

HTS: Teologiese Studies/Theological Studies

 72 no. 2 (2016): 1-7

"The Abrahamic Pilgrimage Story in Sermons: An Ontological-Narrative Foundation of Asian American Life in Faith," 

Theology Today

 73 no. 1 (2016): 24-35