Theology Major (BA)
'A Study of God, and the Things of God'
In a world fractured by political unrest, polarization and uncertainty, the need for agents of grace and reconciliation is great. How will you be used by God to bring hope, joy and healing to the places he has called you?
Theology is defined as "the study of God, and the things of God." At George Fox, that study is about more than knowledge. We believe the study of all things "theology" – including God's Word, church history, and Christian thought – is the foundation for a transformed heart. How will you be changed?
As a theology student, you will be given spiritual formation through faculty mentors who know you by name and who are invested in your future. You will get the chance to participate in a community of study, worship and spiritual discipline. And in the end, you will be able to apply what you have learned in service to the church and the world.
Concentrations
In the biblical studies concentration, you will dive deeper into Scripture – into its original languages, its historical contexts and its theological interpretation – and learn how it applies to contemporary life today as a pastor, teacher or scholar.
This course of study will provide you with a solid foundation for church ministry, with an emphasis on working with youth and parachurch organizations, teaching the Bible in Christian school settings, and pursuing graduate work in Bible and theology.
In the Christian ministries concentration, you will learn practical ways to serve the church – in everything from global missions to youth ministry – and be equipped with the basic tools of counseling, budgeting and church administration.
This course of study will holistically prepare you to serve the local church, global church or in youth ministry, with special attention given to discipleship, formation, preaching, creativity and service. Interested in being a pastor, missionary, youth pastor or Christian educator? This is the concentration for you!
In the philosophy concentration, you will journey deep into apologetics, logic and ethics, and be formed as a Christian thought leader, prepared for service to the church and society.
This course of study is dedicated to how philosophy can be used to help us understand and explain the Christian faith and how we are to live in the world. You will graduate prepared for a wide variety of options in graduate school, including history, law, law enforcement, literature, philosophy and theology/ministry.
Why

Study Theology at George Fox?
We don't see theology as a "dead" academic subject matter but a vibrant, living conversation with practical implications for how we live.

Credit-wise, we are a small major, so theology is the perfect complement for anyone studying anything else at Fox who wants to know more about the Bible, grow in their faith, ask deeper questions, and be equipped to live out their Christian calling in whatever arena they are called.

You will master the art of reading, discussing, interpreting, writing and speaking about core texts, ideas and issues at the heart of our Christian faith.

The core skills we teach are transferable into any sector of professional life and provide a distinct advantage for those who go on to careers in related fields such as law, journalism, politics, education or nonprofit leadership.

As a Theology major, you have the option to join George Fox University's honors program. This great books program will allow you to engage in active discussions with your peers and provide you with a challenging academic journey that informs your mind and deepens your spiritual walk.
What

will I Study?

In a broad sense, you will delve into the heart of Scripture and discover for yourself how God wants to use you in the world. Beyond that, you will explore the following:
The Bible and how to interpret it
Church history
Christian theology, doctrine, key figures/authors in history
Christian formation (i.e. "How to live as a Christian")
Christianity's relationship to culture (economics, government, art, science, technology, healthcare, etc.)
How to communicate the Christian faith
How Christians understand ethics and morality
How to serve the local and global church
Monica Ibarra
Class of 2022
In my time as a Christian Ministry student I have grown to further understand and cement my spiritual beliefs as well as learn more about the body of Christ and our immense value as human beings in the Kingdom of God. Coming into Fox I had hoped that my spiritual life would mature and although that has been true, I have also been blessed by the intentionality and care of my professors toward me as an individual outside of the classroom, every interaction feeling increasingly personal. Although our walks of faith are often individual they are also incredibly communal, my professors have poured into me not only through their lectures but through their daily example and authentic discipleship.
What's

after George Fox

Our graduates have gone on to careers in ministry, business, theater/acting, social work, nonprofit leadership, law school, marketing, nursing, and graduate degrees at all levels around the world.

Data shows that those majoring in topics like religion, ancient languages and history, and philosophy rank near the top of test scores on the LSAT as well as the GRE. Courses within our department specialize in the exact skills that are now ranked as the most desirable for companies hiring new employees, such as problem solving, processing complex information, verbal and written communication, teamwork, and the ability to influence others.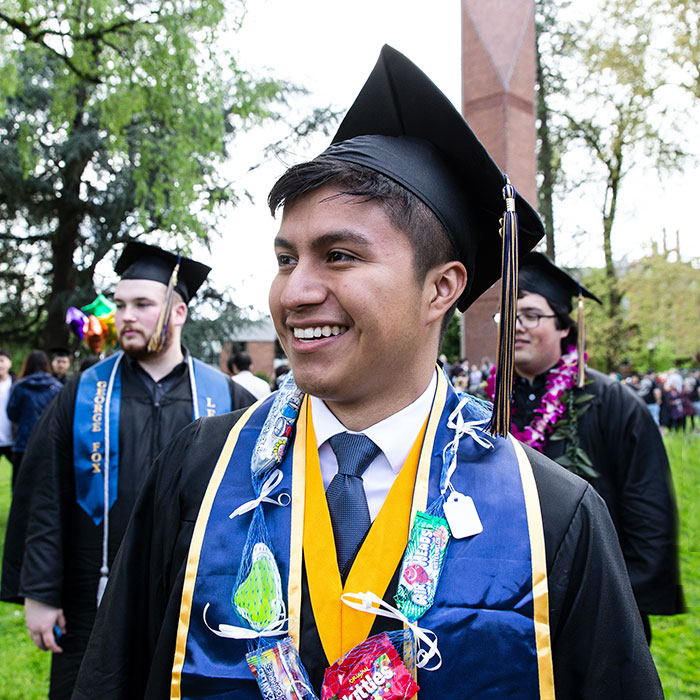 Jobs
Night Ministry, Portland Rescue Mission
Nurse, Sisters of Providence
Youth Minister, 2nd Street Community Church
Lead Strategist, Nike
Dentist, La Clinica
Translator, Wycliffe Bible Translators
Chaplain, United States Air Force
Adjunct Professor, University of Notre Dame
Missionary in Indonesia, Wycliffe Bible Translators
Principal, Newman Catholic Middle/High School
English Teacher in Rwanda, Rwanda Yearly Meeting of Friends
Graduate Schools
Princeton Theological Seminary (M.Div)
Yale Divinity School (M.A.R.)
Yale Institute of Sacred Music (M.A.R.)
Emory University (M.T.S.)
Duke Divinity School (M.T.S.)
Fuller Theological Seminary (M.A./M.Div.)
Portland Seminary (M.Div/M.A.T.S.)
Trinity Evangelical Divinity School (M.Div.)
Western Seminary (M.Div.)
Oxford University (M.A.)
University of Edinburgh (M.A.)
Regent College (M.A./M.Div.)
Grad's passion for racial reconciliation is changing lives in Philadelphia
If there's ever the temptation to get discouraged and give in – to let all the brokenness and heartbreak around him derail the work at hand – Jael K.D.L.V. Chambers doesn't let on. He can't afford to. The need is too great, the stakes too high.
As associate regional director for Young Life in Philadelphia, Chambers sees it all: the fatherless homes, the desperation of "the hood," the palpable racial and political tension in the city. And yet, he remains unfazed. He's witnessed too many instances of restoration and reconciliation to lose hope now.