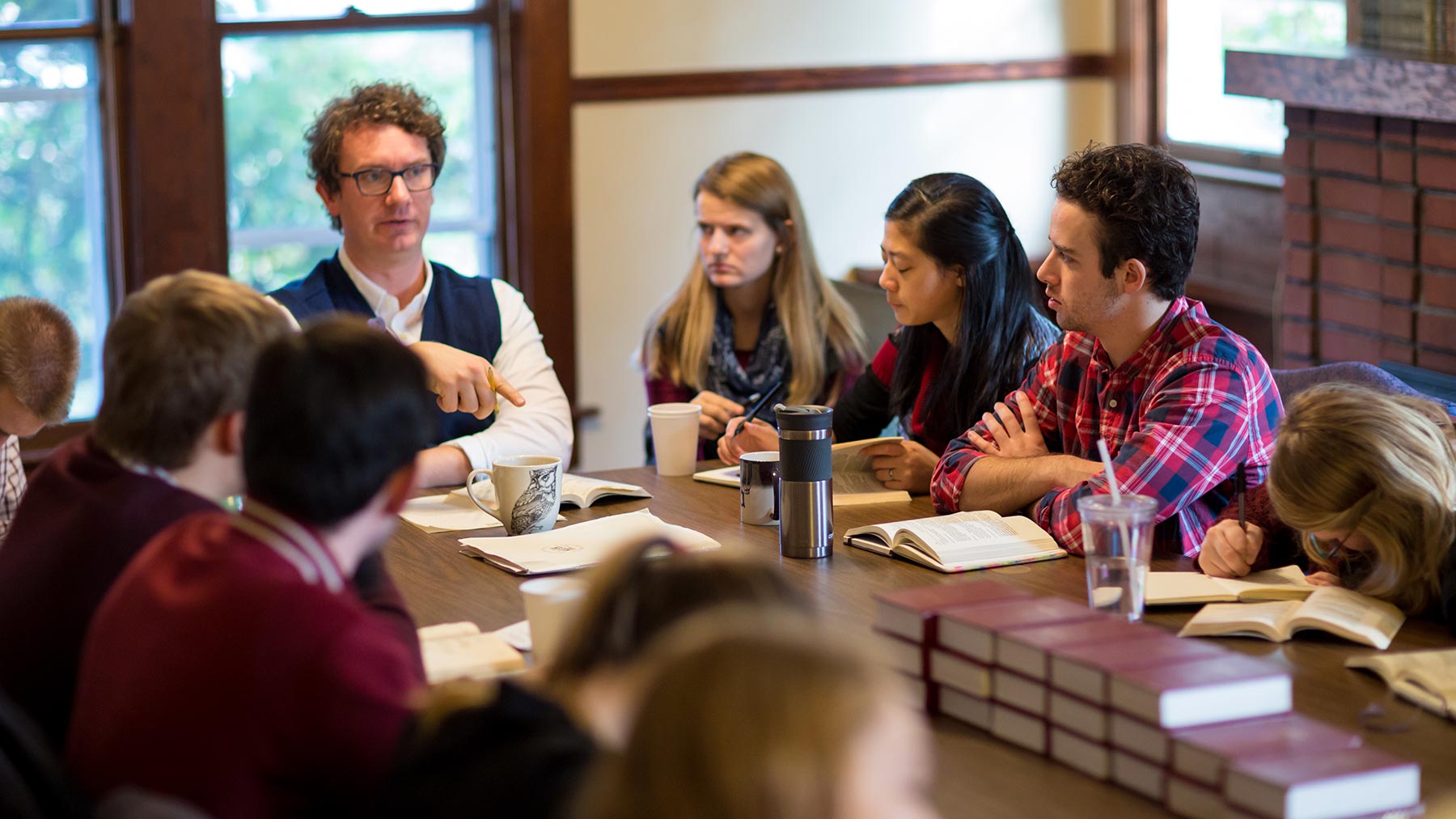 Philosophy Concentration
Don't be fooled: Philosophy is not an ancient study with irrelevance for the modern day. In reality, civil discourse, critical thought, and intellectual virtue are critically needed in order for our society to grow and flourish.
Philosophy – the love of wisdom – is central to the active life of the mind, and the analytical and communication techniques you develop in our philosophy concentration give you a strong foundation for the workplace or further study.
Looking for a field of study that gives you versatility in the job market? The philosophy concentration, as part of our theology major, prepares you to succeed in any field you choose – whether in education, law, ministry, social service, or careers in government or politics. Since philosophy grads are able to think well, write well, and speak well, they find many doors in business or public administration open to them as well.
Fun fact: Which undergraduate program averages highest on the MCAT (admission test for medical school)? Answer: Philosophy (not biology or chemistry, as you might expect). Does that suggest pre-med students should study philosophy? Not necessarily, but it does prove that, in a good logic class, you learn to think critically and strengthen your reasoning skills.
Why

Study Philosophy at George Fox?
Our professors draw from the best of George Fox's evangelical and Quaker heritage in their research, which includes care for the earth, Christian apologetics, and the philosophy of peace and war.

Philosophy means thinking well about the most important questions: goodness, truth, knowledge, beauty, etc. At George Fox, we want to honor Christ by asking and answering these difficult questions. In particular, we explore questions of virtue and character, not just as theoretical questions in ethical theory but as existential issues in our corporate and individual lives.

We study Christian apologetics to build a deep personal commitment to Jesus, not only to address intellectual puzzles.

Some think that there are no right or wrong answers in normative philosophy (i.e., that "all views are equal"). This is itself a philosophical theory, and a bad one. We teach students to think critically and to reject lazy conclusions.

As a Theology major, you have the option to join George Fox University's honors program. This great books program will allow you to engage in active discussions with your peers and provide you with a challenging academic journey that informs your mind and deepens your spiritual walk.
What

Will I Study?

Our program covers the fundamentals of the discipline and explores many of life's deeper questions and topics, including:
Ethical theory
Logic: How to evaluate arguments
Reasons for Christian belief
What is "knowledge," and how do we know?
What is the difference between "good" and "bad" character?
How to pray so that my life is changed
How to apply Christian truth to political questions
Upon graduating from our program, you will:
Understand important concepts, theories and skills of theologically oriented philosophy and describe how they interact with the content of disciplines outside of theology and philosophy
Demonstrate effective writing skills in theology/philosophy essays
Apply critical skills from the curriculum to make decisions and solve problems
Analyze, evaluate and integrate ideas from a variety of sources both in written essays and speech