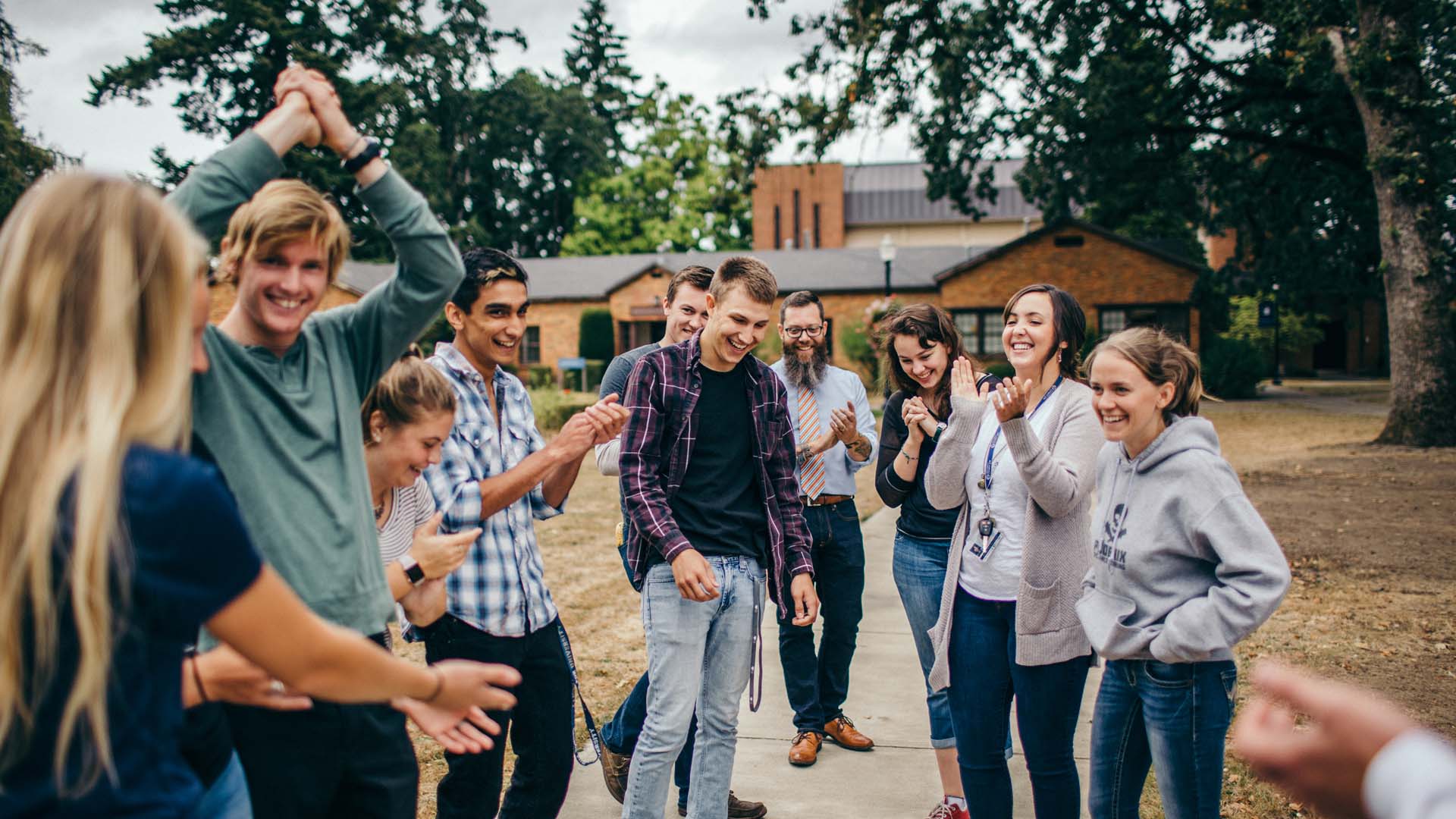 Christian Ministries Concentration
You believe that Jesus is still active today: alive and constantly at work. Your heart beats for the Lord and his ministry in all different settings: youth ministry, missions, education, nursing, counseling or social work. You believe that service is pure power in God's kingdom.
Faith is Relevant to All of Life
Our conviction that the Christian faith is relevant to every single aspect of life guides the Christian ministries program, a concentration in our theology major. Professors never shy away from researching and teaching the hard topics, including social justice issues, theological and historical studies, theology in a global context, worship, homiletics, and cultural Christianity.
Why

Study Christian Ministries at George Fox?
We take Christian ministries seriously because we take God seriously. We don't see this as a "dead" academic subject matter but a vibrant, living conversation with practical implications for how we live.

We engage in holistic preparation to serve the local church, global church and youth ministries, with special attention given to discipleship, formation, preaching, creativity and service.

Faith is at the center of our classrooms, and we work hard to create a community where you feel comfortable exploring your faith and the impact it can have on the world.

You are encouraged to engage in internships and ministry field experiences to explore how your interests can be applied after graduation.

As a Theology major, you have the option to join George Fox University's honors program. This great books program will allow you to engage in active discussions with your peers and provide you with a challenging academic journey that informs your mind and deepens your spiritual walk.
What

will I Study?
How to identify and describe Orthodox Christian beliefs and doctrines
How to develop and model healthy relationships with oneself, others and God
How to work with others to analyze current global theological developments and missional movements
The role and importance of cultural, historical and theological contexts as they bear on Christian scholarship and ministry
Monica Ibarra
Class of 2022
In my time as a Christian Ministry student I have grown to further understand and cement my spiritual beliefs as well as learn more about the body of Christ and our immense value as human beings in the Kingdom of God. Coming into Fox I had hoped that my spiritual life would mature and although that has been true, I have also been blessed by the intentionality and care of my professors toward me as an individual outside of the classroom, every interaction feeling increasingly personal. Although our walks of faith are often individual they are also incredibly communal, my professors have poured into me not only through their lectures but through their daily example and authentic discipleship.
What's

after George Fox

Our graduates have gone on to careers in ministry, business, theater/acting, social work, nonprofit leadership, law school, marketing, nursing, and graduate degrees at all levels around the world.

Data shows that those majoring in topics like religion, ancient languages and history, and philosophy rank near the top of test scores on the LSAT as well as the GRE. Courses within our department specialize in the exact skills that are now ranked as the most desirable for companies hiring new employees, such as problem solving, processing complex information, verbal and written communication, teamwork, and the ability to influence others.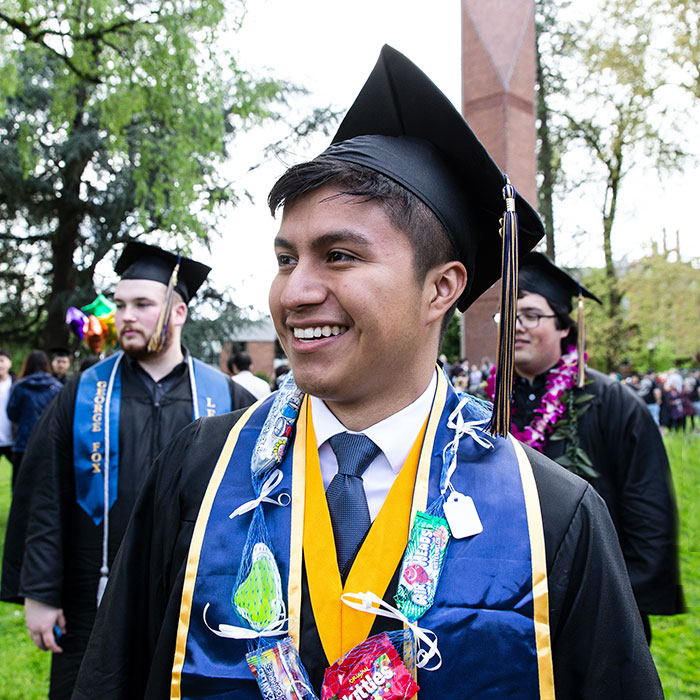 Jobs
Night Ministry, Portland Rescue Mission
Nurse, Sisters of Providence
Youth Minister, 2nd Street Community Church
Lead Strategist, Nike
Dentist, La Clinica
Translator, Wycliffe Bible Translators
Chaplain, United States Air Force
Adjunct Professor, University of Notre Dame
Missionary in Indonesia, Wycliffe Bible Translators
Principal, Newman Catholic Middle/High School
English Teacher in Rwanda, Rwanda Yearly Meeting of Friends
Graduate Schools
Princeton Theological Seminary (M.Div)
Yale Divinity School (M.A.R.)
Yale Institute of Sacred Music (M.A.R.)
Emory University (M.T.S.)
Duke Divinity School (M.T.S.)
Fuller Theological Seminary (M.A./M.Div.)
Portland Seminary (M.Div/M.A.T.S.)
Trinity Evangelical Divinity School (M.Div.)
Western Seminary (M.Div.)
Oxford University (M.A.)
University of Edinburgh (M.A.)
Regent College (M.A./M.Div.)
Grad's passion for racial reconciliation is changing lives in Philadelphia
If there's ever the temptation to get discouraged and give in – to let all the brokenness and heartbreak around him derail the work at hand – Jael K.D.L.V. Chambers doesn't let on. He can't afford to. The need is too great, the stakes too high.
As associate regional director for Young Life in Philadelphia, Chambers sees it all: the fatherless homes, the desperation of "the hood," the palpable racial and political tension in the city. And yet, he remains unfazed. He's witnessed too many instances of restoration and reconciliation to lose hope now.