I was tasked with the all-important job of filling you in on the best spot to get your cup of morning joe or your afternoon iced latte. With eight coffee joints on my list, all with the potential to be named the best in Newberg, I hit the streets with great anticipation of my assignment and potential caffeine high. 
To make this a more manageable task, I wanted to first set up the criteria for what makes getting coffee an enjoyable experience. 
Location & Ambiance 
This pertains to two things. The first is considering how close it is to George Fox. Is it within walking distance? The other aspect is, is it a fun place to get coffee? What's the decor? Does it have fun drink names? What's the atmosphere like? Can you walk in? And what are the workers like?
Value
This category will pertain to how many options the shop offers, and what the variations of prices look like for that shop. Also, if the shop has complementary items such as baked goods. 
Taste 
Most importantly we must look at taste. Rather than taste everything on the menu, I would order their house coffee for the coffee enthusiast. Then I would taste what I call a "foo foo" drink. This will be one of the coffee shop's specialty drinks. My last criteria is I needed to make modifications to the "foo foo" drink. For example, substitute normal milk with a non-dairy milk of my choice, or add a syrup, etc. 
Coffee Cottage
808 E. Hancock St. | coffeecottage.net
With my challenge laid out, my first stop took me a five-minute walk from campus. At this point I realized I needed a little help with drinking so much coffee, so throughout my tasting journey I got a second opinion on the "foo foo" drinks from coworkers and friends. 
Coffee Cottage has a great ambiance. It is a little loud, but it is cute and has a sectioned-off area of tables ideal for studying. This shop also stood out because it had one of the biggest food selections.
As for drinks, I gave them a complicated order of an iced chai matcha latte with oat milk. It was alright; it had an authentic chai taste but with all the things I put in there it still seemed watery. The star for taste here was their house coffee. It was a dark roast with a rich and full-bodied flavor, with a hint of sweetness.
Cowboy Coffee
118 N. Everest Road | facebook.com/cowboycoffeecoffeebarn
This is a location you will have to drive to. It is right off the highway and is a little coffee hut drive-through. Though it is a drive-through, it is still very cute. It's shaped like a barn to go with its cowboy theme, and I would say it was my favorite of the drive-through coffees I experienced.
They had a plethora of milk, syrup and specialty coffee options. For this coffee shop, I had my boss Vanessa try a "foo foo" drink. She had no preference and admitted she is not a big coffee drinker; she just likes her drinks sweet!'
They prepared their specialty drink, a Snickers coffee, which consisted of hazelnut syrup, white chocolate and caramel, and she loved it! As for the house brew option, it was mid-tier. It was not bad, with no burnt flavors and pretty warm notes, but my one complaint was that it was a bit watered down. Still, definitely a place to stop by.  
Russia With Love
3777 Portland Road | fromrussiawithloveor.com
This coffee spot is the farthest spot on our list. It is located off the highway as you are driving out of Newberg. There is no sense of ambiance. It is what it is: a drive-through coffee place, but the value is in the coffee. It is one of the lower prices in town.
I had Sean try one of their iced hazelnut lattes. He liked it, but found it lacked the amount of hazelnut flavor he desired, and it was quite strong. I tried the black coffee, and I'm sad to say the house coffee on its own was not one to get. It was acidic and burnt. I know this is a coffee blog, but I still love Russia With Love despite my lack of love for their coffee because they have great authentic Russian food worth trying.  
See See's Motor
101 E. First St. | seeseemotorcycles.com
What a fun place. Talk about ambiance. This coffee shop was filled with fun decorations, including motorcycles, helmets and tires. On top of that, it has great seating for studying. You don't have to drive to See See's, but it is a 10-minute walk or so.
I applaud See See's for both their ambiance and coffee. David had an iced mocha, which he found quite satisfactory. As for me, I had an Americano, which was one of the best that I have tried in Newberg. It was nutty and bold in the best kind of way. Plus, of all the coffee places, they were the fastest to get me my coffee.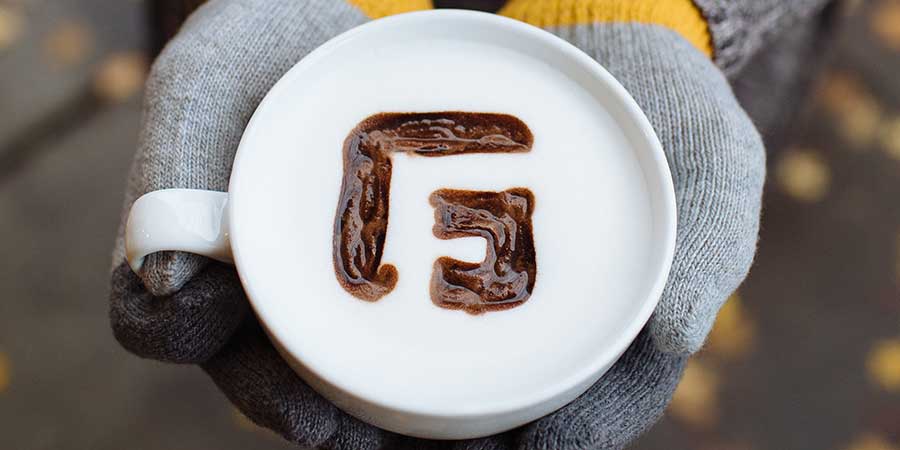 Caravan Coffee
2750 E. Ninth St. | caravancoffee.com
On my way here I thought I may have gotten lost, but it is a hidden gem. The shop itself has only been operational for five years, but they have been brewing coffee for over 20. And it shows.
I loved their house coffee, with its nice nutty round flavor even a non-coffee drinker would enjoy. As for other options, they don't have many. It's very focused on the coffee, but all their flavors are authentic. 
Aisha tried a non-coffee option and tried an iced oat milk chai latte, with their house-made honey cinnamon syrup. She found it to be a "good classic chai" but wished there was a little more of the syrup (she did note she would go again). The seating was limited, but if it is a nice day there are some outdoor tables. 
Sip City
2000 Portland Road | facebook.com/SipCityCoffee
Of the drive-through coffee shops, this is the closest one to campus, and I would say it is worth driving to. In my black-coffee-trying journey this coffee was surprisingly good, and it was my favorite of the drive-through black coffees I tried.
If you want a quick black coffee, this may be the stop to make. Bronston tried the "foo foo" drink from this location, and he reviewed a white chocolate almond milk latte. He really liked how the alternate milk added a nuttiness to the coffee. It is also worth mentioning they had five alternative milk options. If this is a priority to you, that is an impressive amount.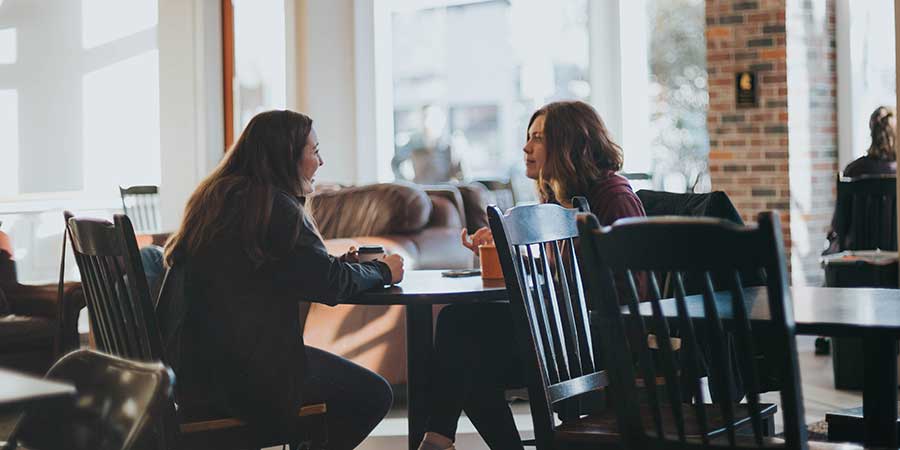 Chapters Coffee
701 E. First St. | chaptersbooksandcoffee.com
When people think of coffee shops uniquely to Newberg, many people think of Chapters. I have visited Chapters many times, and it is not only a coffee shop, but also a bookstore and an ice cream shop. It's a nice place to study, but as it has grown in popularity it can be hard to find a table and can be loud, though the bookstore is always fun to peruse.
Now the most important part: the coffee. Their house blend was a bold, quite fruity cup of coffee, but they are supplied by Caravan, so I'm not surprised I liked it. The real star and the reason people keep coming back are the chais. My go-to is the iced pumpkin chai latte. It is definitely sweet, but nicely spiced. It is like a dessert in a cup. 
Coffee Cat
107 S. College St. | coffeecatcoffeehouse.square.site
This was the last coffee spot I visited because its hours are a bit inconvenient. The store itself has a really fun vibe, with lots of nooks and crannies to sip your coffee. They also have lots of good food options for breakfast and lunch, but you better be quick if you want to stop by for lunch because they do close at 1 p.m. 
For the drinks themselves, I brought my sister along this time to be my "foo foo" drink taster. She ordered an iced white chocolate macadamia nut latte. She was taken aback by the intensity of this drink and felt it was "way too sweet." They also did not ask either of us which sizes we wanted. As for the house brew, it was a very smooth cup of coffee with no defining flavor, and if you know about coffee you know what I mean when I say that this coffee had "coffee scum".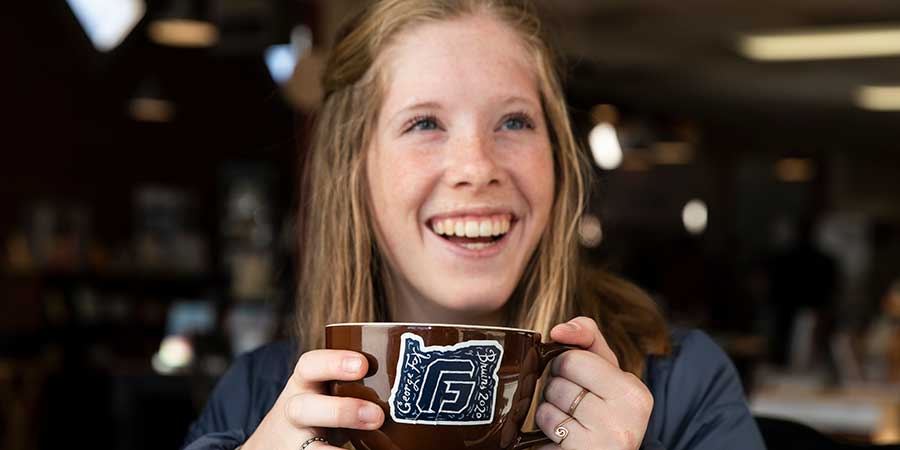 So Where Should You Go?
When I embarked on this journey I thought I would come out the other side with a very clear answer for my top recommendation. The truth is, the best coffee shop is dependent on more than just the quality of coffee. Because, as we have seen, some people do not even prefer coffee. 
So, here is the breakdown: The best house coffee goes to Caravan Coffee. Best drive-through goes to Cowboy Coffee. Best variety for food and drink options goes to Coffee Cottage (they also win for convenience). But my overall winner, named best coffee shop in Newberg due to taste, choices, speed and ambiance, goes to See See's Motor Coffee Co.
I want to say that every place I visited brought something unique to the table, and I encourage you to visit them all, but I had to pick a winner in the end.