Graduate Programs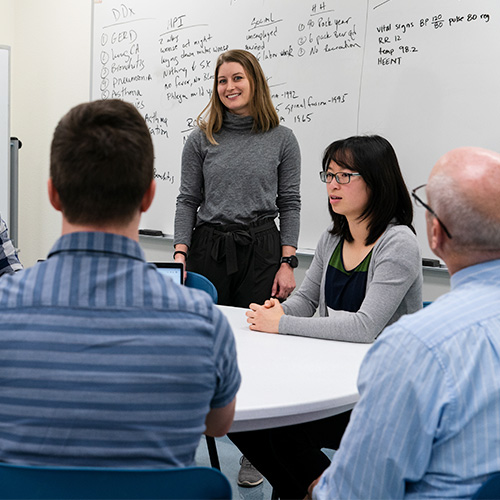 Mission
George Fox University's graduate and professional programs seek to fulfill the university's mission by providing students with accessible, high-quality educational programs that enhance professional skills and foster intellectual and spiritual growth.
The university chooses to fulfill this mission through the following graduate schools:
Basis of Graduate Admission
The university admits applicants who evidence academic interests and ability, moral character, social concern, and who would most likely profit from the curriculum and Christian philosophy of George Fox University. These qualities are evaluated by consideration of each applicant's academic record, test scores, recommendations, writing sample, and in some cases an interview. Applicants with a criminal record may be required to submit additional official paperwork. Admission decisions and processes vary based on academic program.
George Fox University does not discriminate against students on the basis of race, color, national or ethnic origin, gender, age, disability, or any other status to the extent prohibited under applicable nondiscrimination law in the administration of its admission policies, scholarship and loan programs, educational programs, athletics programs, co-curricular activities, or other university-administered programs.
Change to Another Degree Program
Students whose educational goals change while at George Fox University may apply to change to another degree program. The student should first consult the university catalog to confirm the goals and admissions policy concerning the desired degree program and then should complete a Petition to Change Degree Program available in the admissions office.
Degree programs that require a different application than that completed initially by the student prior to matriculation to the institution may require the completion of a new application for admission. Students may contact the admissions counselor for the program to which they are considering changing for more information.
Changes to degree programs cannot be processed mid-semester, so changes will be made effective at the beginning of the semester following receipt of the approved petition.