Trauma Certificate Admissions
Admission Requirements

for Certificate in Trauma Response Services
We are seeking graduate students and post-graduate professionals committed to promoting the care of individuals and communities in the midst of traumatic events.
For students seeking admission to the Certificate in Trauma Response Services program, we require a graduate degree – completed or in-progress – in mental health, education, health sciences or ministry, with a graduate GPA of 3.0 or above.
Graduate students currently enrolled in the Graduate School of Counseling at George Fox University should contact the Trauma Response Institute directly (tri@georgefox.edu) for certificate program application instructions.
Application Deadlines*
August 16, 2021
to start in fall 2021
December 27, 2021
to start in spring 2022
April 18, 2022
to start in summer 2022
*Applications may be accepted beyond deadlines on a space-available basis. Contact your admissions counselor for more information.
How to Apply
Apply Online

Create an account with a username and password and complete the Graduate School of Counseling online application. In response to the financial strain the COVID-19 response has caused for many people, counseling application fees have been waived until further notice.

Request Official Electronic Transcripts

Request an official transcript from the regionally accredited college or university where you completed or are completing your graduate degree. Electronic transcripts are preferred for speed and accuracy. They must be sent directly from the institution to admissions@georgefox.edu. If an electronic option is not available, unopened official transcripts can be sent via mail to:

Office of Admissions
George Fox University
414 N Meridian Street #6089
Newberg, OR 97132

Submit Two References

Submit two professional references. These will be included in the online application system.

International Students
Once Your Application is Complete
Applications for the upcoming semester will be reviewed until the application deadline passes for that semester. The Trauma Response Institute typically reviews complete applications within two to three weeks of submission and completion.
After Acceptance
If you are admitted to the Trauma Response Institute (TRI) post-graduate program you will be connected to the TRI office for advising and class registration information. The TRI office will help you set up an academic advising appointment with Dr. Anna Berardi to begin exploring your field experience and research interests.
Questions?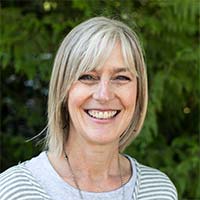 Admissions Counselor, Graduate Counseling Programs