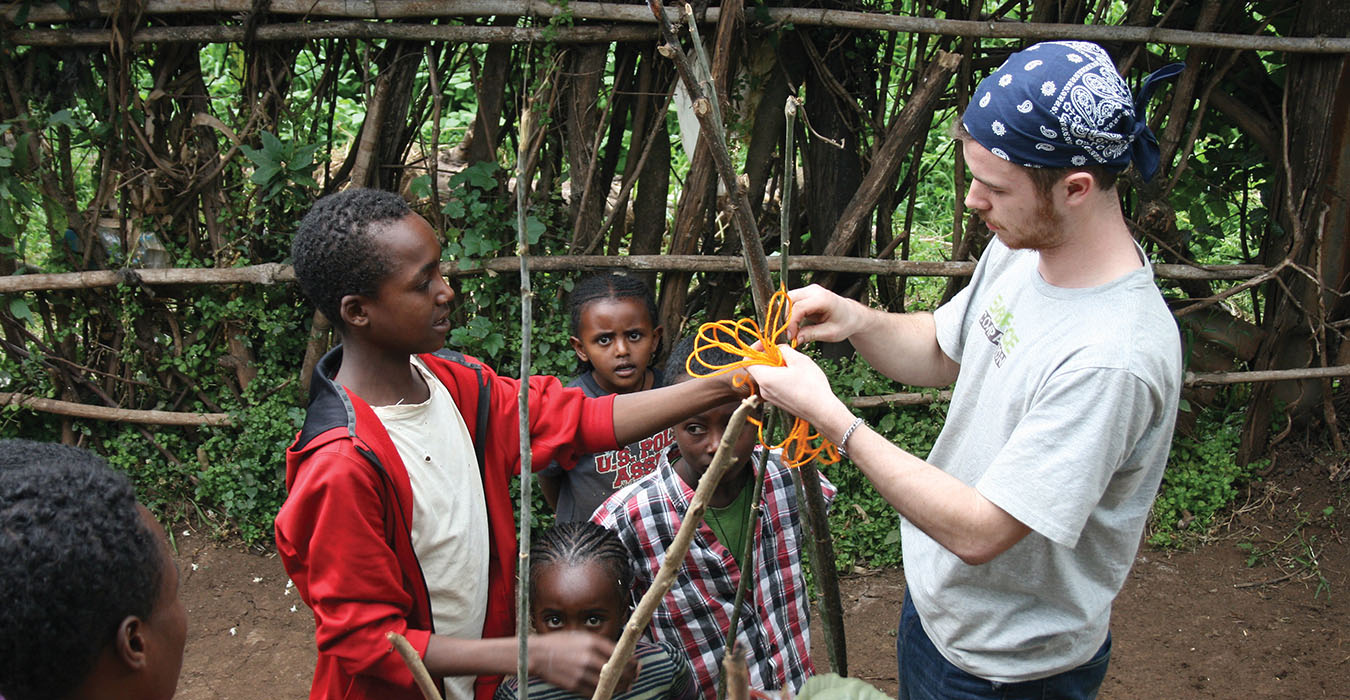 Engineering a Solution
Servant engineering students travel to Ethiopia to help solve a village's water shortage problem
By Sean Patterson
For years, the villagers of the Ethiopian town of Arjo had a problem: With virtually no fresh water for miles, many families needed to make a four-hour round-trip walk if they wanted to drink or bathe in water that wasn't contaminated.
Four George Fox engineering students learned of the dilemma through the relief agency Embrace Compassion and decided to do something about it. As their project for the school's Servant Engineering class – required of all junior engineering majors – Ryan Elder, Devon Donahue, Marcus Mateo and Colin Daniel teamed up to devise a water filtration system that allowed locals to treat the ground water in their own backyards.
But there was a catch.
"We had to come up with something that they could build themselves – with materials accessible to them – so that meant no PVC pipe or anything that you'd normally purchase at a Home Depot," explains Elder, the team leader. "It also had to be something they could easily construct and pass on to the next generation – something that would be sustainable and durable."
It was with those conditions in mind that four engineers-to-be began designing the system in the summer of 2015. What they came up with was a tripod-like stand made of sticks and ropes that would use gravity to filter water to a bucket below. Mounted atop the stand was a water purifier that would be supplied by Embrace Compassion.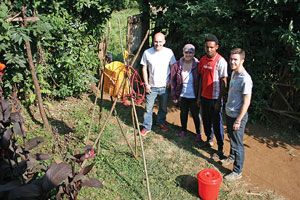 Ryan Elder (far left) and Devon Donahue (right) teamed with locals in Arjo, Ethiopia, to successfully build a water filtration system.
The prototype worked in trials at home, but how would it perform on-site? Elder and Donahue dedicated a good portion of their winter break to find out, traveling to Arjo in December and spending two weeks building a stand and training locals on how it worked and how they, too, could build one.
"We were successful in making a stand that would be able to accommodate 50 families," Donahue says. "But we approached this thinking long-term. That's why it was so important to teach them how to do it themselves. Embrace Compassion had the water filters; they just needed us to come up with a way they could practically be used."
Prior to the students' arrival, a young boy holding a filter over his head needed 15 minutes to fill one water bottle. "Think about how tired that kid's arms are going to be if he has to do that over and over," Elder says.
Ultimately, the project resonated with all four students, each of whom is studying a different discipline within the university's College of Engineering, with Elder majoring in computer, Donahue electrical, Mateo mechanical and Daniel civil engineering.
For Elder, it helped reinforce his choice for not only a career, but a calling. "This project reminded me why I wanted to be an engineer," he says. "It was the perfect example of using the skills God gave us to help others."