Get to know Professor of Art and Design Tim Timmerman
Q: What inspired you to teach?
A: College was not an easy time for me. I felt underprepared and out of place with many of my fellow students. The faculty in the art department gave me a home and welcomed me into their lives. Also, the wisdom and thoughtfulness of my professors in literature, German and Bible, as well as an amazing psychology prof, embodied for me what being a man of character and integrity looked like. I had never been surrounded by such a loving group of mentors who cared for me academically and also on a personal level. They gave me hope, encouragement and direction for my life, and also modeled for me how to be an honest, creative and loving man of God. I thought to myself that if someday I could do the same for others, I would be honored to walk alongside the next generation in the same manner.
Q: What is your favorite class to teach and why?
A: I teach a wide range of classes, from sculpture, painting and llustration, to Latin American art history, to a faith and integration class we call "Art and Christ." It's hard for me to pick out a favorite course, because simply, I love to learn and what I'm asked to teach always provides for me an opportunity to keep honing my skills, as well as making new discoveries. My favorite type of assignments to give are those that combine a variety of methods of ideation and influences to get to a creative outcome. This could be an assignment in painting where we look at how artists current and past solve creating a narrative painting, as well as having students read contemporary poets. The assignment then may be creating a work that embodies the wisdom of the methods employed by the artists, but the content of the work is to be inspired by a poet that the student found a passion for. I love seeing students make connections, learn new skills, find a broad range of influences and push themselves further than they thought they could go.
Q: What is your biggest hope for students?
A: My biggest hope for George Fox students is that they find their voice, what they are passionate about, and aren't afraid to pursue who God is calling them to be.
Has led nine study abroad trips with nearly 200 George Fox students
Featured in more than 25 solo exhibitions nationally
Specializes in painting, sculpture, glass and assemblage sculpture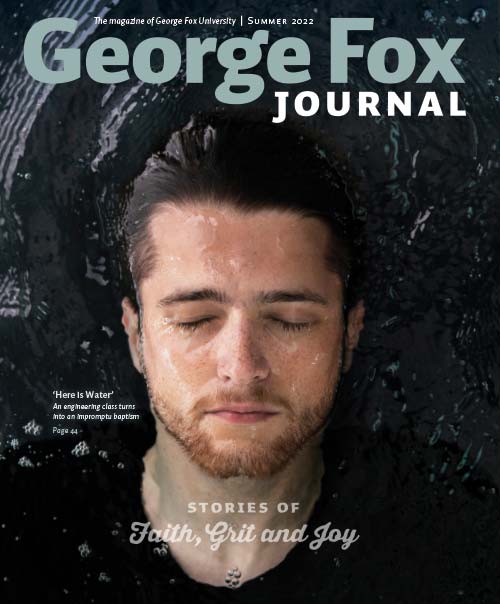 Looking for more?
Browse this issue of the George Fox Journal to read more of the stories of George Fox University, Oregon's nationally recognized Christian university.