Art with an Impact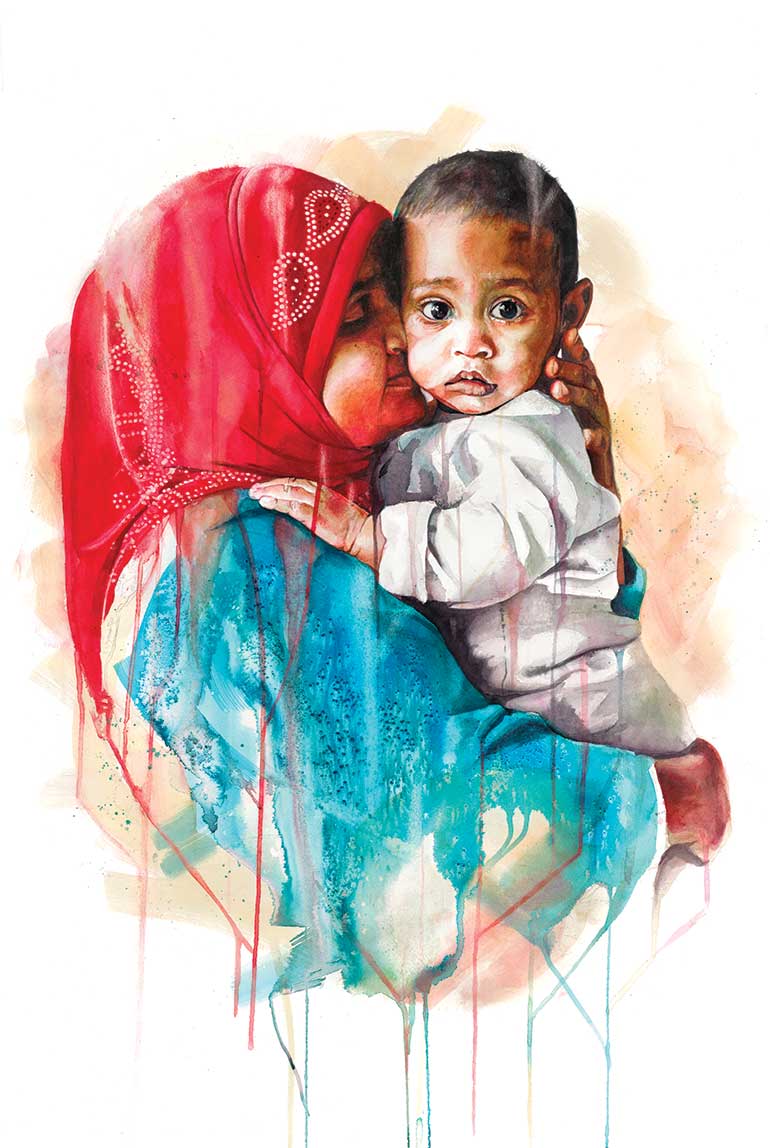 Alumna Karisa Keasey's art amplifies the voices of local refugees
By Andrew Shaughnessy
Karisa Keasey's (G13) artistic gifts were born of pain. Her childhood was sometimes chaotic, and art was an escape. Trauma not only sparked her lifelong love for art, it also gave her a heart for the broken. Years later, as an art student at George Fox, Keasey wrestled with how to reconcile her creative talent with her desire for social justice. She could paint beautifully, but what good did that do?
Not long after graduating, Keasey ran across an article about the Syrian Civil War. She read about the horrific violence levied against innocent civilians, the barrel bombs and gas attacks, the refugees fleeing the devastation by the millions, leaving their beloved homeland behind in search of a better life in Europe or America. It broke her heart.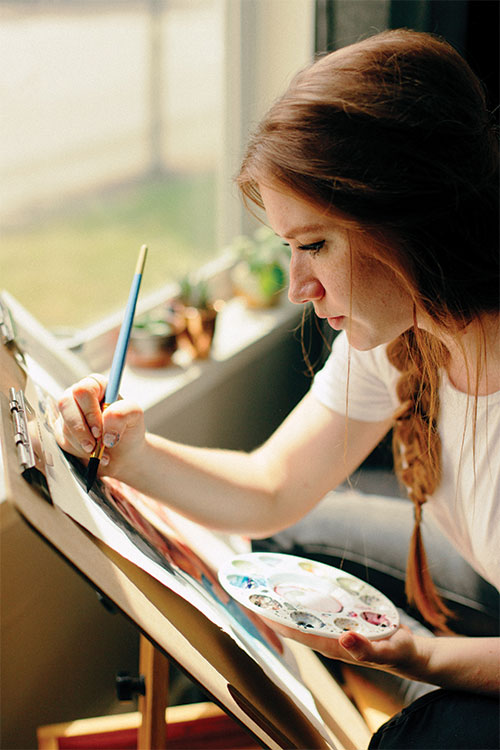 She decided to contact World Relief, a global Christian humanitarian organization that helps resettle refugees across the United States. Visiting World Relief's Seattle office, Keasey learned more about the global refugee crisis and the needs of those resettled in the U.S. There, she realized that her artistic gifts could be uniquely useful.
"Refugees are real people with real lives, not just statistics," she says. "We needed a way of getting more of their stories to the public."
Partnering with World Relief, Keasey met with refugee families in her community, visiting them in their homes to get to know them and hear their stories. Then, working from photos, she began to paint. The result was When You Can't Go Home, a coffee table book that follows the lives of 10 refugees alongside 30 watercolor portraits.
The process took two years of coffees, teas and countless conversations. She listened to tales of heartbreak and hope, and spent endless hours capturing smiles and sorrow with paint and brush. There was the Rwandan who escaped genocide and made it to America, and the Eritrean man who crossed the Mediterranean with his wife, risking it all for the chance of a better life and nearly drowning along the way. When Keasey showed him the book, he teared up and thanked her: "Someday I will get to share this with my kids so that they know what we fought for."
"I was very careful to portray them as people," Keasey says. "A lot of times refugees are depicted in their worst moments. Those things happened, but we are all more than our worst moments. And so I tried to depict them not as victims but as victors – not shiny and perfect, but with both the highs and the lows of their journey."
Keasey's goal is to spread awareness and amplify the voices of refugees in the Pacific Northwest, but she also wanted a more tangible impact. For every book she sells, Keasey gives 50 percent of the profits to World Relief, helping them continue their work of aiding and empowering refugees across the globe.
"For a long time, I felt like art was a useless gift," Keasey says. "But over the years God taught me that not only can each of our gifts be used to love others well, but they're really central to his plan if we choose to say yes to him."
Visit karisakeasey.com to learn more about Keasey's book.